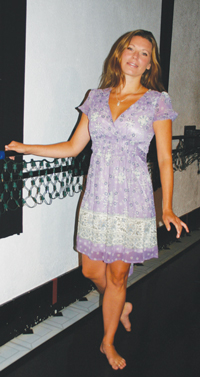 Age: You don't need to know.
Employer: Carol Todor Dance Studio/Trevor Gough Prof. Corp.
Job Title: Dance Teacher/Administrative Assistant.
What do you like about your job? With Trevor's office, I work with great people! I'm really looking forward to teaching dance in the fall.
Are you from Drumheller? No. I am originally from Winnipeg, MB.
How long have you been in the Valley? 4 months.
Hobbies and interests? I spend my time dancing, singing, camping, travelling and enjoy Girl Guides, reading and much, much more.
Dreams or goals? I have plenty of dreams and goals. One was to teach dance.
If you had a time machine, where would you go? Wow! that's a tough one! I'd want to see the Czar, and the artists of the Renaissance, or Tibet in the 14th century ....
Favourite book? I try to read a couple a week, so that's tough to answer.
Favourite movie? Flashback.
If you were stranded on an island, what tool would you need? Ducktape is always handy to have around, but I think a lighter for fire would be important, although I don't think either are considered a tool.
Who would you like to have dinner with, dead or alive? Katherine Hepburn or Sarah Bernhardt (both actresses).
What's in your CD player? Johnny Cash.
If you had a million dollars? Buy you a monkey. Haven't you always wanted a monkey? Kidding, but that's a great song. Seriously though, I'd be travelling with my friends and family!
Words to live by? Life is about choices, so make the best ones you can.