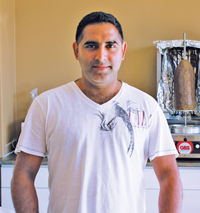 Age: 30.
Employer:  Owner of Country Donair.
Do you live in Drumheller? I commute from Strathmore.
What do you like about your job? Serving people and satisfying them with good service and quality food.
Dreams or goals? My goal is to open a large chain of Country Donairs.
If stranded on an island, what tool would you need? " Adi Sri Guru Granth Sahib" -Our holy book which is a path finder and biggest support.
What is in you CD player?  Tibetan instrumental music.
What is your favourite movie? Enemy at the Gate.
What is you favourite book?  Spy Stories.
If I had a million dollars… I would expand my business and go on a world tour and  help people in need.
Who is your best friend? God.
If you had a time machine, where and when would you go? I would go back to 1699, the founding date of my religion.