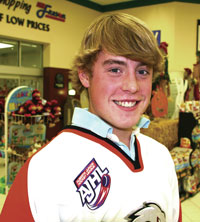 Age: 18.
Occupation:  Playing for the Drumheller Dragons.
Position: Defenseman.
Status: Rookie.
What else do you do? I am starting college courses.
What do you like about your job? The strong work ethic of the team, giving 110 per cent.
Dreams or goals. Earn a scholarship and play at the Division 1 level in the NCAA.
How long have you been in Drumheller? Since September.
Where are you originally from? Calgary, I graduated from St. Francis High School.
What are you hobbies? Playing hockey and watching Entourage.
What is on your playlist? Miley Cyrus.
I am a close fan of …Michael Buble.
Your favourite book? Searching for Bobby Orr by Stephen Brunt.
Favourite Movie? Pineapple Express.
If you were stranded on a desert island, what would you bring? A lifetime supply of Chef Boyardee.
 If you could have dinner with anyone alive or dead, who would it be? Bobby Orr, he is my hero. I have worn #4 since I was little and have never looked back.
If you had a time machine, when and  where would you go? 1972 Summit Series, Game 8.
If I had a million dollars… Move to Hawaii .
Words to live by? Forecheck, backcheck… paycheque.