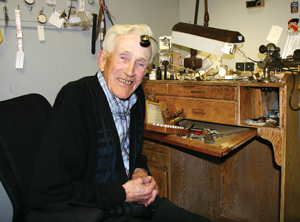 Hunkered down at the back of Wade's Jewellery, behind a well-illumined desk, Bernie Wade tinkers away. The workspace is scattered with precise watch parts, remnants of shiny gold chains and jeweller's tools. The slight figure with a black monocle is silently putting together a watch for a customer.

    Only do his ears perk up when talk turns to the framed photo of the 1970 provincial winning Drumheller Hopewells, the pee wee baseball team he managed that won provincials and went on to play in the Western Canadian championship.
    "The valley supported the team so well, they hired a plane to fly the team to Neepawa, Manitoba to play," he said.
    Looking at the picture, he remembers every player on the team and staff, including a couple from Calgary that came to fill out the roster. His son Phil played on the team, and Jim Fisher was a coach.   
    His baseball pedigree goes back further to the Rosedale Midways team that he played centre field for that he estimates won nine junior Albertan Championships in hardball. This was a team stacked with talent including Roger Berlando and Glen Gorbus, who went on to the majors.
    He also pulls out a photo album that he affectionately refers to as his bible with all the newspaper clippings of the teams he has been involved with.
    Heading up to his apartment above the store, the slight figure, now 81, moves like a man half his age. He said before there were apartments, a doctor held an office in the space, and if you could make it up the steep front stairs for your appointment, you must have been pretty healthy.
    He also laughs that living above the business he helped build, and which he still spends many hours fixing watches, that it feels like he is playing hooky when he slips out to play golf.
    Truth be told, it is less hooky than a habit, because he and a small crew play 18 holes, five days a week. He is also busy bowling in the winter.
    Sports and activity seem to run through the Wade Family veins. He had four boys and all were involved in sports, and some of his 10 grand children have moved on to play college level sports. His eldest brother Jack was even a champion bronc rider.
    As much as sports run through their veins, so does an entrepreneurial spirit.
    His father Bernard Wade came to the valley to open a general store and grocery in Rosedale called Wade and Sons where the Cool Castle now sits. On the same block, there were two other like stores including Scorpecki's and Valley Trading ran by the Maltin family. Despite this, all the stores were busy, until the mines closed.
    As an adult, Bernie had a few different jobs but in 1958 he began work at Wade's Jewellery. His bother Walter started the business in the 1940's and operated Wade's Jewellery, as well as the Jewel Box, just a couple doors down.
     It indeed is a family business and in 1976 he and his wife Thelma began ownership. His sons joined on, and he credits his wife with the business heading in the right direction taking care of the books. He said in all the years he and his wife worked side by side, they got along well. While he had no formal training in being a jeweller, he learned on the fly from a long time employee of his brother, Ted Paetz.
     Bruce and Doug Wade are still involved with Wade's Jewellery. In 1989,  the company won the Alberta Small Business of the year.
     He's enjoyed his career in the jewellery business, and he has seen many changes. At one time fine China was a big selling item, but that has since become less popular. He also marvels at a watch that has a complete plastic movement.
    "It keeps pretty good time," he said.
    His favorite part of the business he says is the people, and selling something that lasts. Countless family heirlooms, engagements, anniversaries and celebrations have been commemorated with a memory from Wade's Jewellery.
    One of Drumheller's treasure's hunkers behind a jeweller's desk in downtown Drumheller, and he's got a pretty good memory too.