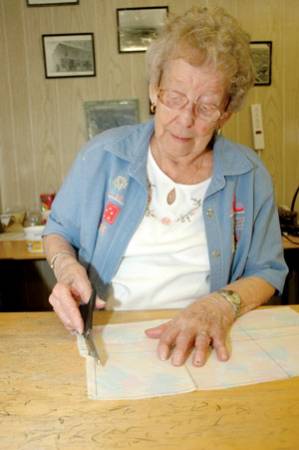 At nearly 100 years old, Lillian Laughlin's hands are still busy crafting everything from scarves to afghans at the Pioneer Trail Centre in Drumheller.

Living in Drumheller for the last 74 years, she says she's lived a full life in a number of valley jobs before spending the last two decades skillfully creating items of clothing for those less fortunate than she has ever been.
"I've been working all my life and I still am," says the mother of two and grandmother of five last Friday. "I love it."
Laughlin's hands have been a part of creating blankets, toques, quilts, sweaters, which have gone to wherever they've been needed: victims of house fires, the Drumheller Grace House, the Salvation Army, women's shelters in Calgary – countless grateful recipients over the last 25 years she's been working at the seniors centre. They send out about 12 quilts a year.
At 97 years old, Laughlin is still sharp as ever. Her secret? "The secret is to keep busy, occupy your thoughts at all times."
Growing up on the family farm in Star City, Saskatchewan, she finished her schooling there before meeting her husband Joe, whom she was married to for 67 years. Together they had two sons, Ron and Gerry, are now retired and have two and three children, respectively. "I'm very proud of them."
Laughlin and her husband moved to Drumheller 74 years ago, where she worked for the Drumheller Health Unit for 18 years, and on to Wade's Jewellery for five more until she took up dress-making and alterations.
"Now I'm 97 years old, and I enjoy my family, friends, and every minute of my life. I have accomplished everything I wished to have accomplished, and feel fortunate enough to be able to do it."
As for her future goals? "To continue living and do exactly what I'm doing, if my health permits me."
Living in her own home and driving to work at Pioneer Trail five half-days a week, she describes herself as a caregiver, "ready to help anybody who needs help, in any shape or form."
"I live in Drumheller because I have made so many wonderful friends, and love the bridge games I've played for years and years," says Laughlin. "I've had a very good life, and a very happy life."
She can be found at the Pioneer Trail senior centre most days of the week, working on the next quilt to be given away to those less fortunate or to be sold to keep the centre running.