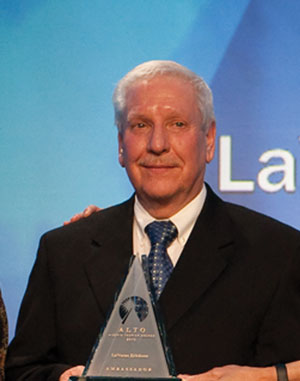 There are many who have their name fixed to something big, which defines them throughout their life.

For LaVerne Erickson, his name is attached to many of the greatest institutions in the valley and beyond, and chances are he is not done yet.
One descriptor that fits Erickson is visionary. He envisioned Rosebud School of the Arts, Rosebud Theatre, The Canadian Badlands Passion Play, Chemainus Festival Theatre, and Canadian Badlands Inc. Part of his great skill is that he could take these visions, inspire others and make them happen. These visions have put Drumheller and area on the map economically and culturally, and where he left off, others have continued to build.
"When I see something that I think is possible, I really commit to it and am passionate about bringing it about," he told The Mail last July. "When I started these things, people didn't believe me. In my mind, I see what I expect to come, but other people, when they see no physical proof of it, they think 'there is a daydreamer.'
And it all started with a bunch of kids packed into station wagons on a camping trip to Rosebud.
In 1973, Erickson organized a trip with teenaged youth in Calgary to camp in the old general store in Rosebud. This was a success, and inspired more trips, and within four years the Rosebud Fine Arts High School was formed, a residential fine arts school combining academics, art and work experience. The evolution continued and in 1983 as a fundraiser for the drama program, an in celebration of the centennial of settlers arriving in the area, the students staged a play, using traditional commedia dell arte characters. Rosebud Theatre was born.
They continued to stage productions and in 1988 offered their first full season.
In 1986, the Rosebud School of the Arts evolved into forming a Fine Arts Guild. This turned the theatre into a practical hands-on training centre, where students could receive apprentice-like training. In 1988, the Alberta Legislature passed the Rosebud School of the Arts Act, and the school was recognized as a unique post secondary institution.
The vision of the theatre has grown since. Currently the mercantile is used as a dining room, and the Opera House is the theatre. This year will see the opening of the Rosebud Centre, a two-storey 10,000 square foot development. This will expand the theatre's dining area, gift shop, and add a tourist information centre, with flexible teaching space for Rosebud School of the Arts.
Erickson did not stop at Rosebud Theatre. The vision continued to grow and Chemainus Festival Theatre on Vancouver Island was born in 1993. Today it is the Island's largest professional theatre.
It was around that same time the idea of staging the Passion Play in Drumheller was evolved. Erickson was instrumental in building support, and in 1994, the first Passion Play was staged, and it has never looked back. This year will be the 100th performance of the show, and last season the production set its single performance attendance record
While he has stepped back from these organizations, he has remained active in the community. One vision he had was to market the area as a tourism icon on par with the Canadian Rockies. He is recognized as a founding member of Canadian Badlands. It has grown into a limited non-profit corporation with more than 60 municipalities as members, and is Canada's largest municipal tourism organization.
In 2010, Erickson was honoured with the Alberta Tourism Alto Ambassador Award.
"Simply put, Rosebud Theatre, Rosebud School of the Arts and many other arts and culture icons in the Alberta Badlands would not exist today without the vision, passion and tenacity of LaVerne Erickson," says Bob Davis, executive director of Rosebud Theatre. "Through his unbridled enthusiasm and optimism, LaVerne has attracted support and cooperation for ideas and dreams that have influenced thousands of tourists in Alberta, building a legacy that will endure for generations to come."
As a feature during the Centennial year of The Drumheller Mail we are looking for stories from our readers on Drumheller Heroes. These are people from the past or present who have made a significant impact for the better of the community. We look forward to your ideas and submissions. e-mail news@drumhellermail.com for more information, or call 403-823-2580.