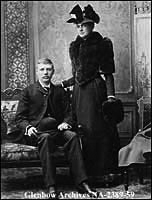 The history of Drumheller would not be complete without Thomas Patrick Greentree.

    Thomas Patrick Greentree was born in England on May 26, 1870.
    He was the eldest of four children, and came to Canada when he was only 14 years old.
    He lived in Hamilton, Ontario, where he worked on farms and subsequently started farming on his own.
    In 1896 he came to Calgary where he was a cowpuncher and worked on the railway until 1902, before arriving to the prairie land where Drumheller now stands.                    Arriving long before the country had been surveyed in 1902, he brought his own cattle with him, and in 1907 he filed claim to the homestead on the day it became surveyed.    
    For his own heating purposes he dug out the first coal in the area. Later on  Jesse Gouge located his first mine at the same site, called Newcastle Mine.
    Thomas Patrick married Miss Clara Louise (Robarts) and they had 10 children; unfortunately they lost one child at the age of 11.
    In 1910, when preparations were beginning to form a townsite, Thomas sold a large tract of his land to Sam Drumheller and was  rumored to be $2,800 paid in cash.
    On a flip of a coin the townsite was named Drumheller. Thomas Patrick retiring from ranching in 1910, he became a business man in town selling insurance, farm equipment and real estate.
    There were many things Thomas Patrick Greentree  was instrumental in developing in the small town.
    He housed the first detachment of the N.W.M.P (North-West Mounted Police).
    Greentree at his own expense built a ferry and operated it for four years before the government took it over.
    Thomas was one of the original applicants of the first school district. He served on the school board of trustees on July 6, 1911 and was an advocate of education.
    The first school enrollment consisted of seven children and five of those were his own.
    Mr. Greentree was a dominant factor in establishing the Church of England in Drumheller, served on the original church board and for a time was the rector's warden.
 He also founded The Greentree Ranch. It was a log house, known as a place of shelter for travellers.
    Thomas Patrick Greentree died in 1956 at Grande Prairie.                    Mr. Greentree helped in the growth of the untouched prairie now known as  the Town of Drumheller.