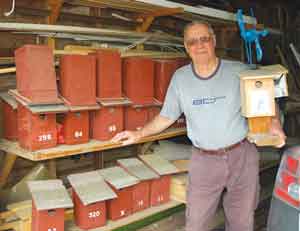 The valley has its very own birdman, and for more than 22 years, he has been making the valley sing with the music of blue birds.

    Ray Hummel, 79, of East Coulee and his wife Jean have spent the last two decades helping to boost the number of the small pretty bird with the twittering song throughout the valley. They have created and maintained the bluebird trail for generations enjoy the birds, and have seen literally thousands of new birds fledge from the project.
    The bluebird has inspired more songs in popular culture, and the sight of one bluebird, one day inspired Ray to get involved in the project.
    "I was sitting outside the yard at the pen and I saw a bluebird on a telephone line one night," he said.
    Not long after he read a story in the Calgary Herald about a bluebird trail in Calgary being built by Blake Stelling, Ray found Stelling a fountain of knowledge and when he retired from the Drumheller Institution in 1989, he began a bluebird trail in Drumheller.
    In his first year he put up about 35 boxes, found success, and saw 48 fledge. Today the bluebird trail includes a loop from East Coulee to Dorothy, from behind the Drumheller Institution to Rosedale and a loop along the Dinosaur Trail. Some years there were upwards of 230 Boxes. Last year, there were 159 in the valley. In the 1970's numbers of blue birds were on the decline, but since effort such as Ray's bird populations have made a recovery.
    He explains there is a lot of planning that goes into placing a successful bluebird box.
    One thing that will strike the casual observer when they see a bluebird box on a barbed wire fence post, is that is it usually beside a field. Bluebirds feed on grasshoppers and like to be near a secure food source.
    The second thing the casual observer will see is there is typically a second birdhouse just a poles down.
    Ray explains that both tree swallows and bluebirds are migratory, and often the bluebirds arrive a little sooner. This doesn't preclude a swallow from competing for the nest, and often they are successful. The second box gives the bluebird a second chance. The placement allows both birds a home, and in fact they cohabitate well, as both have different food sources.
    "They seem to understand there is room for both of them, so they stay in the other house," he said.
    He adds that in the houses he places, about 400 tree swallows fledge every year.
    He has learned throughout the years that placing a box near a farmhouse can be fatal to the birds. He explains that common house sparrows are competitive to the point of pecking a bluebird to death to take over a birdhouse. It is not uncommon when a sparrow moves into a bluebird box, the original inhabitant will still be in the box, dead under the sparrow's nest. This is one of the reasons Ray has taken down a number of bird houses near residential properties.
    Another way to make sure another bird doesn't take over a house is to cut the hole only 1.5 inches wide to make sure starlings don't move in.
    He sees the project from start to finish, from building the boxes, maintaining them, replacing them when needed, and keeping count.
    He figures he has built about 3,000 birdhouses over the last 22 years. All of them are not on the bluebird trail. He sells some through some hardware stores and through his garage, he often offers discounts to youth groups such as the Scouts and Guides, or schools.    
    Every year he delivers about 75 to a school in Stonewall, Manitoba. Recently the school has been recognized by the province for its conservation program, and he feels proud that he was a part of that.
    He has a set of replacement bird house prepared to be put in place. These are durable and even have a tar shingle to cap them. This is a spring tradition, as are the trips throughout the season to check on the birdhouses and take count. 1993 was about the most successful season where he counted 549 fledglings.
    Ray and his wife are dedicated to the project, but he admits at 79, the ditches are getting a little steeper every year. He says there is others that are support his work and hopes someone will be interested in helping out with the project. Maintaining them means cleaning them in the fall, and doing the counts. He said he could break up the trail into three segments to make it easier for an interested volunteer.
    In the meantime, if you hear that familiar twitter and see the speedy flash of blue cross your path, it's safe to say it's got a pretty nice home.