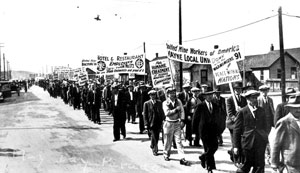 May Day was a huge day in Drumheller, like most mining communities, because it was one of the few days of the year dedicated to the worker.

    The historic roots of May Day, some people say, were back in the 1880s where workers gathered and won the eight hour day, considered one of the first victories of May Day.
    "Ever since then, May First has been linked in many people's minds with looking after and honouring the worker. Miners have historically been workers that stood to benefit much by workplace conditions," says Atlas Coal Mine executive director Linda Digby.
    "It's a memory few people have from when they were little, the details are scarce, but hopefully details will come out of the woodwork when we do this."
    In Drumheller, as in all the other miner towns, May Day was a special day where workers gathered to celebrate their dedicated services, and where kids would take the day off school to eat ice cream in Newcastle park and celebrate.
    "Those days were rough – there were a lot of injuries and miseries in the early years, so because of their ability to organize and have one voice, things got better and better until mining was a good job in Drumheller, which they were proud of," says Digby.
    "It's about the triumphs of the working man."
    The parades we among the biggest parts of May Day, with processions in not only Drumheller, but Rosedale, East Coulee, and Newcastle. Photos show hundreds of people gathered, nearly the entire town.
    "It was a day of pride, 'Here we are!'," Digby said. "They dressed in their nice clothes, polished their shoes, and looked proud."
    This weekend brings the resurrection of the miners' march through Drumheller, with a procession beginning at 1:00 p.m. Sunday. There will be music, historic characters, residents have been asked to bring their vintage cars from the garage, book signing, and food.
    All Drumheller miners, or families with a miner in their family tree, are invited to join the procession.
    A full list of both Saturday's and Sunday's events can be found at www.drumhellermining100.com.