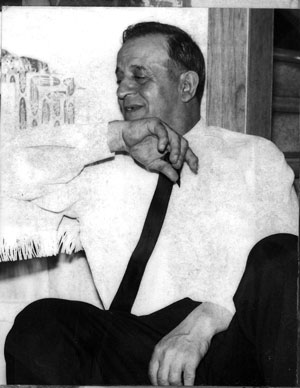 There are few old timers left in the valley who can still remember the Drumheller Social Club, a place where friends gathered to quip about local happenings, place bets on horses and play cards.

Located where Drumheller Liquor now operates on Railroad Avenue, the office of Herman DeBernardo took bets on horse races in Calgary and Edmonton from the late 1930's until the late 1980's, and most anytime of the day there'd be games of poker, cribbage, and their own game version of a card game called "pan".
    Many may raise their eyebrows towards this story of gambling, and The Mail's article earlier this year focused on the brothels in the badlands, but these underground stories of the seedier underbelly of the Drumheller valley is important history often swept under the table.
    "The town used to hum like that," says Herman DeBernardo's nephew Milo DeBernardo. "Every Friday or Saturday night downtown Drumheller would be bustling. Now, it's pretty quiet."
    "Anyone who was in there knows there was a million laughs, they'd argue and laugh in the same sentence," says Ossie Sheddy, who knew DeBernardo well and whose father was a close friend of DeBernardo.
    "I used to watch them play crib and they could count points in the hands in a heartbeat and would watch the pegging like hawks," said Sheddy. "If one made a mistake, the other would catch him on it and the arguments would start. They were a lot of fun to be around."
    Ossie Sr. said, "Herman would take a bet on anything, including two flies climbing up the wall, on which one would get to the top first!"
    "One memory that sticks in my mind," Ossie recalled, "Was RCMP officer Gerry Carlson walking down the street with Herman, talking as they went down to the detachment office where he was charged with taking bets."
    Those who knew him all told The Mail the same story: he was sharp-minded, strong, and had a kind heart. Not the strongarmed bookie often portrayed on television and in theatres.
    "He was always fair with me and anything I ever did, and was a good uncle. If I ever had problems or needed a hand he would do it if it was possible to do such a thing," says Milo DeBernardo.
 "He was the type of guy where it was too bad nobody sat down to write a book with him, he knew a lot about the valley," remembers Paul Ainscough. "I would consider him a close friend. He liked to think he was tough, but more often than not his kind heart would come out more than anything."
    Walking into his office, those who have memories recall countless pieces of paper, keeping track on who owes what or who won on their pick of the day. "The place was always dark," Ossie remembers. "Four or five felt-covered round tables, wooden chairs and lights over the tables that did or didn't work, over-filled ashtrays that never seemed to get emptied. Herman's small wooden desk over in the corner with several drawers, one with playing cards, one with reading glasses they used to get from the undertakers, and the top one (as John Lowry said) with the money in it. There were old racing sheets everywhere."
    "When he got raided, the police would empty boxes of little pieces of paper which were meaningless to any one but him," recalls Sheddy.
    "He'd open the drawer and it was like a jack in the box, money would fly out," laughs John Lowry, who visited the club often.
    RCMP would raid the Social Club a couple times a year, says Bob Moffatt, who spent some time there in the late 1950's. Moffatt said DeBernardo would have what was called "bookie paper", with a bucket of water sitting beside his desk. When word came saying there would be a raid, DeBernardo would push his bookie paper into the water and it'd dissolve before police had time to catch a glimpse.
    "One day, someone hollered through the front door that the police were outside readying for a raid. My father and I bolted out of the club and over the partition between it and the next door barber shop. We sat in the barber chairs and managed not to be on the found-in sheet," Moffatt laughs.
    "He'd pay their fines, and pay the fines on everyone who was in there at the time (the "Found-in Sheet"), and be back in business in an hour," says Lowry.
    Police would confiscate property in the office, and when they were auctioned off later on, Moffat's grandfather would bid on them and sell them back to DeBernardo. "Everyone was smart enough to know not to get too big," he laughs.
    DeBernardo was a coal miner before taking up the bookie business, and lived in Drumheller for most of his life.
    All of those who know about him say he was one of the toughest guys in the valley.
    "One humourous story," another friend, John Tkachuk from Rosedale, remembers,  "We had another tough Italian fellow. He and Herman actually met on the corner of where the post office used to be and fought it out to see who was toughest in town. But it ended up to be a draw."
Friends say the fall of his business was when he started to get too big, taking large bets from the tracks in Calgary. DeBernardo got to the point where the big betters would call to keep the odds at the track.
    "Someone close to the RCMP  said, 'if you wanna keep in business, you gotta take the phones out of the wall'," says Tkachuk. "He was stubborn, like all of us old guys are, and he got busted. That's what finished it."
    Nephew Milo DeBernardo and sister-in-law June DeBernardo were unsure exactly when Herman closed the business, but Milo suspects it was in the later 1990's.
    "When he was shut down, those old guys didn't know what to do," says Milo.
    "At the time, Herman was 82, and his brother ended up telling me, 'Herman said, 'I'm ready, I've had enough'' and he was gone in about a week," says Tkachuk.
    DeBernardo moved out to Kamloops, B.C. with his daughter. He died shortly after arriving, Milo said, succumbing to his battle with cancer.