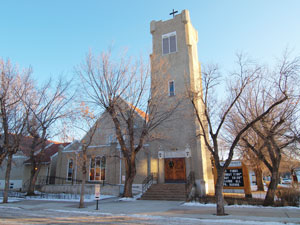 St. Anthony's has been a fixture in the community for nearly a century. The vibrance of the church, and its associated programs, owes much to the pioneering efforts of the clergy and parishioners who built the church through their strength of faith.
St. Anthony's church had its beginnings in 1913 with Reverand Father Russell, a missionary who would journey from Rockyford to Alsask, to hold mass. Father Russell would stop in Drumheller, depending on road conditions.
In Drumheller, Father Russell initially held mass in the Whitehouse Hotel, Auger residence, and Regent Theatre. Parishioners collected money to build a church and St. Anthony's was completed in 1914 and the choir was formed.
Upon a visit from a Bishop from Calgary, it was deemed that Drumheller required a full time pastor. In 1917, Father McGillivary took up residence.
By 1927, an Altar Society, Catholic Women's League, and the Columbus Club were formed. Father McGillivary moved to Munson and was replaced by Reverand Father Cosman and a large Sunday School was formed.
Money was in short supply during the Great Depression, but the need was great for a new church. By this time, the condition of the old church was deteriorating.
On March 26, 1939 the new St. Anthony's was finished and blessed. The old church became a parish hall until 1949, when it was sold and a new hall was constructed.
On December 20, 1952, tragically close to Christmas, a fire broke out within St. Anthony's church. Fortunately, the fire did not destroy the church.
In 1958, the church expanded its educational program. Parishioners voted in favour of building a Catholic school in Drumheller.
Exciting times are on the horizon for the church. The centennial of the church is near and St. Anthony's school will soon finish the construction of its new school guaranteeing that St. Anthony's will continue to play a vital role in the future of the Drumheller Valley.