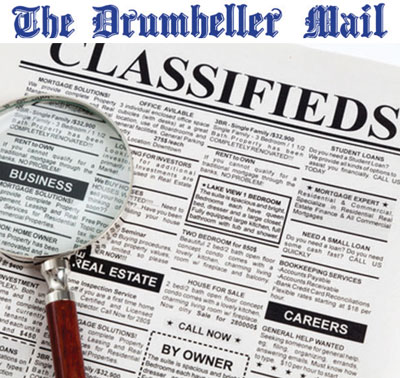 ANNOUNCEMENTS
AL-ANON, Wednesday evenings, 6:30 pm, Telus Bldg, 4th Floor. Call Lynne (403) 822-0008 or Carol (403) 772-2373.
THE HAPPY DESTINY Alcoholics Anonymous Group meets every Monday at 7 p.m. "Open Meeting". Grace Lutheran Church.
AA GROUP... Saturday morning, 10 a.m. - side door to basement, Church of the Nazarene. Contact Art 403-821-1464.
FARMER'S MARKET
FARMLAND/PASTURE WANTED
WANTED... Cultivated farmland in the Drumheller area for cash rent or sale. 403-321-0214.
PRODUCE
PRODUCE FOR SALE... Verdant Valley Colony will be selling fresh produce every Friday starting June 23 until Thanksgiving weekend from 10:00 am to 5:30 pm at the corner of Circle K Mac's Convenience Store in Drumheller.
REAL ESTATE FOR SALE
HOUSE FOR SALE
HOUSES FOR SALE - Can't find it here or on MLS? Check out www.powerrealty.ca
RENTAL PROPERTY
HOUSE FOR RENT
Century 21 manages over 100 rental properties. 1, 2, and 3 bedroom homes and suites for rent. Check out www.rentdrumheller.ca for a list of current properties for rent & apply online at www.rentd.ca on your phone or home computer. 403-823-2121 M-F.
CARD OF THANKS
THANK YOU
THANK YOU... The family of Nancy Hodge would like to thank everyone for the cards, phone calls, visits, food, flowers and memorial donations. Your thoughtfulness was greatly appreciated. The family wishes to thank the Morrin Lions for setting up the hall for Nancy's service. The family also wishes to thank Harold Hunter for officiating. A special thanks to Larry Anderson for the eulogy. Thank you to Rustic Chic Flowers and Gifts for the beautiful floral tributes and Shirley Bremer, organist. Thank you to Double D Catering for the delicious lunch. Thank you to Lisa and staff at Courtney-Winters Funeral Home for your professional and compassionate service.
Again, thank you to everyone from David & Shelley Hodge, Lloyd & Mary Hodge, Roger Hodge, Barb & Blaine Mepham, Donna & Ron Nelson and families.