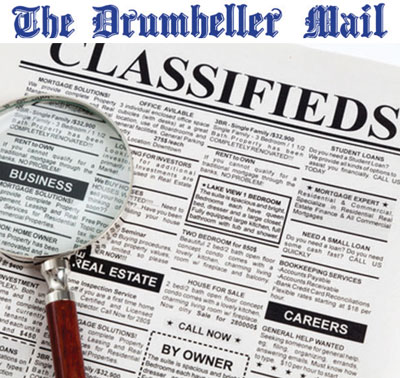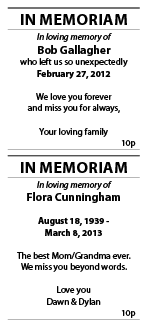 CARD OF THANKS
THANK YOU
THANK YOU... The Drumheller and Morrin Lions Clubs would like to thank the local businesses for their donations to our C-2 Lions Clubs Convention held on February 3 & 4, 2023 in Drumheller. Also, thank you to the staff at the (BCF) Badlands Community Facility for their help and use of space, to the Drumheller Legion Branch 22 members for carrying the flags during our Flag Ceremony, to Bob Moffatt for his talk at our Welcoming Session, and the Atlas Coal Mine National Historic Site for their display of mining items, to Drumheller Freson Bros. for the reusable vegetable bags. Thank you again to all who helped to make our C-2 Lions Convention a great success.
COMING EVENTS
AGM
Annual General Meeting... Drumheller Farmer's Market. Tuesday, March 28, 2023, 6:00 p.m. For details, call or text Louise at 403-436-0513 or email drum.fmaboard@gmail.com
FARMER'S MARKET
FARMLAND/PASTURE WANTED
WANTED... Cultivated farmland in the Drumheller area for cash rent or sale. 403-321-0214.
WANTED... Farmland to rent in Drumheller, Dalum, Verdant Valley or Delia area. Phone 403-823-9222; 403-334-3644.
ANNOUNCEMENTS
AL-ANON, Wednesday evenings, 6:30 pm, Telus Bldg, 4th Floor. Call Lynne (403) 822-0008 or Carol (403) 772-2373.
THE HAPPY DESTINY Alcoholics Anonymous Group meets every Monday at 7 p.m. "Open Meeting". Grace Lutheran Church.
AA GROUP... Church of Nazarene. Wednesdays, noon. Contact Art 403-821-1464.
REAL ESTATE FOR SALE
HOUSE FOR SALE
HOUSES FOR SALE - Can't find it here or on MLS? Check out www.powerrealty.ca.
RENTAL PROPERTY
HOUSE FOR RENT
Century 21 manages over 100 rental properties. 1, 2, and 3 bedroom homes and suites for rent. Check out www.rentdrumheller.ca for a list of current properties for rent & apply online at www.rentd.ca on your phone or home computer. 403-823-2121 M-F.