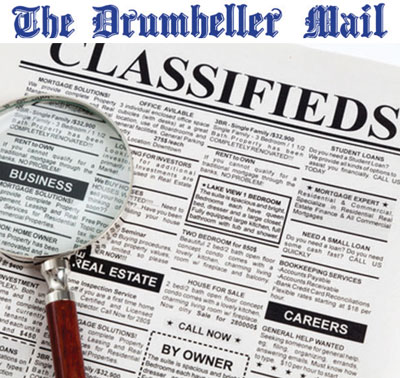 CARD OF THANKS
THANK YOU... To all the caring and attentive nurses at the Drumheller Cancer Centre, Homecare, and Palliative Care, who took such wonderful care of my husband, Les Diehl, I so appreciated your kindness and sensitivity. . and to the doctors who attended Les through the many months of his treatments, thank you for your compassion and caring. . .we are so very fortunate here in Drumheller to have such talented, decent, people helping those we love. . .God Bless You. Betty.
ANNOUNCEMENTS
AL-ANON, Wednesday evenings, 6:30 pm, Telus Bldg, 4th Floor. Call Lynne (403) 822-0008 or Carol (403) 772-2373.
THE HAPPY DESTINY Alcoholics Anonymous Group meets every Monday at 7 p.m. "Open Meeting". Grace Lutheran Church.
AA GROUP... Church of Nazarene. Wednesdays, noon. Contact Art 403-821-1464.
FARMER'S MARKET
FARMLAND/PASTURE WANTED
WANTED... Cultivated farmland in the Drumheller area for cash rent or sale. 403-321-0214.
WANTED... Farmland to rent in Drumheller, Dalum, Verdant Valley or Delia area. Phone 403-823-9222; 403-334-3644.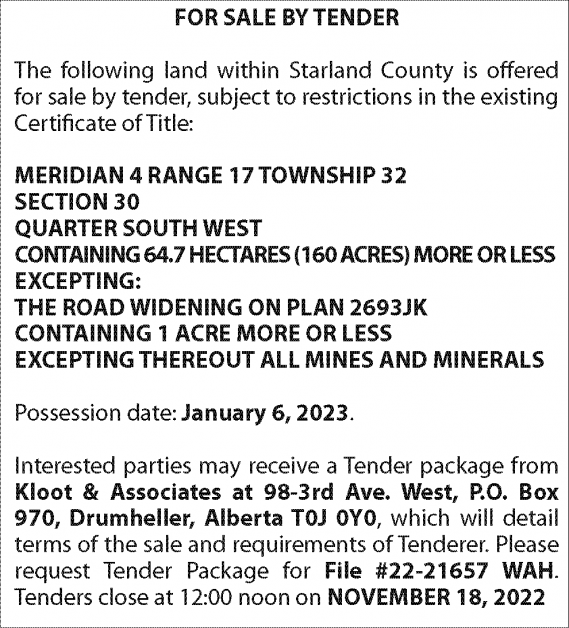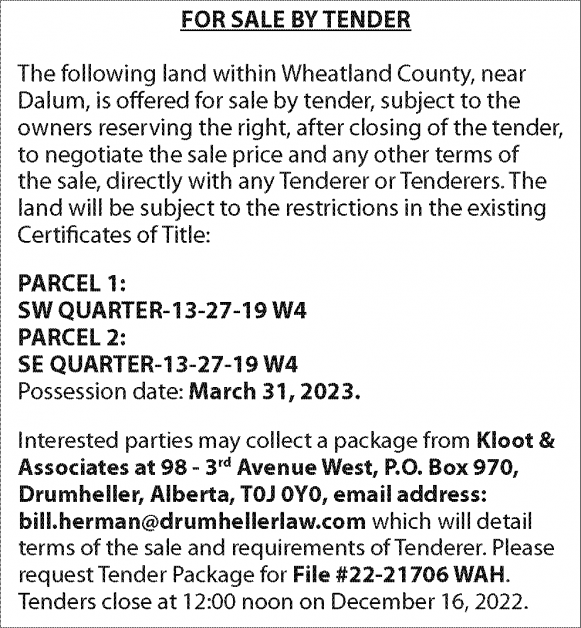 REAL ESTATE FOR SALE
HOUSE FOR SALE
HOUSES FOR SALE - Can't find it here or on MLS? Check out www.powerrealty.ca
COMMERCIAL LAND FOR SALE
Commercial Land Available... Willing to work with potential buyers. Contact 403-823-6987 or munson@netago.ca
RENTAL PROPERTY
HOUSE FOR RENT
Century 21 manages over 100 rental properties. 1, 2, and 3 bedroom homes and suites for rent. Check out www.rentdrumheller.ca for a list of current properties for rent & apply online at www.rentd.ca on your phone or home computer. 403-823-2121 M-F.
HOUSE FOR RENT... 900 sq. ft. older home, W.D.F.S., main floor laundry, 2 1/2 bedrooms, no pets or smoking. $900/month, $900 D.D. Call Bruce 403-820-8881.
HOUSE FOR RENT... 141-2nd Street West. 1000 sq. ft., 2 bedroom, front porch, back deck, w/d on main floor, appliances, closed in yard, storage shed, parking. Phone 403-823-6774 12 noon - 5:30 p.m.
APARTMENT FOR RENT
FOR RENT... Hunts Place Apartments (Corner of Hunts Dr. & 2nd St. E). Quiet, adult oriented, non-smoking building with security door, laundry facilities, parking with plug-in. 1 & 2 bedrooms. Wifi hot spot. https://write67.wixsite.com/hunts-place Phone 403-821-0770.