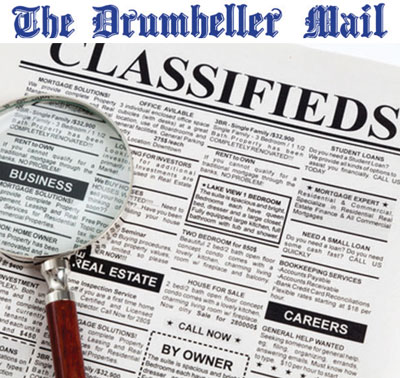 SERVICES
STORAGE
HIGH COUNTRY STORAGE... 1 Ave East, Delia, R.V. space, C-cans, for rent advertising panels. Call me. Ask for Edie 1 (403) 334-1588.
RENTAL PROPERTY
HOUSE FOR RENT
Century 21 manages over 100 rental properties. 1, 2, and 3 bedroom homes and suites for rent. Check out www.rentdrumheller.ca for a list of current properties for rent & apply online at www.rentd.ca on your phone or home computer. 403-823-2121 M-F.
HOUSE FOR RENT... Morrin, 3 bedroom house. $540/month + utilities. No damage deposit. 1-403-815-5422.
ROOM FOR RENT
FOR RENT... Greentree area. $420/month. Bedroom in quiet, clean bi-level house. Non-smoking. Utilities and internet included. adso@shaw.ca
APARTMENTS FOR RENT
FOR RENT... Juniper Manor 1 and 2 bedroom suites available. Includes free heat, free water, parking, air conditioning, coin laundry. No children. Phone 1-403-856-4401.
FOR RENT... Quadra Manor 1 and 2 bedroom suites available. Includes free heat, free water, parking, air conditioning, coin laundry. No children. Phone 1-403-856-4401.
Hunts Place Apartments (Corner of Hunts Dr. & 2nd St. East). Quiet, adult oriented, security door & intercom, garden patios or large balconies, laundry facilities, parking with plug in, fridge, stove, window coverings, hot water & heat, WiFi hotspot, no smoking, no pets, www.wix.com/writem5/hunts-place. Phone (403) 820-1665 or (403) 821-0266.
REAL ESTATE FOR SALE
RECREATONAL PROPERTY
LITTLE FISH LAKE... level Lakefront lot ready to build on. Leasehold, power only. Beautiful view. $69,900.00 Contact Lance Montpetit, Greater Calgary Real Estate 403-860-7197.
HOUSE FOR SALE
HOUSES FOR SALE - Can't find it here or on MLS? Check out www.powerrealty.ca.
FARMER'S MARKET
FARMLAND/PASTURE WANTED
WANTED... Cultivated farmland in the Drumheller area for cash rent or sale. 403-321-0214.
PRODUCE
PRODUCE FOR SALE... Verdant Valley Colony will be selling produce every Friday until the end of September from 10:00 a.m. to 5:30 p.m. at the corner of Mac's Convenience Store in Drumheller.
EMPLOYMENT
HELP WANTED
HELP WANTED... Person with Masters or University degree in Agriculture. Work is near Drumheller. Room and Board plus monthly salary, production bonuses. Send resume to byronb777@gmail.com
WORK WANTED
PAINTER
Summer has sprung. Will paint your house or building. Interior or exterior. 31 years experience. 10% off quotes. Very low rates. Phone Ken at 403-821-0823 or 403-823-8140.
ANNOUNCEMENTS
AL-ANON, Wednesday evenings, 6:30 pm, Telus Bldg, 4th Floor. Call Lynne (403) 822-0008 or Carol (403) 772-2373.
Saturday Sunrise Meeting, Alcoholics Anonymous, 9 am, Knox United Church. Contact Helen 403-823-5593.
THE HAPPY DESTINY Alcoholics Anonymous Group meets every Monday at 7 p.m. in the Badlands Room at the Drumheller Health Complex. "Open Meeting".
COMING EVENTS
AGM... Pool League. Canadian Cue Sport (CCS). There will be a general meeting Sunday, July 14 at 3:30 p.m. at the bowling alley. This league will not interfere with BCA or Fun league nights. Canadian Cue Sport has been around for a long time. They are a sanction leagued, and offered 5 tournaments last year in Canada! Shawn Bulechowsky 403-820-1305 and Willie Samel 403-821-1788 will coordinate the league if there is enough interest.
CARD OF THANKS
THANK YOU... Jennie DeMille's family wish to express our sincere gratitude to the nursing staff and physicians of the Drumheller Regional Health Care Complex during her recent time spent as a patient of the facility. A special thanks to Myrna Gouin who spent many nights at Jennie's side. It is much appreciated. To her many friends who took the time to visit her while she was in hospital, we are also grateful. To the staff of Courtney-Winter's Funeral Home, in particular Lisa Jacques, and her personal attention and assistance with the funeral service, we are so appreciative. To Becky Kowalchuk for providing the service and Howard Helton for reading the eulogy, thank you also. Thank you to all friends and neighbours for your support, cards, emails, messages, flowers and food - we are forever grateful which all made the loss of our mother, grandmother and great-grandmother easier for each one of us.
Mary Lynn, Randy (Josey), Daryl, Kevin and families