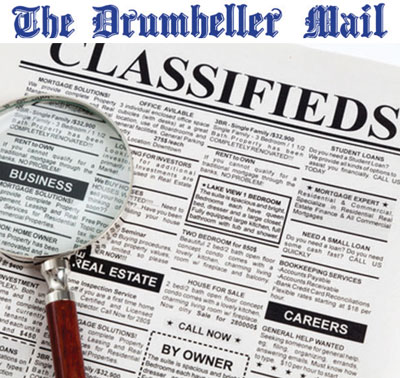 SERVICES
STORAGE
HIGH COUNTRY STORAGE... 1 Ave East, Delia, R.V. space, C-cans,for rent advertising panels. Call me. Ask for Edie 1 (403) 334-1588.
RENTAL PROPERTY
HOUSE FOR RENT
Century 21 manages over 100 rental properties. 1, 2, and 3 bedroom homes and suites for rent. Check out www.rentdrumheller.ca for a list of current properties for rent & apply online at www.rentd.ca on your phone or home computer. 403-823-2121 M-F.
HOUSE FOR RENT... Available July 1. 1 bedroom, F/S, W/D, storage shed. 1 year lease. $675/month + utilities. Call Kent 403-820-3146.
HOUSE FOR RENT... Morrin, 3 bedroom house. $540/month + utilities. Available July 1. No damage deposit. 1-403-815-5422.
HOUSES FOR RENT... 1 bedroom, garage, w/d. $850.00/month + utilities. 2 bedroom, w/d, dishwasher, 2 bathrooms. $900.00/month + utilities. 403-823-3925.
ROOM FOR RENT
FOR RENT... Greentree area. $420/month. Bedroom in quiet, clean bi-level house. Non-smoking. Utilities and internet included. adso@shaw.ca
APARTMENTS FOR RENT
FOR RENT... Juniper Manor 1 and 2 bedroom suites available. Includes free heat, free water, parking, air conditioning, coin laundry. No children. Phone 1-403-856-4401.
FOR RENT... Quadra Manor 1 and 2 bedroom suites available. Includes free heat, free water, parking, air conditioning, coin laundry. No children. Phone 1-403-856-4401.
Hunts Place Apartments (Corner of Hunts Dr. & 2nd St. East). Quiet, adult oriented, security door & intercom, garden patios or large balconies, laundry facilities, parking with plug in, fridge, stove, window coverings, hot water & heat, WiFi hotspot, no smoking, no pets, www.wix.com/writem5/hunts-place. Phone (403) 820-1665 or (403) 821-0266.
REAL ESTATE FOR SALE
CAMPGROUND
CAMPGROUND FOR SALE... Drumheller area. 87 serviced sites, 3 group areas with building. Well treed, total 67 acres, equipment and supplies. Turnkey. Owner retiring. $800,000. Phone 403-369-2774.
HOUSE FOR SALE
HOUSES FOR SALE - Can't find it here or on MLS? Check out www.powerrealty.ca.
FARMER'S MARKET
FARMLAND/PASTURE WANTED
WANTED... Cultivated farmland in the Drumheller area for cash rent or sale. 403-321-0214.
BULLS FOR SALE
FOR SALE... Yearling Red Angus Bulls. Moderate Birthweights. Very quiet. Performance data available. More info contact Anthony Andrew (403) 820-4776 Carbon. website:
www.anchorranchredangus.com
PRODUCE
PRODUCE FOR SALE... Verdant Valley Colony will be selling produce every Friday starting Friday, June 14 until the end of September from 10:00 a.m. to 5:30 p.m. at the corner of Mac's Convenience Store in Drumheller.
WORK WANTED
PAINTER
Summer has sprung. Will paint your house or building. Interior or exterior. 31 years experience. 10% off quotes. Very low rates. Phone Ken at 403-821-0823 or 403-823-8140.
CARD OF THANKS
THANK YOU... I would like to express my deepest gratitude for all the care and labour's of love given to Craig during his illness. And afterwards for the work done to help prepare for Craig's celebration of life. Thank you for the cards, emails, messages, texts, hugs, words of encouragement, food, flowers, cash donations and prayers. Your support for me has been incredible and I deeply value all of your friendship and love. I am truly blessed. In lieu of thank you cards I will be making a donation to Cancer Research.
Jan Russell
ANNOUNCEMENTS
AL-ANON, Wednesday evenings, 6:30 pm, Telus Bldg, 4th Floor. Call Lynne (403) 822-0008 or Carol (403) 772-2373.
Saturday Sunrise Meeting, Alcoholics Anonymous, 9 am, Knox United Church. Contact Helen 403-823-5593.
THE HAPPY DESTINY Alcoholics Anonymous Group meets every Monday at 7 p.m. in the Badlands Room at the Drumheller Health Complex. "Open Meeting".