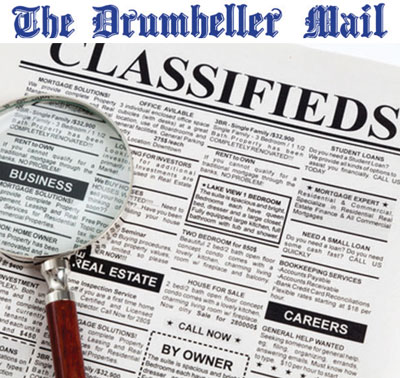 RENTAL PROPERTY
HOUSE FOR RENT
Century 21 manages over 100 rental properties. 1, 2, and 3 bedroom homes and suites for rent. Check out www.rentdrumheller.ca for a list of current properties for rent & apply online at www.rentd.ca on your phone or home computer. 403-823-2121 M-F.
HOUSE FOR RENT... 2 bedrooms, 1 bathroom, large lot in Munson. Home with large kitchen large living room and attached garage. No pets allowed. Call (403) 820-0240.
HOUSE FOR RENT... House for rent in Carbon. 1080 sq. ft. 3 bedroom bungalow for $1500/month. Possibility of rent to own with $5,000 down payment and large monthly payments. Call 403-508-7787.
HOUSE FOR SALE... Cozy 2 bedroom house for rent. Comes with stove, fridge, washer, dryer. Available immediately. $800 rent plus utilities; $800 DD. Call 403-823-0154 or 403-820-1713.
APARTMENTS FOR RENT
Hunts Place Apartments (Corner of Hunts Dr. & 2nd St. East). Quiet, adult oriented, security door & intercom, garden patios or large balconies, laundry facilities, parking with plug in, fridge, stove, window coverings, hot water & heat, WiFi hotspot, no smoking, www.wix.com/writem5/hunts-place. Phone (403) 443-1471.
SUITES FOR RENT
SUITES FOR RENT... Sage Manor, 1, 2 and 3 bedrooms, 333-2nd Street East, Drumheller. Mature adults only. No smoking. View at www.sagemanor.com 403-823-0964.
REAL ESTATE FOR SALE
HOUSE FOR SALE
HOUSES FOR SALE - Can't find it here or on MLS? Check out www.powerrealty.ca.
HOUSE FOR SALE... House for sale in Carbon. 1080 sq. ft. 3 bedroom bungalow. $179,900. Call 403-508-7787.
FARMER'S MARKET
FARMLAND/PASTURE WANTED
WANTED... Cultivated farmland in the Drumheller area for cash rent or sale. 403-321-0214.
LIVESTOCK FOR SALE
Live stock for sale. Simmental Bulls for sale. Red + Black yearlings. Hidden Stone Farm 403-324-1554.
HELP WANTED
HELP WANTED... Seasonal, part-time yard maintenance. Start mid April. Flexible hours. 10 - 15 minutes from Drumheller. Call 403-820-0181.
SENIOR SERVICES
HELPING HANDS (Est 1999)
HELPING SENIORS in their homes: cooking, cleaning, transportation.
HELPING SENIORS in facility care: meal assist, baths, visits, outings.
TOWN & RURAL
COMPETITIVE HOURLY RATE;
CARING BONDABLE HELPERS
Call (403) 364-2476
Email hq.helpinghands@gmail.com
www.helpinghandshomesupport.com
ANNOUNCEMENTS
AL-ANON, Wednesday evenings, 6:30 pm, Telus Bldg, 4th Floor. Call Lynne (403) 822-0008 or Carol (403) 772-2373.
Saturday Sunrise Meeting, Alcoholics Anonymous, 9 am, Knox United Church. Contact Helen 403-823-5593.
THE HAPPY DESTINY Alcoholics Anonymous Group meets every Monday at 7 p.m. in the Badlands Room at the Drumheller Health Complex. "Open Meeting".
COMING EVENTS
SPRING LUNCHEON... Knox United Church, Wednesday, April 17, 11:30 a.m. to 1:00 p.m. Cold plate lunch, dessert and beverages - $10.00. Bake sale table. Everyone welcome.
SUPPER & SILENT AUCTION... Big Valley United Church Supper & Silent Auction, Sunday, April 14, 4:30 - 6:30 p.m. at the Community Hall. Adults - $12.00; Children 6 to 12 years - $6.00; Under 6 - Free.
AFTER 5 CLUB... Monday, April 8, 6:30 - 8:30 p.m. Old Central School. $15.00 includes buffet and program. Shoppers Cosmetic Team will present their spring cosmetic line. Inspirational speaker Tammy Dezile. All ladies welcome. Reservations essential. 403-823-5678.