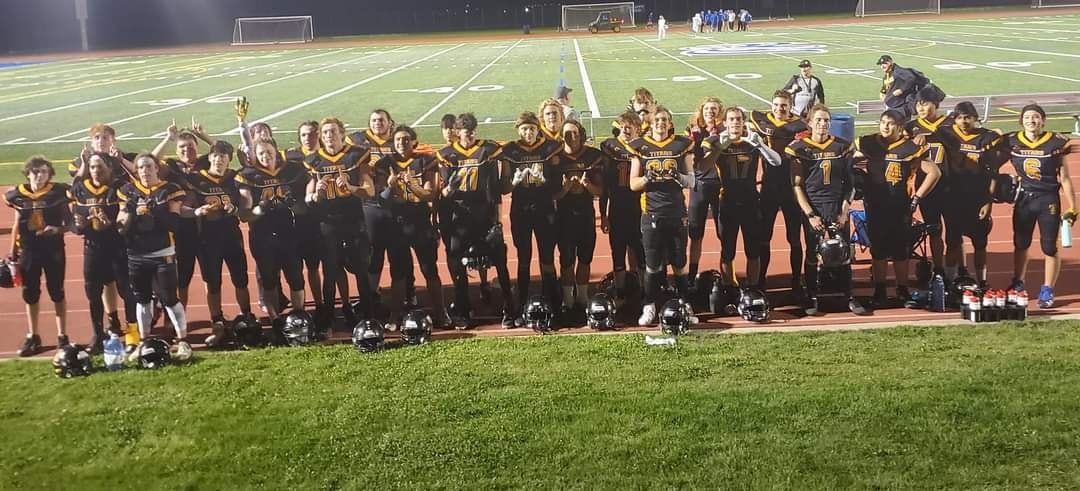 The Senior Titans are on the march through the season and won a close one against a tough opponent.
The Titans were in Lethbridge on Friday night to take on Catholic Central. This is a Tier II team with a championship pedigree.
"It is a pretty good win. We had some frustrating moments with the game, we were making a lot of mental errors," said Coach Ken Fournier. "We wanted to stick to our game plan too, so we forced ourselves to not rely on some of the things we could have to make sure we were trying our best to spread the ball around. We were moving the ball well on the ground, but in the air, uncharacteristically, we were having one of those nights where we had a lot of drops."
It was a close game, with both teams making progress,… and errors.
"There were points in that game where either team could have taken it away. It turned into a special teams defensive battle," he said.
The Cougars scored an 80-yard touchdown on the first play of the game. The Titans were able to shut that down, and the only scoring for the Cougars came from field goals.
"We knew we had to have a bend but don't break mentality," he said.
The Titans pulled out a rouge, in the last minutes of the game, the same play they made at provincials.
"We were behind with about 1:30 left on the clock. We completed a few deep passes with a couple of really clutch catches," explains Fournier. "We got up to the 35-yard-line and kicked a punt towards the corner of the endzone. It took a really fortuitous bounce for us and rolled all the way to a foot in the endzone, we tackled them and got a second point."
The defense stood tall, and in the last minute of play an interception sealed Catholic Central's fate. The Titans won 21-20.
He notes that for most of the game, there were only a few points separating the teams, so a big play by either side could have blown the game wide open. The crowd was in it.
"These are good football games, those are the games you want to play," he said. "It was good all around for veterans and rookies to experience. They're fun… those are games they will always remember."
This Saturday, the Titans are heading to Olds.