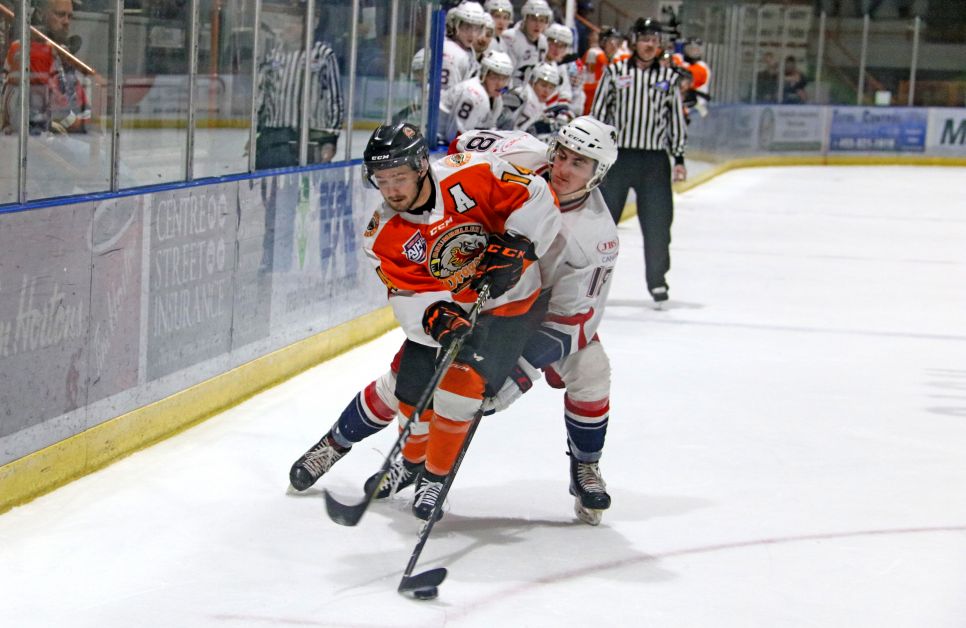 Despite coming off a two game skid against the top Canadian junior team in the Brooks Bandits, the Drumheller Dragons are about as good as they've ever been after heading into the break as the franchises' winningest team at this point in the season.
Drumheller dropped two to Brooks over the weekend after back-to-back games which saw them host the Bandits Friday before heading to Brooks on Saturday. The Dragons went down 4-1 on Friday and 3-1 Saturday. Brooks is the top rated team in all of Canadian junior hockey. The Bandits have been a consistently strong team over the years but this season are tearing up the league, with a record as of Monday of 37-3 with 74 points, ahead of Drumheller's 51 points.
But head coach Kevin Hasselberg says the loss to team of that caliber just sparks the hyper-competitiveness Drumheller has exhibited so far this season.
"It paints a clear picture of what level we want to get too" he says. "The expectations are high and they never met those expectations. It didn't come without effort but the players will let that set back sit without losing the hope that they can be successful."
Hasselberg said the records and achievements so far this year "may spark some pride" but "it's not where our players mindsets are."
"Our vision and mission is to take things to highest level possible, and we're away from that, but we're working daily to maximize our efforts and working with our players to achieve that. The right players are in place to lead the group and the leadership is in place for the organization."
The Dragons were in Calgary on Tuesday to face the Canucks, but results were not available at press time. Drumheller will host the Bonnyville Pontiacs on Friday, gametime at 7:30 p.m.
The Dragons are up against another second-place team in the north division's Pontiacs, and Friday's game will be another test of the team's mettle.