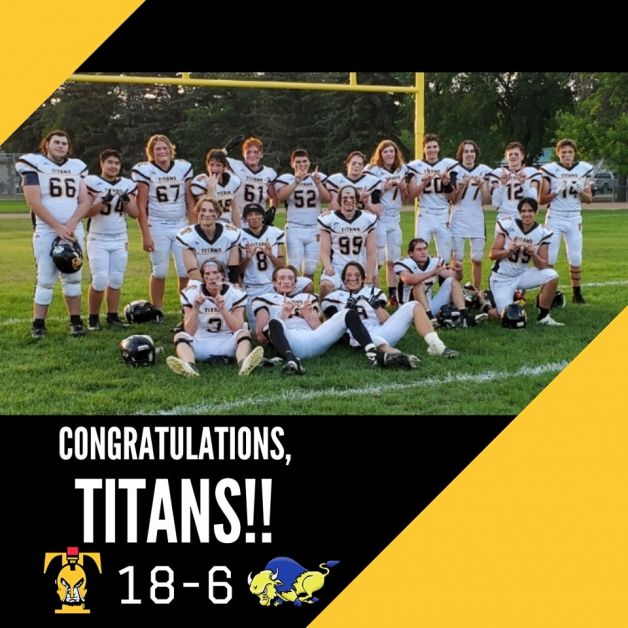 The Titans are on the cusp of beginning the 2023 football season and after a win over Brooks in exhibition play they are confident in the future.
The Titans are on their way to Canmore this Saturday, September 19 boosted by an 18-6 win over Brooks.
"It was a great game. They have a really strong defensive line. Their offence and quarterback can really run. It was a great game, we could have won it or lost it off a few bounces."
He said there were some bright spots in the Drumheller team's play.
"I liked that we didn't take many penalties. We did move the ball pretty well in the air and on the ground. We scored one passing and one rushing," said head coach Ken Fournier.
While it is early in the season, he has identified some areas that need some work.
"What I didn't like, was we missed all of our point-afters, and we fumbled the ball at the one-yard line," said Fournier.
He explains the Titans were on a tear with a 75-yard pass and catch. They ended up on the second-yard line but weren't able to capitalize.
"Those are early season things that you try to work out," said Fournier.
The regular season begins this week as they take on a familiar Canmore team.
"We scouted them…it was a rough game for them. They had some things that were working and some things that were not working. It had to do with a lot of new guys in new spots, low snaps and things like that. They have had two weeks since then, so I expect they will be ready to play."
The following weekend, the Titans will be in exhibition play in Lethbridge against Catholic Central. Their first home league game is on October 6.