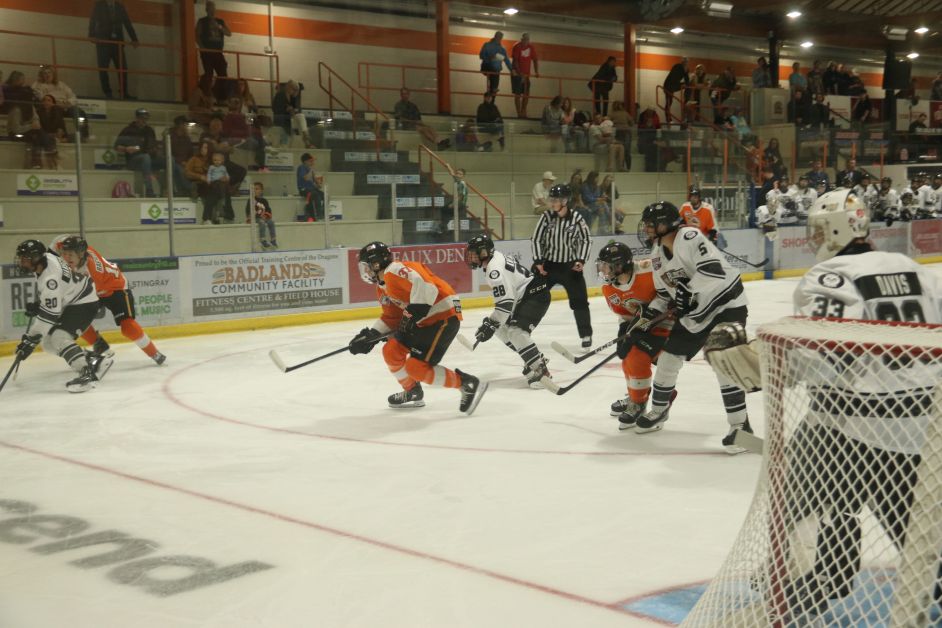 The Dragons are ironing out the wrinkles and getting a good look at new players as they continue through their preseason schedule.
The exhibition season began for the Dragons on Wednesday, August 30 as they took on the Calgary Canucks on home ice.
Drumheller outshot Calgary by a 41-26 margin, but no scoring took place until the second period when Calgary took a lead. It was short-lived as just four minutes later Jodan Luk scored his first as a Dragon to tie the game. Cyle Clayton put the Dragons up 2-1 in the third, but Calgary tied it up. After overtime, the game was still not decided, so they went to a shootout. Calgary made three to the Dragons' two and took the win.
On Friday, September 1 the Dragons were in Blackfalds to take on the Bulldogs. This was an opportunity to get a look at some prospects. Again the Dragons had the fire power outshooting the Bulldogs by nine.
Drumheller scored the lone goal in the first period to take the lead by Coy Pighin's hand. Blackfalds tied it up early in the second but Luke McPhee put the Dragons up. After that, the Bulldogs went on a tear, scoring three more in the second and three in the third period. Pighin
added one in the third for Drumheller, but that was all they could muster as Balckfalds went on to a 7-3 win.
The Dragons seemed to have the game in control, On Saturday night as Blackfalds came to Drumheller. After two periods with a 2-1 lead, with goals from Adam Raesler and Easton Adrian. Blackfalds went on another streak and scored four goals in less than two minutes. Drumheller answered back with three goals coming from Ryan Henerson, Braxton Thornton and Pighin to tie the game in regulation time. Still tied after an extra period, the game went to a shoot-out again and Blackflads took the win.
The Dragons still have three more exhibition games to find their legs before the season begins. This Wednesday, September 6, they are back in Calgary to take on the Canucks. On Friday, September 8, they are in Olds for their first game against the Grizzlys, and on Saturday, the Grizzlys return the favour and visit Drumheller.