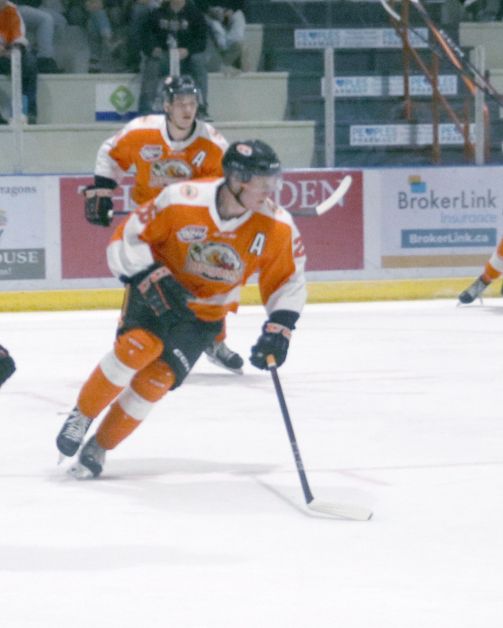 The Dragons had a tough week facing strong opponents on the road.
The Dragons were in Blackfalds, on Tuesday, October 17 to take on the first-place Bulldogs.
Drumheller drew first blood on Tuesday night, as Nolan Viesner scored his first of the season six minutes into the game. The Bulldogs added two, but Cyle Clayton scored one to tie the game after the first period.
Kai Matthew put the Dragons up early in the second, but Blackfalds rattled off two to retake the lead. Adam Raesler tied it up again but the Bulldogs kept up the pressure, leading 6-4 after two periods. Aiden Connell drew the Dragons closer with two and a half minutes left, but the Bulldogs sealed it, winning 7-5.
On Friday, October 20, the Dragons took on the second-place Bandits in Brooks. The Dragons were able to get off 17 shots, but none of them connected, as the Bandits went on to a 5-0 win.
On Saturday, it was Deja Vu all over again as the Dragons took to the ice in Brooks to face the Bandits. Adam Raesler scored just 18 seconds into the game, but that was all they could get as Brooks tied it in the first period and added three more in the third to take the 4-1 win.
The Dragons have a two-game home stand, starting on Tuesday, October 24, as they faced the Olds Grizzlys at noon at the annual Hooky Hockey game. Students from area schools are invited to watch a matinee game. Results are not available at press time. On Thursday night, October 26, they host the Okotoks Oilers and on Friday, October 27 they face they travel to Sherwood Park to take on the Crusaders.