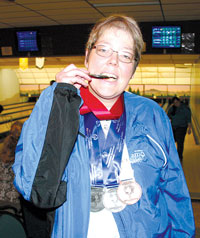 Michaella Clark nearly leapt off the podium in London, Ontario last week, after winning a gold medal at the Canada Special Olympic Games.
    The 34-year-old Drumheller swimmer won her first national gold medal in the 25m butterfly event. That was just the tip of the iceberg.
    "It was awesome," Clark said of the experience at her third national games. She posted a personal best to win the medal, but more importantly, she posted strong results in all of her events.
     She won silver medals in the 25m and 100m freestyle events and a bronze in the 25m backstroke. She was also part of the team relay events that also did well.
    She arrived back in Drumheller on Sunday, after an experience of a lifetime. She was thrilled to see Don Cherry at the official ceremonies raise the flag. She also met swimming legend Mark Tewksbury. 
    With her gold medal win, there is a chance she could be named to Team Canada for the World Special Olympic Games next summer in Athens, Greece. 
    While the medal puts her in the running, there is still a selection process. She has good chances as she was one of the top performing women from Alberta.
    She commented coaches said the selections could be announced as soon as next month. She says if she is selected she will work even harder to represent Team Canada.
    Clark swims with the Special Olympic Team in Red Deer as well as with the Drumheller Aquadinnies.