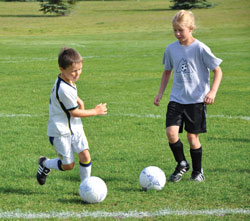 Soccer kids in Drumheller are being given the opportunity to showcase their old skills and learn some new ones by professional soccer coaches.
    John Clubb, an English soccer coach who was formerly with Middlesbrough FC, is now head coach for Big Country Soccer and also Rocky Mountain Soccer Academy and has teamed up with Drumheller Soccer Association. 
    During the week of 16-19 August he will be hosting a skills camp for soccer enthusiasts in Drumheller. In addition to a children's soccer camp during the day, Clubb will also be hosting a special parent's clinic during the week.
    "The idea of the parent's clinic is to support many of the magnificent volunteers who support the development of the game in Drumheller," says Clubb.
    "To give them ideas on coaching and address any concerns they have."
    He also stresses that the recent FIFA World Cup demonstrates how soccer truly is a world game and hopes that with support in the rural communities of Alberta, it can be seen as a vehicle to both challenge players and bring communities together.
    "No matter where you travel, everyone knows soccer, or football as it is called back home," Clubb explains, "it draws people together in discussion as they seek opportunities to demonstrate their passion for the game."
    The camp is being held between 10.00 - 3.00 pm each day and registration forms are available by emailing clubbsportc@aol.com or calling Dave Orbrich on 820-8269.
    The parent's clinic will be an open invitation on one of the four days, so to be in with a chance of attending, sign your kids up for a great opportunity that will send the kids back to school with fond soccer memories from summer.