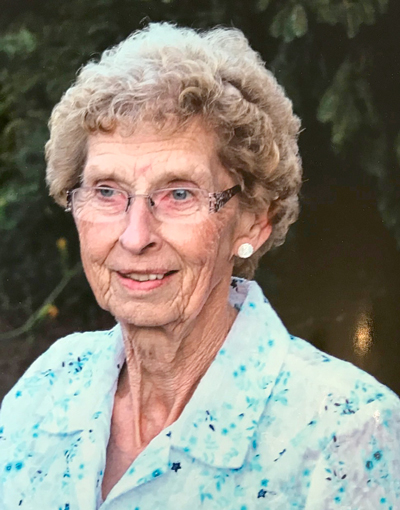 PALLESEN
Rita Marie
May 26, 1935 - November 24, 2020
It is with both sadness and celebration that we announce the peaceful passing of Rita Marie Pallesen on Tuesday, November 24 at the age of 85 years.
Rita was born in Calgary to John and Agnes Hansen, and was raised on the farm at Beynon, Alberta. Being raised in a somewhat isolated location and as an only child for the most part, Rita's pet cats and dogs meant she was never alone. Her earlier school years were spent in Beynon and at Blue Spring in Dalum, and some of her best memories were her high school years at the dormitory in Drumheller, where 34 girls shared a room together.
After high school, Rita worked as a secretary in Calgary. She married Olav Pallesen in 1956 at Bethlehem Lutheran Church in Dalum, and they enjoyed nearly 64 years together. While they lived on the farm at Beynon, Rita and Olav welcomed four children, and at that time, running water meant Mom was carrying two buckets across the yard. In the fall of 1964, the Pallesens moved to Dalum so the kids could more easily attend school. Mother's Day in 1970 was a day none of us will ever forget, when the farmhouse burnt to the ground, presenting a whole new set of challenges.
Community meant everything to Mom. Her years of service in the Dalum Friendship Club and her dedication to Bethlehem Lutheran Church through music, record keeping and participating on multiple committees brought her great joy.
In her later years, Rita was a dedicated volunteer with Continuing Care in Drumheller. This included portering for hairdressing days, playing for sing-songs, organizing nightgown sewing bees, and lending a hand whenever called upon. Mom had not only a "can do" attitude, but a "will do" attitude that extended to all facets of her life.
We will forever be grateful for the caring and kindness shown to Mom during her time at Meadowlark in Strathmore, and to the entire staff on Unit 52 of the Peter Lougheed Centre who went above and beyond to ensure we had all the time we wanted to spend together.
Rita is survived by her husband Olav; children Daryl (Susan), Barry (Pauline), Connie (Michael) and Joan; grandchildren Jenny (Travis), Kirsten, Kurt, Kate (Derek) and Erik; and great-grandchildren Ali and Lane. She was predeceased by her parents John and Agnes Hansen; siblings Alice Rose and Eric; and her first born son.
Due to Covid-19, a private family interment was held at Dalum with Pastor Dan officiating. We hope to hold a celebration of Mom's life at a later date. In lieu of flowers, donations may be made directly to Bethlehem Lutheran Church Memorial Fund or to a charity of your choice.