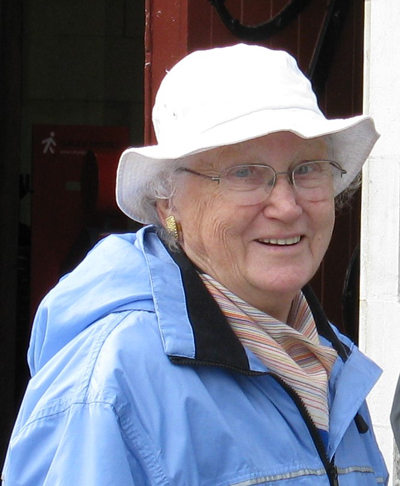 CUNNINGHAM
(nee McGhee)
Edith Elzaida
December 29, 1926 - August 16, 2020
It is with great sadness that we announce the passing of our wife, mother, grandma, friend, and teacher - Elzaida Cunningham on August 16th, 2020 at the age of 93.
Zaida was born in Drumheller, Alberta on December 29th, 1926. Her early years consisted of school, piano and dancing lessons as well as exploring the coulees around Turtleback Farm, the McGhee family home. Her curiosity, intelligence, and love of learning led her to the University of Alberta where she earned a Bachelor of Science and Education degrees. She instilled that love of knowledge in her many students in Yellowknife, Carbon, St. Albert and various other Alberta locations. Elzaida was one of the first female science teachers in Alberta. After retiring from teaching, she spent her time quilting, gardening and with family, although she never lost her love of learning or sharing knowledge. Her quilts, whether made of blue jean or finer fabrics, were coveted throughout the family and Canada. She took up astronomy and was one of the first to witness, through a telescope, the Shoemaker-Llevy comet that impacted Jupiter. She tutored many a student through their math and sciences. She was a generous, tolerant person as all were welcome in her home and at her table. She loved to dance and good music never failed to get her moving. She could be readily identified by her beautiful smile and a stylish signature hat. Elzaida was to the end, a woman of strength, grace and intelligence. She will be greatly missed.
Elzaida is survived by her husband Chester, her children: David (Rebecca), Calvin, Carola, Bill (Judy), Mark (Debbie), Frank, Rosalie; grandchildren: Tahnis, Ceileigh, Jesse, Crystal, Sandy, Nicki, Teneya, Shani, Layla, Cora, Nina, Matthew, Anna, Melissa, Amanda; and great grandchildren: Nora, Canon, Dana, Dillon, Quinn, Charlie, Aiskiya, and Gloria; sister-in-law Jean, as well as numerous nieces, nephews and unofficial family members. She is predeceased by her parents Harvey and Lucile, all her siblings, (Verna, Calvin, Lois, Joan, Mert, Glenn and Clarence) and brothers-in-law (Ira Wisener and Stan Coad).
The family wishes to thank the many individuals at Westlock Continuing Care Center for the love and attention they provided to Elzaida in recent years. In lieu of flowers please make donations to AHS Westlock Continuing Care. A celebration of life will be held at a later date. Westlock Funeral Home & Crematorium Ltd. 780-349-3474.