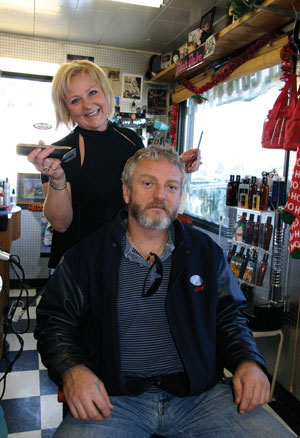 He knew his time was coming.
    After seven consecutive  Cuts 4 Cancer events, Rod Morse knew there would eventually be a bounty on his head… or his hair more precisely.
     The Cuts 4 Cancer has become a tradition in the valley started by Cathy Morse in memory of her mother who passed away after a battle  with cancer. It has been held on February 3 for the last seven years.
    This year her husband Rod is on the chopping block. He is going all out  and has already began to grow his hair out, including his beard.
    "No one has seen me without my goatee for 15 years," he laughs.
    Cancer has struck his family, not only through his mother-in-law. Rod's father Ron Morse died about a year ago from cancer. He is going under the razor in memory of him.
    To see Rod's head as bald as the day he was born however doesn't come cheap. They have set a bounty of $5,000. The highest bidder gets the first swipe.
    Cuts 4 Cancer is simple. On February 3 from 10 a.m. to 3p.m. there will be a full complement of haircutters on staff at The Chop Shop. They will be using their scissors to cut hair and raise funds for the Drumheller Area Health Foundation. Individuals can come and get a hair cut knowing the funds are going to a good cause. They can also follow in Rod's footsteps and collect pledges to see their manes cropped in tribute to those who are fighting cancer or who have lost their battle.
    Cathy says more heads on the chopping block are welcome. They have set a goal of raising $20,000 at the coming event.
    The money raised will be used to go to the Drumheller Area Health Foundation support of a fund they keep in trust for those with cancer and their families to help them cope financially during their battle. Families can apply, for example, if their loved one is undergoing cancer treatment out of town and the need support for some eligible expenses incurred.
    For more information on the event contact Cathy at The Chop Shop at 403-823-2460. She will gladly take pledges on behalf of  Rod.