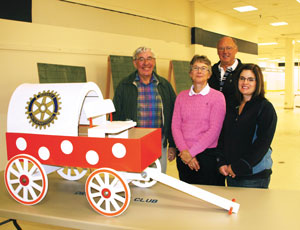 Every two years, the Rotary club gives residents a chance to do some Christmas shopping and to support a good cause.
The Rotary Radio Auction is back, and already there are dozens of items donated by local residents and businesses ready to be auctioned come October 19 and 20.
And what a collection they have, everything from high-end electronics to tools, tickets and household items. There is something for everyone on the list. One of the featured items this year is a hand made Chuckwagon donated by former Drumheller residents Dale and Karen Hunter.
"This item is sure to attract a lot of interest. We anticipate individuals, organizations and businesses will be stepping up to place bids for this very special item," says auction committee member Jim Fisher.
The wagon is a to-scale replica of Colt Cosgrave's famous wagon.
The radio auction is simple. A list of items on the block will be published in The Drumheller Mail, and on auction day, listen to Drum FM on the radio and call in your bids for the items. Local notables will be on the airwaves talking their way to the best price for the best items.
An even more exciting way of participating is to head down to Greentree Mall. The auction will be at the Former Liquidation World location from 6 p.m. to 10 p.m. Hi-Way 9 Express has stepped up once again to sponsor the wine and cheese during the event. Other sponsors supporting the auction include Sun Life Financial, Riverside Value Drug Mart and Scotiabank.
The funds raised by the Radio Auction will be going toward a new Rotary project, to raise a clock tower. The plan is still in its infancy and the club is talking with the town as to a location to place the four faced clock tower, a monument to Rotary's presence in the community.
Rotary Radio Auction chair Delphine Viczko says they could always use more items to support this great cause. For more information, contact Viczko at 403-823-9767.