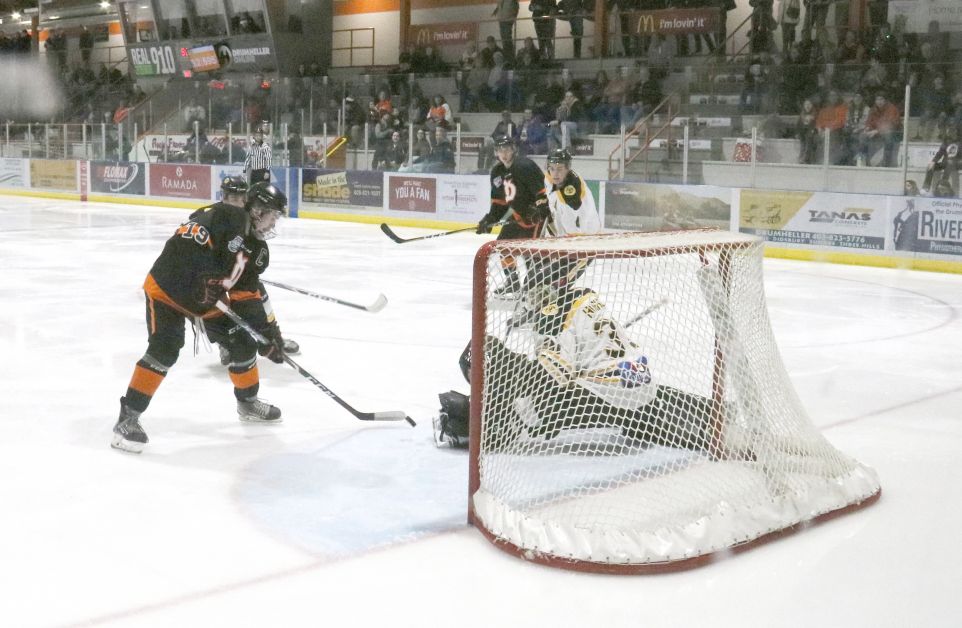 The Drumheller Dragons ended the pre-Christmas season with a present for fans, a convincing win over the Olds Grizzlys.
The Dragons hosted the Olds Grizzlys at the Christmas Classic on Friday night, December 20, the final game before the break, in front of 887 fans.
The Olds Grizzlys were the first to score at the 12:46 mark. The Dragons outshot the Grizzlys in the first period 19-7 and Eric Martin connected on the powerplay with 2:25 left to tie the game.
In the second period, the Dragons continued to dominate and put together a string of five straight goals, starting with Carter Belitski at 8:53 and then Brady Risk at 9:41.
Belitski scored his second of the game unassisted while the Dragons were short-handed and then Derrick Budz put the Dragons up 5-1 on the powerplay. Martin scored his second with 14 seconds left in the period. With no scoring in the third, the Dragons won 6-1.
Belitski was named the star of the game for the Dragons, scoring his seventh and eighth of the season.
The Dragons go into the break in third place in the Viterra AJHL south with a 20-13-3 record, trailing the Okotoks Oilers and the Brooks Bandits.