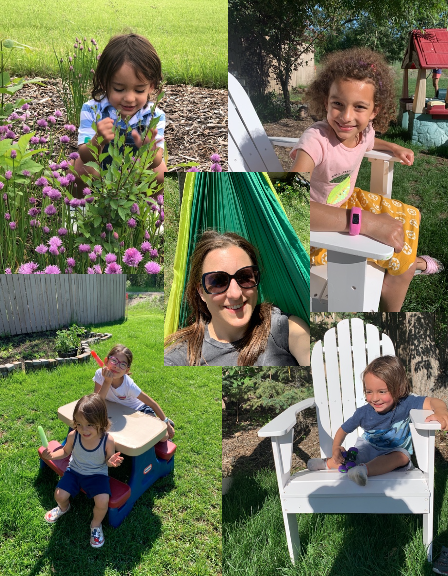 This weekend I stained my deck. I've always been more of a books over brawn kind of gal, but during CoVID, I've become determined to make my yard a summertime oasis. After all, I won't be travelling very far this year and I love being outside, enjoying the sun. Our yard gets perfect evening warmth and I intend to maximize that good fortune.
Having never stained a deck before, I had to do some research. Thank goodness someone warned me to pressure wash it first. And gave me the hint to spray it with Spray Nine Degreaser. What
a difference it has made.
This is one of my many summer home projects. I'm certainly not the only one on a mission to tackle home improvement projects.
The Bank of America surveyed over a thousand Americans about their plans during coronavirus and more than 70% have decided to work on home renovations. Similarly, in Canada, the CoVID Consumer Spending Tracker shows an increase of 25% on household items and construction supplies.
For many, it's something to do with the time they have as a result of not travelling this year. For others, it's stress relief. In some cases, needing a home office forces improvements. For certain people, it's finally working through that to do home list that's been on the fridge for too long. Millennials top the list for spending on such projects, set on doing things themselves, defying the common criticism of the generation as spoiled.
Toronto Star even has a home renovation challenge during CoVID (#StarChallenge). Readers can send photos of their gardens, decks, porches, or any sort of home renovation project. I bet the number of projects in Drumheller is high. There's definitely more hammering and sawing around our neighborhood. Don't even try to find a swing set, matching Adirondack chairs or patio furniture for a good price locally. They're sold out. I struggled to find even a hose holder. In Quebec, it's impossible to get a pool anywhere. Home Depot shares are up 35%, Sherwin-Williams is up 26% and Canadian Tire up almost 80%.
Summer Staycations have taken over. Now if only Mother Nature would stop sending us so much rain.
Have you undertaken a home renovation project during CoVID?
Dear COVID-19 is a weekly column supplied by Drs. Rithesh and Veronique Ram