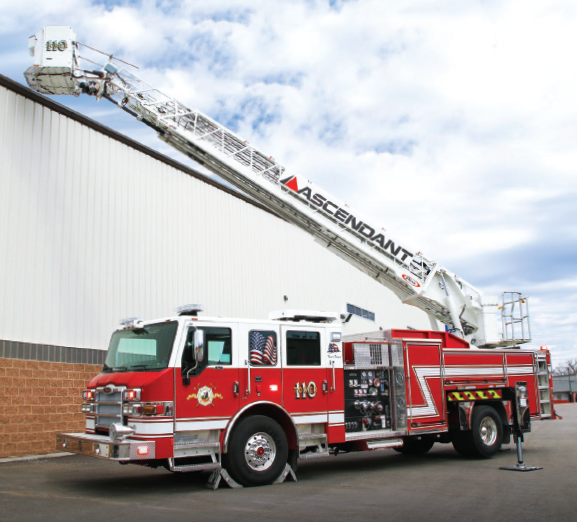 The Drumheller Fire Department will soon have a new aerial fire truck to replace its aging Simon Snorkel truck.
At the Monday, November 26 Drumheller Town Council meeting, Council approved to purchase a 2019 Pierce Ascendant Quint Aerial Platform Ladder /Pumper fire truck from Commercial Emergency Equipment of Calgary.
"It's hard to take the grin off my face," said Fire Chief Bruce Wade.
While the truck is to replace the 1982 Superior Simon Snorkel truck, it has much greater capabilities. The new vehicle will not only have ladder capabilities but a platform as well as a tank and pump. With its axel composition, it can be driven by any firefighter with a Class 5 licence.
"This will be a first response truck, which means it will be going to every structure fire," said Chief Wade. With Simon, It didn't carry enough hoses, so it was a second response," he said.
With different building materials in new homes, an aerial truck is the most effective and safest way to combat major blazes.
The addition of the truck with greater capabilities will allow the department to replace two trucks as the new apparatus has a greater ability to carry water.
"It gives us an opportunity to move a pumper from the Drumheller Fire Hall and to upgrade a pumper in East Coulee Hall," said Wade.
The town has been budgeting funds for the replacement truck for about four years. The truck came in at $1,316,841, above the budgeted $1.1, Million. The additional funds for the truck will come out of the Town's MSI funds.
Chief Wade expects they will receive the truck early in the new year.
"We are certainly happy that council chose to put it through and it's on its way," said Wade.