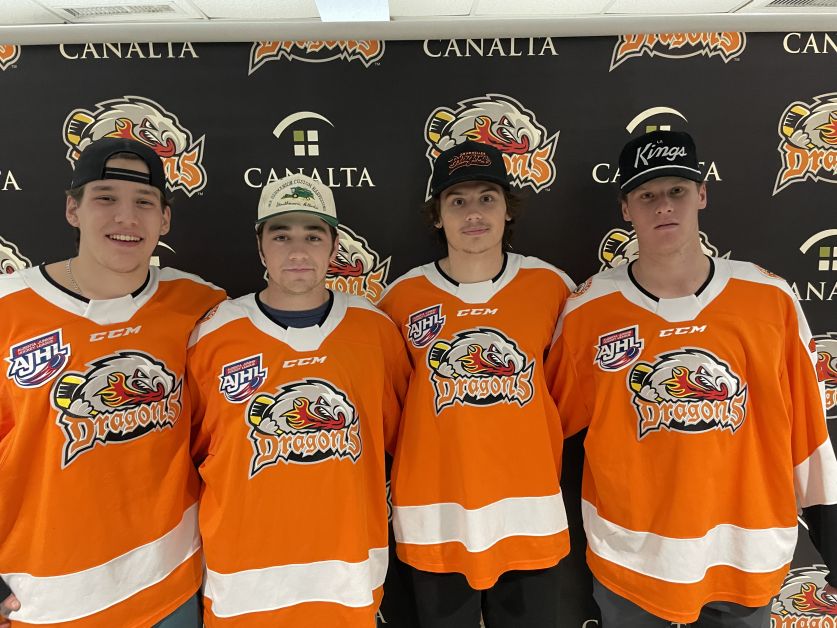 The Dragons have selected its leadership team for the upcoming season.
The Dragons have named Vann Yuhas this season's captain, along with assistant captains Adam Raesler, Cyle Clayton, and Connor Poffenroth.
Vann Yuhas is entering his third season with the Dragons and is coming off an outstanding 2022-2023 campaign where he finished second in team scoring. In 118 career AJHL games played, the Medicine Hat native has recorded 33 goals and 107 points. Yuhas is currently committed to play Division One hockey at Merrimack College. The Dragons forward is primed to be one of the top forwards in the AJHL this season.
"It is definitely an exciting time and I couldn't do it without my teammates and the past Dragons teaching me the way when I got here. Taking steps day-by-day since I got here, learning from the coaches and players," said Yuhas. "Growing up I have always tried to be a leader so just sticking to what I know and being the best version of myself is key."
The Dragons made the announcement via press release. Adam Raesler is entering his fourth season with the Dragons and his second season as an assistant captain. He led the AJHL in penalty minutes last season while also being one of the Dragons' most productive offensive forwards. He scored 17 goals and had 45 points in 57 games in the 2022-2023 campaign.
Dragons defenceman, Cyle Clayton has also been named an Assistant Captain and looks to be a leader both on and off the ice this upcoming season. The fourth year Dragon had an outstanding exhibition season and looks to continue that play into the regular season. Clayton is a valuable two-way player on the Dragons back-end that will be leaned on in all situations.
Connor Poffenroth rounds out the Dragons leadership group for this upcoming season. The 20-year-old forward was named the Dragons recipient for the AJHL Greatest Teammate Award for last season and is an important veteran presence in the Dragons dressing room.