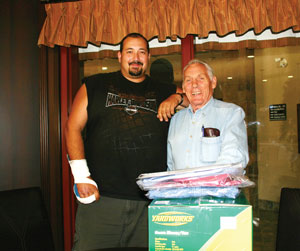 Drumheller residents have worn their hearts on their sleeves for the Walsh family and this week have raised thousands of dollars to help the family in need.
Recently, the Walsh family learned their five-month-old daughter Opal has been diagnosed with congenital nephrotic syndrome, and will need to utilize dialysis until she is big enough to receive a kidney transplant. Her story has gone out to the community and it has inspired people to pitch in however they can.
On Friday, September 16, Western Chevrolet held a fundraising luncheon for the family and was able to raise in the area of $6,000.
The very next Friday Wal-Mart in Drumheller held a fundraising barbecue and raised in the area of $3,000. They have submitted the donation to its Wal-Mart's and the company will match part of it, making it a $5,000 donation.
On Saturday, Freson Bros. IGA also held a barbecue, and raised $1,750, one of the best fundraisers yet.
On Sunday afternoon, early Christmas shoppers came to the Ramada in Drumheller for a silent auction in support of the family. Auction items were donated by local individuals and businesses, and by the end of the day, they had brought in about $4,000 for the family.
Phil Thomas, who started a trust fund for the family and helped to organize the silent auction, couldn't be happier by the result. He said when he started, his goal was to put $10,000 into the account for the family, and he surpassed that mark.
He is grateful for the support of Debbie Laycock and Lorraine Jorgensen who came out on Sunday to help with the event.
The giving continues. Drumheller Chrysler has pledged $10 from each oil change they perform at the dealership, for the month of October, to the Walsh family.