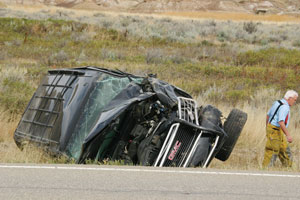 The hoodoos near East Coulee on Highway 10 sprouted a new feature on Friday, September 23.
Early in the afternoon Drumheller RCMP were notified that a vehicle heading westbound on Highway 10 rolled over.
Moments later RCMP received a call regarding a stolen vehicle out of East Coulee that matched the description of the wreck.
No passengers were in the vehicle and the driver, a 20 year old male resident of the valley, was uninjured and fled the scene of the accident before the RCMP arrived.
With the assistance of the public, officers were able to quickly apprehend the driver who was still nearby.
The cause of the crash is not yet certain, but Corporal Kevin Charles of the Drumheller RCMP reported that "alcohol was not a factor, and we believe speed may have been a factor in the crash."
The driver faces several charges under the criminal code and provincial statute. The investigation is ongoing.