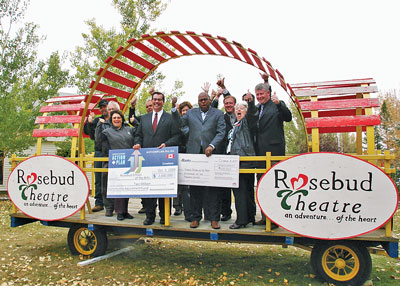 Rosebud Theatre is now able to realize a goal it set out on eight years ago and is moving forward on the Rosebud Centre.
    On a chilly Saturday morning on October 3, the provincial and federal government brought the news of a contribution of almost $2.5 million to the theatre in the Hamlet of Rosebud.  
    Rosebud School of the Arts executive director Bob Davis is ecstatic they will be able to move ahead with the two-storey 10,000 square foot development which will expand the theatre's dining area, gift shop, and add a tourist information centre and flexible teaching space for Rosebud School of the Arts.
    "This project marks a new era for our school, theatre and community, one that will greatly enhance the development of arts and education in rural Alberta while at the same time create jobs, opportunity for youth and important new facilities for tourism and culture that Canadians will enjoy for years to come," said Davis.
    The federal government came through with $2 million for the project through the Community Adjustment Program. This is a two-year $1 billion national program that is part of Canada's Economic Action Plan. According to a release, it is designed to provide an economic stimulus by supporting projects that create jobs and maintain employment in rural communities.
    "I'm proud that our government, through Canada's Economic Action Plan, is making an investment in a facility that will benefit both the economy and environment in Rosebud," said MP Kevin Sorenson who was on hand for the announcement. "Expanding Rosebud Centre will help create jobs, improve local infrastructure and provide this region with more opportunities for economic growth."
    The provincial government also chipped in to the project in a big way by contributing $450,000 through the Community Facility Enhancement Program.
    "All strong and vital communities have arts and culture at their core," said Lindsay Blackett, Minister of Alberta Culture and Community Spirit. "The Government of Alberta is pleased to support this worthwhile project that will provide more Albertans with access to culture and further strengthen economic activity in the community and surrounding areas."
    The Community Facility Enhancement Program is maintained by the Alberta Lottery Fund and has a budget of $38 million for 2009-2010. It provides financial assistance to build, repair, renovate or otherwise improve Alberta's extensive network of community-use facilities.
    A release states that in addition to creating jobs, Rosebud Centre will, "further generate revenues by allowing the facility to operate year-round and enable more local and regional events, conferences, and festivals to be held in Rosebud."
      Davis says preliminary discussion began in 2001 of building the Rosebud Centre. In 2003 and 2004 they began to pursue the project and completed some designs. At the time the federal and provincial government lent their support to the project, as well as other contributors including EnCana and BJ Services.  Because of the economic boom, and the skyrocketing construction costs, the project was shelved. He says these two significant donations will allow the project to move forward. The work is not over however on the fundraising end says Davis. They will still have to come up with about $700,000 to complete the project.
    Construction will begin this October and it is anticipated it will conclude in the spring of 2011.