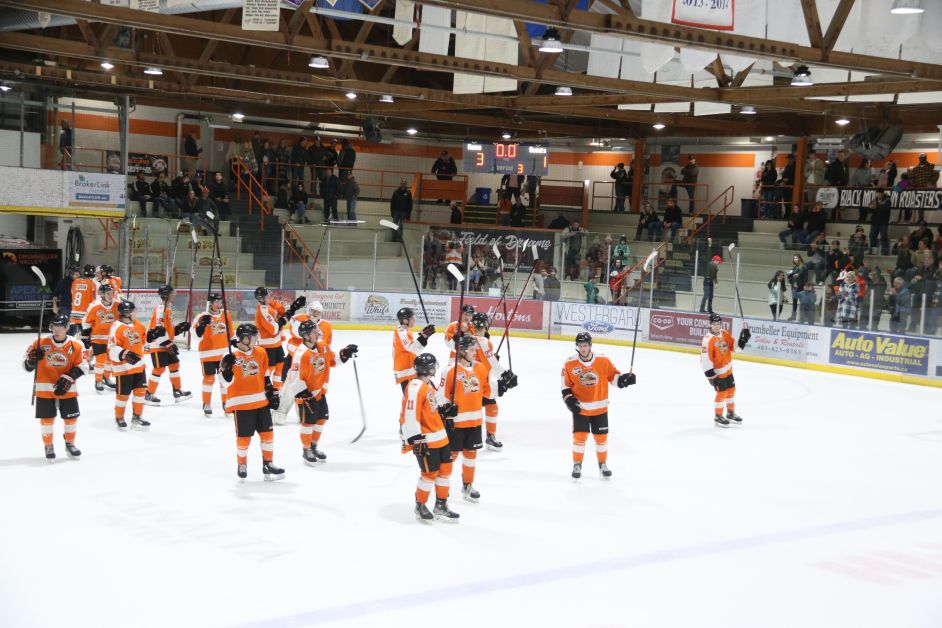 The Dragons have catapulted themselves into second place in the AJHL south after going on a seven-game winning streak… and counting.
The Drumheller Dragons appeared to have turned a corner and are playing brilliant hockey. Leading up to last week the Dragons had rattled off four straight wins, and were looking to build on the success. On Tuesday, November 22, they hosted the Olds Grizzlys.
The Dragons dominated from the moment the puck dropped, and outshot the Grizzlys 12-2 in the first period. Kai Matthew began the scoring for the Dragons, and his effort was quickly followed up by two from Ty Daneault to end the first period up 3-0. The scoring started again just 1:32 into the second period as Ty Whitford found the net. This was followed by Dylan Glinski on the powerplay, and then Daneault finished off his powerplay.
Olds opened the scoring in the third period, but three minutes later, Sam Simard scored his 11th of the season. Four minutes later, Glinski scored his second as the Dragons went on to an 8-1 victory. Vann Yuhas had four assists.
The Dragons' home stand continued on Friday, November 25, as they took on the Blackfalds Bulldogs. The Bulldogs jumped out ahead and were leading 3-0 by the midway point of the second period. The Dragons found signs of life as Daneault scored his18th of the season. This was followed up by Yuhas, ending the second 3-2 Blackfalds.
The Bulldogs went up 4-2 in the third, but Jacob Goudreau drew them closer with a goal. Daneault scored his second of the game with 5:15 left to force overtime. After a scoreless extra period, they went to a shootout. Coy Pighin got the winner as the Dragons went on to a 5-4 win.
On Saturday, November 16, the Dragons were back on home ice to play the Camrose Kodiaks. Pighin scored 4:53 in, and the Dragons led 1-0. Noah Danielson followed it up with a goal midway through the second period, and Kai Matthew added one more at the 12:02 mark of the third. The Kodiaks kept up the attack but it looked like the Dragons were heading to a shutout, but a late holding penalty put Camrose on the powerplay, and they scored with 43 seconds left. It was too little too late, as the Dragons won 3-1.
The Dragons still have nine games left before the Christmas break. This Friday, December 2, they are hosting the Olds Grizzlys and then Saturday, December 3, invite the Canmore Eagles to the Den. On Sunday, December 4, they are in Blackfalds to take on the Bulldogs.