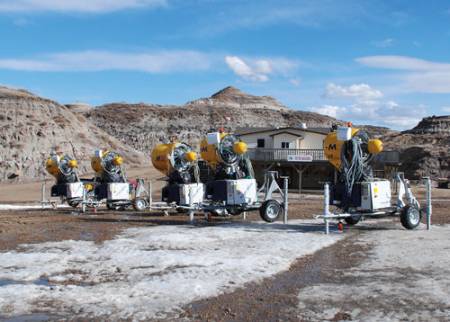 All the snow is quickly turning to water as another season ends at the Drumheller Valley Ski Hill, and by most indications, it was a good season for the valley's winter recreation institution.
    Manager of the ski hill, Zrinko Amerl, describes the year as a break even season. That said, the hill met its goals.
    "We started later than we wanted to, but the goal this year was to provide a consistent product," said Amerl. "When we were open we had good snow, the runs were well maintained and there were no issues with the lift, or the cat."
    "Now, next year we are going to expand."
    In some ways, signs of expansion have already begun. With an arsenal of seven snow guns and a new second lift on the way, considerable investment into the hill is setting up continued expansion.
    Before the snow flies again however, there are plans to add more activity to the hill.
    This summer a number of endeavours are planned for the hill including hiking, mountain biking and even horseback riding.
    Amerl says the hill has developed about two hours of bike trails, but will be adding more with the help of inmate labour from the Drumheller Institution. He hopes to have up to 18 hours of trails available on the hill for all levels of riding skill. There will also be interpretive hiking trails that will explore the natural landscape and the impressive vistas of the valley. The hill will run either a shuttle service or the lift to transport walkers and bikers to the summit, depending on numbers.
    "The view is what we have to sell in the Badlands," said Amerl. A                  dding attractions at the hills will spin off to other business and attractions in the valley.
    The first plateau on the ski hill will serve as a base for many of the activities including light camping. This will allow cyclists to make it more than just a day trip, allow them a place to tent for the evening and continue to explore the trails. The site will allow small groups to camp. The plateau will also be the base for horse riding trails. He says they will start with a small stable to try out the initiative.
    While they will not be able to operate out of the lodge, Amerl says they are planning to open a teahouse at the top of the lift with full licensed food services.
    Details of the spring and summer season activities will be  available at www.skidrumheller.com or on their Facebook fan page.