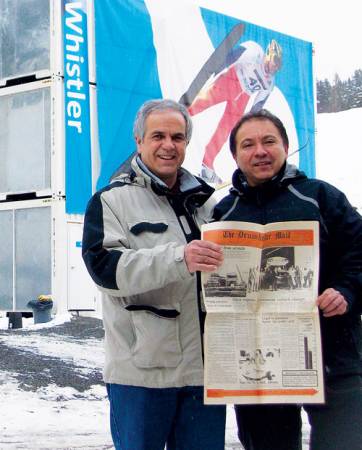 A Drumheller man's Olympic experience hit close to home when he made a connection with a co-worker at the event who has special memories of the valley… and he has the paper to prove it.
Bruce Thompson, a retired corrections officer from Drumheller, worked at the Vancouver Olympics as a security supervisor at Whistler. This was a 'working holiday' and he met people from all over the country and the globe.
Being proud of the valley, he brought along a collection of Town of Drumheller pins to give out at the Olympics. Often he would give these pins to some of the crew that he worked with, especially when they performed a good job.
He presented a man named Maurice Escobar, one of his co-workers, with a pin.
Escobar was elated. Originally from Costa Rica, Escobar came to Canada more than two decades ago. Not long after he arrived, he visited the valley.
His visit made an impression on him, because shortly after Thompson gave him the pin, Escobar went home to Burnaby and came back with a copy of The Drumheller Mail from October of 1990. He has been saving the paper as a souvenir for 20 years.
"He was so happy to show me the paper," said Thompson.
Thompson said beyond his experience with Escobar, he was surprised at how many people he met were aware of Drumheller, and what the entire valley has to offer.
"It was interesting how many knew of Drumheller and had visited," Thompson told The Mail. "If they hadn't seen it, they wanted to come and see it."
Thompsons says his Olympic experience was amazing, made even better by his experience with Escobar. The pair struck up a friendship and Thompson told him the next time they meet, Escobar is to bring the paper.
Interestingly enough, Escobar, who was working in security, is interested in going into corrections.