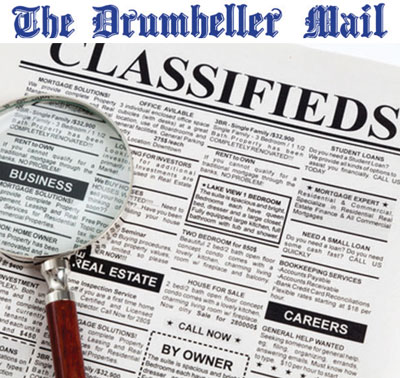 GARAGE SALES
DRUMHELLER
GARAGE SALE... Friday, August 10 - 3 p.m. to 7 p.m., Saturday, August 11 - 10 a.m. to 5 p.m. 125 - 1 Street West, Drumheller. Lots of baby items, kids clothing, toys, books, household and furniture.
HUGE GARAGE SALE... Saturday, August 11, 9:00 a.m. to 5:00 p.m. Something for everyone. 19 Greenwood Villa.
GARAGE SALE... Saturday, August 11, and Sunday, August 12, 9:00 a.m. to 3:00 p.m. Tools, welding supplies, household and camping. 47 Hunts Crescent
ROSEDALE
YARD SALE... Gigantic Sale. There's something for everyone. Lawn mower, antiques, household items and furniture, books, wheelbarrow, stationary pump engine and numerous others. Come one, come all. Saturday, August 11 at 9:30 a.m. to 3:30 p.m. and Sunday, August 12 at 9:30 a.m. to 2:30 p.m. in Rosedale at 4020 Highway 10 East. Coming through Rosedale, over the bridge and it's the first house on the left. No Early Birds.
PUBLIC NOTICE
NOTICE TO CREDITORS AND CLAIMANTS
Estate of
CLIFFORD NEWMAN ING
who died on
JULY 26, 2017
If you have a claim against this estate, you must file your claim by SEPTEMBER 17, 2018.
with: William A. Herman
at: Herman, Kloot & Company
98 - 3rd Avenue West
PO Box 970
Drumheller, AB T0J 0Y0
and provide details of your claim.
If you do not file by the date above, the Estate property can lawfully be distributed without regard to any claim you may have.
FOR SALE BY TENDER
FOR SALE BY TENDER
The following land within the Kneehill County is offered for sale by tender, subject to the
restrictions in the existing Certificates of Title:
PARCEL 1:
MERIDIAN 4 RANGE 21 TOWNSHIP 28
SECTION 36
QUARTER NORTH EAST
CONTAINING 64.7 HECTARES (160 ACRES) MORE OR LESS EXCEPTING THEREOUT:
HECTARES (ACRES) MORE OR LESS
A) PLAN 9312384 DESCRIPTIVE 1.14 2.83
B) PLAN 0713335 SUBDIVISION 1.214 3.00
EXCEPTING THEREOUT ALL MINES AND MINERALS AND THE RIGHT TO WORK THE SAME
Contains 135 acres +- of cultivated land.
PARCEL 2:
MERIDIAN 4 RANGE 21 TOWNSHIP 28
SECTION 36
QUARTER SOUTH EAST
CONTAINING 64.7 HECTARES (160 ACRES) MORE OR LESS
EXCEPTING THEREOUT:
PLAN NUMBER HECTARES ACRES
ROADWAY 7137BM 0.817 2.02
EXCEPTING THEREOUT ALL MINES AND MINERALS AND THE RIGHT TO WORK THE SAME
Contains 152 acres +- of cultivated land.
Possession date: January 18, 2019.
Interested parties may receive a Tender package from
Herman, Kloot & Company at 98 - 3 Avenue West,
PO Box 970, Drumheller, Alberta, T0J 0Y0, which will
detail terms of the sale and requirements of Tenderer. Please request Tender Package for "File # 18-17866".
Tenders close at 12:00 noon, August 31, 2018.
SERVICES
FIREWOOD
WOODCHUCKERS... Pine and Birch Firewood for sale. Delivery available. 403-318-5314.
FOR SALE
FURNITURE
TWO IKEA
CHILDREN'S BEDS
• Ikea Trofast Extendable single beds -
work as toddler bed and grow with
them through childhood.
• Includes foam mattresses
• Asking $125/bed
• Like new (used only a couple of times a
year when grandkids come to visit).
• From clean, non-smoking, non pet home.
Call: 403-823-3760
or 403-823-1875
FUEL TANKS
FOR SALE... 2, 1000 gallon fuel tanks with stands, hoses, filters. 403-820-4510.
RENTAL PROPERTY
HOUSE FOR RENT
Century 21 manages over 100 rental properties. 1, 2, and 3 bedroom homes and suites for rent. Check out www.rentdrumheller.ca for a list of current properties for rent. 403-823-2121 M-F.
FOR RENT... House for rent in Drumheller, available immediately. 2 bedroom with garage. 6 Appliances, no smoking, no pets. Close to downtown and schools. 780-945-9548 (Garnet) for more information. $1,000/Month. References required.
FOR RENT... 900 sq. ft., 2 1/2 bedroom house. Large living room, kitchen, F/S, HE W/D mainfloor. Located close to downtown shopping. References required. No smoking, no pets. $795.00/month plus utilities. 403-820-8881.
FOR RENT... Main Floor of Executive Rental in Riverview area. 2 bedrooms, 2 baths (master ensuite has one person jetted tub, pedestal sink, and stand up shower). Suitable for one or two people. Hardwood and Tile throughout the area. Beautiful Gas fireplace in living room with Granite Mantle Hearth. A/C via nest thermostat. Kitchen includes garburator, dishwasher, self cleaning ceramic top stove/oven, and matching fridge, built in Icemaker, keyless entry punch code locks, video surveillance and more. Energy Efficient home. Includes Landscaping in Summer / Snowremoval in Winter and use of Barbecue, Front Load Washer/Dryer, Small Storage Shed and more. Smoking outside only. No pets. $999 per month + $250 utilities plus DD. http://www.century21.ca/100652532
Showings by appointment for tenants who have filled out rental applications and been prequalified. Please call/text 403.823.2222 or email rent.drumheller@century21.ca for more info.
FOR RENT
FOR RENT... 4 Plex/House for rent in Morrin. 2/4 bedroom, all appliances. Pet friendly, fenced yard. $750/month + DD. Call Dave 403-820-4100.
DUPLEX FOR RENT
FOR RENT... 2 bedroom duplex. F/S, W/D, $750/month + $750 SD. Phone 403-823-9488.
ACREAGE FOR RENT
FOR RENT... Morrin acreage, 6 acres fully grassed. 6 bedrooms, 2 1/2 bathrooms, large sided 2 bay shop. Includes F/S, DW, AC, deep freeze. $1450/month. Call or text 780-991-4107.
APARTMENTS FOR RENT
FOR RENT... Nice 1 bedroom apartment. $750 per month. $750 DD. Comes with fridge, stove, a/c, car plug in. Available immediately. Call 403-820-2337.
FOR RENT... Sage Manor, 1, 2, and 3 bedrooms. 333- 2 Street East. Mature adults only. No smoking. View at www.sagemanor.com 403-823-0964.
Hunts Place Apartments (Corner of Hunts Dr. & 2nd St. East). Quiet, adult oriented, security door & intercom, garden patios or large balconies, laundry facilities, parking with plug in, fridge, stove, window coverings, hot water & heat, WiFi hotspot, no smoking, no pets, www.wix.com/writem5/hunts-place. Phone (403) 820-1665 or (403) 821-0266.
ROOM FOR RENT
Greentree area, $290/month. Bedroom in quiet, clean bi-level house. Non-smoking. Utilities and internet included. adso@shaw.ca
BASEMENT SUITE FOR RENT
FOR RENT... Basement suite for rent. $700.00/month. Utilities included. 403-617-5615.
FOR RENT... Fully furnished 1 bedroom basement suite. Private entrance. Includes utilities, cable, wifi. Shared washer/dryer. $950/month + DD. 403-820-4882.
FOR RENT... Large a/c, recently renovated basement suite. Private entrance, utilities included. Close to downtown, non-smoker, no pets. Quiet, single person. 403-510-7201.
REAL ESTATE FOR SALE
HOUSE FOR SALE
HOUSES FOR SALE - Can't find it here or on MLS? Check out www.powerrealty.ca.
FARMER'S MARKET
FARMLAND/PASTURE WANTED
WANTED... Cultivated farmland in the Drumheller area for cash rent or sale. 403-321-0214.
WANTED... Farmland to rent in Drumheller, Dalum, Verdant Valley or Delia area. Phone 403-823-9222.
EMPLOYMENT
HELP WANTED
REQUEST FOR PROPOSAL... Canadian Badlands Tourism requires the support of local accounting services. For details and a copy of the Request for Proposal (RFP) please contact Diana Watson via email at diana@canadianbadlands.com Deadline for requests is August 17, 2018, at 4:00 p.m. Deadline for submission of RFP is Monday, August 20, 2018, 4:00 p.m.
ANNOUNCEMENTS
AL-ANON, Wednesday evenings, 6:30 pm, Telus Bldg, 4th Floor. Call Lynne (403) 822-0008 or Carol (403) 772-2373.
Saturday Sunrise Meeting, Alcoholics Anonymous, 9 am, Knox United Church. Contact Helen 403-823-5593.
THE HAPPY DESTINY Alcoholics Anonymous Group meets every Monday at 7 p.m. in the Badlands Room at the Drumheller Health Complex. "Open Meeting".
THANK YOU
THANK YOU... The family of Jewel Comstock thanks everyone who attended Jewel's "Celebration of Life" service at Hussar on July 23rd, 2018. We are thankful for the cards, flowers, condolences, phone calls, and visits during Jewel's illness. We also send appreciation to the Doctors and Staff at both the Drumheller and Three Hills Hospitals, and the Drumheller Hospital Home Care staff; for their care and support during Jewel's failing health. Donations to honour Jewel's Memory may be sent to the Rosebud Cemetery Fund, c/o the Rosebud Museum, Box 601, Rosebud, AB T0J 2T0.