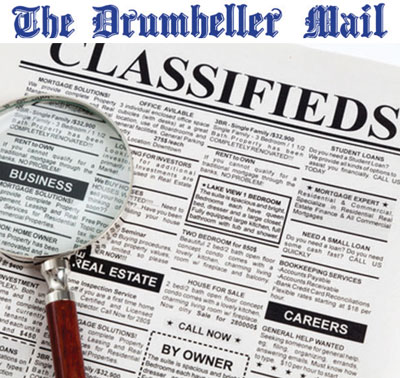 GARAGE SALES
MORRIN
GARAGE SALE... Saturday, August 18, 11:00 a.m. to 6:00 p.m. Christmas ornaments, lawn ornaments and furniture, appliances, shelves and more. At Alice Martin-Morgan Acreage, SE 27-31-19-W4, 192084 Twp Rd 31-4. 4 miles East of Highway 9, 56 and 27 Junction (Morrin Corner) and 2 miles North.
MORRIN
GARAGE SALE... 216-1 Avenue South, Morrin. Housewares, camping supplies, electric power tools, salon supplies. Friday, August 17, 3 p.m. to 7 p.m.; Saturday, August 18, 9 a.m. to 5 p.m.
DRUMHELLER
GARAGE SALE... Saturday, August 18, 9 a.m. to 3 p.m. 52 Poplar Street (back alley). Tools, household.
DRUMHELLER
GARAGE SALE... Camping gear, kitchen items, tools, lots of miscellaneous items, many new unused items. Saturday, August 18, 8 a.m. to 4 p.m. 408 10th Avenue S.E. - behind
Subway.
SERVICES
FIREWOOD
WOODCHUCKERS... Pine and Birch Firewood for sale. Delivery available. 403-318-5314.
STORAGE
HIGH COUNTRY STORAGE... 1 Ave East, Delia, R.V. space, C-cans, for rent advertising panels. Call me. Ask for Eddie 1 (403) 334-1588.
FOR SALE
FURNITURE
TWO IKEA
CHILDREN'S BEDS
• Ikea Trofast Extendable single beds -
work as toddler bed and grow with
them through childhood.
• Includes foam mattresses
• Asking $125/bed
• Like new (used only a couple of times a
year when grandkids come to visit).
• From clean, non-smoking, non pet home.
Call: 403-823-3760 or 403-823-1875
FUEL TANKS
FOR SALE... 2, 1000 gallon fuel tanks with stands, hoses, filters. 403-820-4510.
VEHICLES
FOR SALE.... Big country gas Co-op. 2015 white GMC 4x4. 4 door, 140,000 kms. Call 403-820-2209.
RENTAL PROPERTY
HOUSE FOR RENT
Century 21 manages over 100 rental properties. 1, 2, and 3 bedroom homes and suites for rent. Check out www.rentdrumheller.ca for a list of current properties for rent. 403-823-2121 M-F.
FOR RENT... House for rent in Drumheller, available immediately. 2 bedroom with garage. 6 Appliances, no smoking, no pets. Close to downtown and schools. 780-945-9548 (Garnet) for more information. $1,000/Month. References required.
FOR RENT... 900 sq. ft., 2 1/2 bedroom house. Large living room, kitchen, F/S, HE W/D mainfloor. Located close to downtown shopping. References required. No smoking, no pets. $795.00/month plus utilities. 403-820-8881.
FOR RENT... Main Floor of Executive Rental in Riverview area. 2 bedrooms, 2 baths (master ensuite has one person jetted tub, pedestal sink, and stand up shower). Suitable for one or two people. Hardwood and Tile throughout the area. Beautiful Gas fireplace in living room with Granite Mantle Hearth. A/C via nest thermostat. Kitchen includes garburator, dishwasher, self cleaning ceramic top stove/oven, and matching fridge, built in Icemaker, keyless entry punch code locks, video surveillance and more. Energy Efficient home. Includes Landscaping in Summer / Snowremoval in Winter and use of Barbecue, Front Load Washer/Dryer, Small Storage Shed and more. Smoking outside only. No pets. $999 per month + $250 utilities plus DD. http://www.century21.ca/100652532
Showings by appointment for tenants who have filled out rental applications and been prequalified. Please call/text 403.823.2222 or email rent.drumheller@century21.ca for more info.
FOR RENT... 4 Plex/House for rent in Morrin. 2/4 bedroom, all appliances. Pet friendly, fenced yard. $750/month + DD. Call Dave 403-820-4100.
FOR RENT... 1 bedroom downtown W/D, central vac, excellent utilities, heated garage, 20x24, auto door. $800/month. No pets. 403-823-3925.
FOR RENT... 2 bedroom cottage, river front. 7 minute walk to downtown. 6 appliances, excellent utilities, garden, deck. No pets. $1000/month. 403-823-3925.
FOR RENT... Two storey, 4 bedroom, character home on Riverside Drive with a single car garage. Available September 1. Rent $1100.00, DD $1100.00, utilities not included. 403-823-6961.
DUPLEX FOR RENT
FOR RENT... 2 bedroom duplex. F/S, W/D, $750/month + $750 SD. Phone 403-823-9488.
APARTMENTS FOR RENT
FOR RENT... Nice 1 bedroom apartment. $750 per month. $750 DD. Comes with fridge, stove, a/c, car plug in. Available immediately. Call 403-820-2337.
FOR RENT... Sage Manor, 1, 2, and 3 bedrooms. 333- 2 Street East. Mature adults only. No smoking. View at www.sagemanor.com 403-823-0964.
FOR RENT... Quadra Manor 1 and 2 bedroom suites available. Includes free heat, free water, parking, air conditioning, coin laundry. No children. Phone 1-403-856-4401.
FOR RENT... Juniper Manor 1 and 2 bedroom suites available. Includes free heat, free water, parking, air conditioning, coin laundry. No children. Phone 1-403-856-4401.
FOR RENT... Bright, clean 2 bedroom apartment at 635 6th Ave East, Drumheller. $750.00/month. $750.00 DD. Adults only. No pets/kids. Includes heat/water/AC/parking. Available now. 403-823-9385.
FOR RENT... Hunts Place Apartments (Corner of Hunts Dr. & 2nd St. East). Quiet, adult oriented, security door & intercom, garden patios or large balconies, laundry facilities, parking with plug in, fridge, stove, window coverings, hot water & heat, WiFi hotspot, no smoking, no pets, www.wix.com/writem5/hunts-place. Phone (403) 820-1665 or (403) 821-0266.
ROOM FOR RENT
FOR RENT... Greentree area, $290/month. Bedroom in quiet, clean bi-level house. Non-smoking. Utilities and internet included. adso@shaw.ca
HOUSE FOR SALE
HOUSES FOR SALE - Can't find it here or on MLS? Check out www.powerrealty.ca.
FARMLAND/PASTURE WANTED
WANTED... Cultivated farmland in the Drumheller area for cash rent or sale. 403-321-0214.
WANTED... Farmland to rent in Drumheller, Dalum, Verdant Valley or Delia area. Phone 403-823-9222.
COMING EVENTS
AGM... Newcastle Rec Association AGM at Newcastle Hall. Tuesday, August 21 7:00 p.m. Everyone welcome there will be snacks and beverages. Election of officers.
ANNOUNCEMENTS
AL-ANON, Wednesday evenings, 6:30 pm, Telus Bldg, 4th Floor. Call Lynne (403) 822-0008 or Carol (403) 772-2373.
Saturday Sunrise Meeting, Alcoholics Anonymous, 9 am, Knox United Church. Contact Helen 403-823-5593.
THE HAPPY DESTINY Alcoholics Anonymous Group meets every Monday at 7 p.m. in the Badlands Room at the Drumheller Health Complex. "Open Meeting".
THANK YOU
THANK YOU... "Our sincere Thanks to the Drumheller McDonald's Restaurant and Greg & Summer Manca, for the loaning of the large McDonald's drink cooler, August 10 - 12. We hit a record high of 39 * Celsius on Aug. 10th at Pioneer Acres, Irricana. The water cooler was well used and greatly appreciated.
Lyle & Diana Rowe"