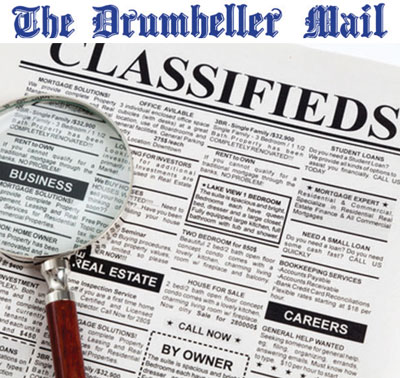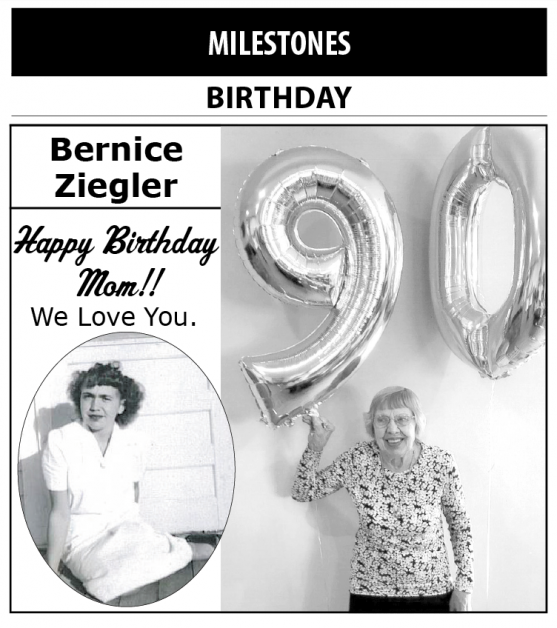 CARD OF THANKS
THANK YOU... Thank you to the thoughtful group of friends and family who have been so generous and kind, Your cards, food, flowers, offers of support and assistance mean more than words can express.
Sincerely,
Eileen Lefley and family
THANK YOU... Thank you to all the Hospital staff. I was a patient in the Drumheller Hospital recently. I would like to thank everyone for the wonderful care I received, especially to Angela, Anna, Dr. Graham, Dr. Maseka, Colleen, Paige, Sam and each and every one who took care of me. I feel so grateful we have such a great Hospital and staff in our town.
Thanks you so much,
Marjorie Russell
HELP WANTED
FARM/RANCH
HELP WANTED... Hiring full-time permanent Farm/Ranch worker for employment in the Rumsey Area. Experience an asset. Successful candidates will be able to work independently or in team setting. Competitive wages. Benefits. Please email resume, w/references to devon@3dpatchwork.com or call #403-334-0177 if interested.
REAL ESTATE FOR SALE
HOUSE FOR SALE
HOUSES FOR SALE - Can't find it here or on MLS? Check out www.powerrealty.ca
FARMER'S MARKET
FARMLAND/PASTURE WANTED
WANTED... Cultivated farmland in the Drumheller area for cash rent or sale. 403-321-0214.
WANTED... Farmland to rent in Drumheller, Dalum, Verdant Valley or Delia area. Phone 403-823-9222; 403-334-3644.
RENTAL PROPERTY
APARTMENT FOR RENT
FOR RENT... Hunts Place Apartments (Corner of Hunts Dr. & 2nd St. E). Quiet, adult oriented, non-smoking building with security door, laundry facilities, parking with plug-in. 1 & 2 bedrooms. Wifi hot spot. https://write67.wixsite.com/hunts-place
Phone 403-821-0770.
HOUSE FOR RENT
Century 21 manages over 100 rental properties. 1, 2, and 3 bedroom homes and suites for rent. Check out www.rentdrumheller.ca for a list of current properties for rent & apply online at www.rentd.ca on your phone or home computer. 403-823-2121 M-F.
ROOMS FOR RENT
FOR RENT... Greentree area. $290.00/month. Bedroom in quiet, clean bi-level house. Non smoking room. Utilities and internet included. adso@shaw.ca
FOUR-PLEX FOR RENT
FOR RENT... 4-plex for rent in Morrin. 2 bedroom, 5 appliances. $1150/month includes utilities. Dave 403-820-4100.
ANNOUNCEMENTS
AL-ANON, Wednesday evenings, 6:30 pm, Telus Bldg, 4th Floor. Call Lynne (403) 822-0008 or Carol (403) 772-2373.
THE HAPPY DESTINY Alcoholics Anonymous Group meets every Monday at 7 p.m. "Open Meeting". Grace Lutheran Church.
AA GROUP... Church of Nazarene. Wednesdays, noon. Contact Art 403-821-1464.