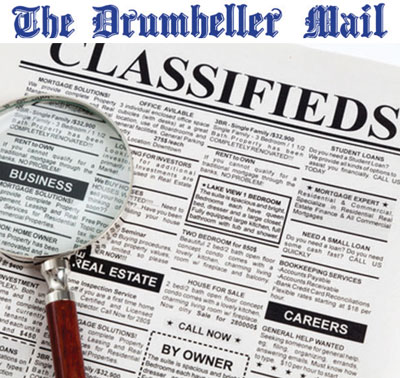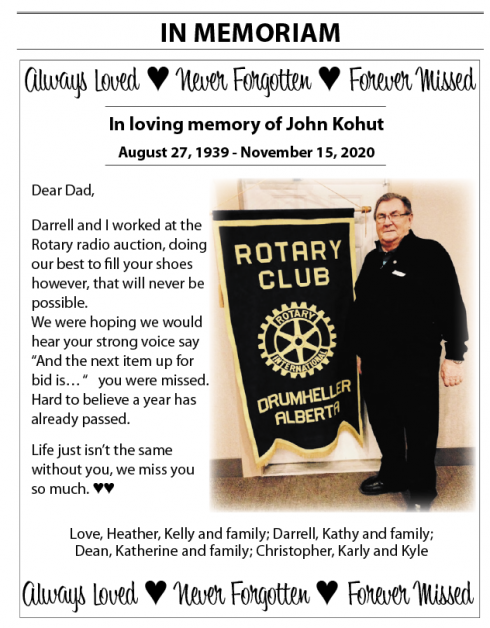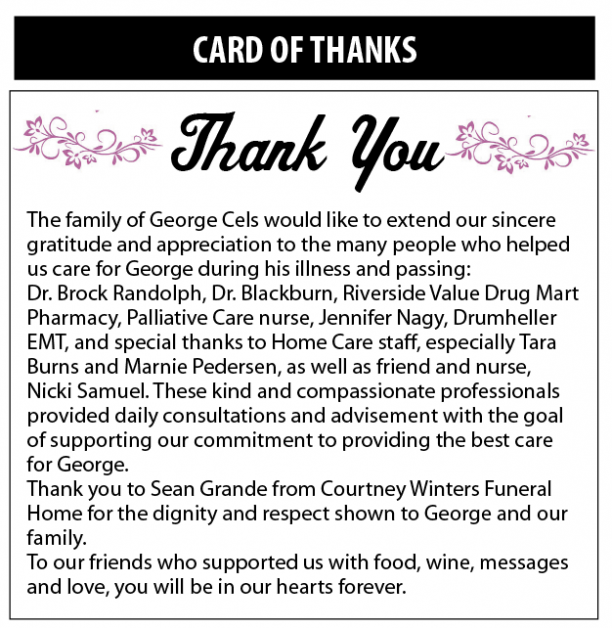 SERVICES
FIREWOOD
Woodchuckers Firewood. Pine and BC Birch. Delivery available. Call or text 403-318-5314


PERSONALS
FRIENDSHIP
Nice looking, mature, fit, single white male, caring, sincere, young at heart. Would like to meet mature, slim, attractive, kind single white female for friendship to start. If interested, write Box 549, East Coulee, AB T0J 1B0 or call 403-822-2125.
COMING EVENTS
AGM... Grace House AGM. Date: Wednesday, November 17, 2021. Time: 6:30 p.m. - 8:30 p.m. Location: 178 3rd Street West, Drumheller, St. Anthony's Church Hall (Across from the Grace House). Mask mandatory and social distancing in effect.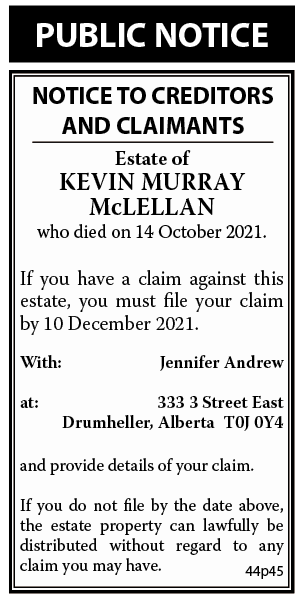 FOR SALE
FURNITURE
BED FOR SALE... Sleep Country electric bed. 12" pillow top, firm double mattress. Lifts at head and knees. 6 years old. 10 year warranty. Always clean and covered. $1,000.00. 403-856-5438.
PIANO FOR SALE... Young Chang upright piano comes with bench. Like new condition. Asking $1500. 403-665-2482.
DINING ROOM SET... Oak dining room set. 4x5 round table with 1 ft. extension, 6 chairs - 2 with arms. Top condition. Asking $400. 403-665-2482.

REAL ESTATE FOR SALE
HOUSE FOR SALE
HOUSES FOR SALE - Can't find it here or on MLS? Check out www.powerrealty.ca.
FARMER'S MARKET
FARMLAND/PASTURE WANTED
WANTED... Cultivated farmland in the Drumheller area for cash rent or sale. 403-321-0214.
WANTED... Farmland to rent in Drumheller, Dalum, Verdant Valley or Delia area. Phone 403-823-9222; 403-334-3644.
RENTAL PROPERTY
HOUSE FOR RENT
Century 21 manages over 100 rental properties. 1, 2, and 3 bedroom homes and suites for rent. Check out www.rentdrumheller.ca for a list of current properties for rent & apply online at www.rentd.ca on your phone or home computer. 403-823-2121 M-F.
APARTMENT FOR RENT
FOR RENT... Hunts Place Apartments (Corner of Hunts Dr. & 2nd St. E). Quiet, adult oriented, non-smoking building with security door, laundry facilities, parking with plug-in. 1 & 2 bedrooms. Wifi hot spot. https://write67.wixsite.com/hunts-place. Phone 403-821-0770.
ROOM FOR RENT
ROOMS FOR RENT... Greentree area. $320/month. Bedroom in quiet, clean bi-level house. Non-smoking. Utilities and internet included. adso@shaw.ca
ANNOUNCEMENTS
AL-ANON, Wednesday evenings, 6:30 pm, Telus Bldg, 4th Floor. Call Lynne (403) 822-0008 or Carol (403) 772-2373.
THE HAPPY DESTINY Alcoholics Anonymous Group meets every Monday at 7 p.m. "Open Meeting". Grace Lutheran Church.