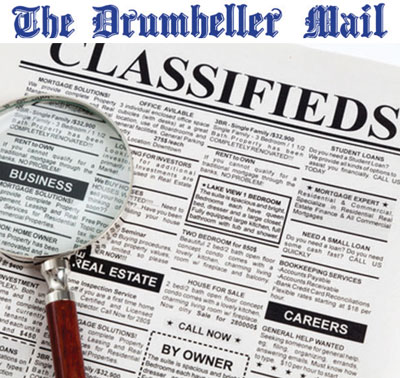 SERVICES
FIREWOOD
WOODCHUCKERS... Pine and Birch Firewood for sale. Delivery available. 403-318-5314.
RENTAL PROPERTY
HOUSE FOR RENT
FOR RENT... 7 miles south of Carbon on #836. 5 appliances plus security system. Retired couple or older adult preferred. No pets, no kids, no smoking. References required + damage deposit. Phone 403-572-3571.
FOR RENT... Farmhouse for rent West of Dalum. Comes with 17 acres fenced pasture. Call Martin. 403-901-4931.
Century 21 manages over 100 rental properties. 1, 2, and 3 bedroom homes and suites for rent. Check out www.rentdrumheller.ca for a list of current properties for rent & apply online at www.rentd.ca on your phone or home computer. 403-823-2121 M-F.
FOR RENT... Start your New Year with an awesome home rental opportunity! Rental for a struggling family requiring more space. Subject to several conditions. 5 bedroom Nacmine house, 2 1/2 bathrooms, fenced yard and many upgrades. Garage and utilities not included. Available immediately. Please call 1-403-360-9467 (leave message) or email starrj@horizontruckandbody.ca for further information.
FOR RENT... House for rent in Morrin, 3 bedrooms, 2 baths, pets negotiable. $900 +. Call Alberta Proud Real Estate, Deanna 403-805-4359.
APARTMENTS FOR RENT
Hunts Place Apartments (Corner of Hunts Dr. & 2nd St. East). Quiet, adult oriented, security door & intercom, garden patios or large balconies, laundry facilities, parking with plug in, fridge, stove, window coverings, hot water & heat, WiFi hotspot, no smoking, www.wix.com/writem5/hunts-place. Phone (403) 443-1471.
FOR RENT... 1 bedroom apartment. $725.00/month. Includes water and gas. Balcony. No pets, no smoking. Downtown Drumheller. 403-823-1875. 403-823-3760.
FOR RENT... Juniper Manor 1 and 2 bedroom suites available. Includes free heat, water, parking, air conditioning, coin laundry. No children. Phone 1-403-856-4401.
FOR RENT... Quadra Manor 1 and 2 bedroom suites available. Includes free heat, water, parking, air conditioning, coin laundry. No children. Phone 1-403-856-4401.
FOR RENT... 2 bedroom balcony apartment with storage room. 760 sq. ft. 532 Bruce Ave, Carbon Alberta. Clean quite building. 403-527-0005 or 403-519-6219.
DUPLEX FOR RENT
FOR RENT... Nice duplex for rent in Morrin. $550 plus utilities. $550 DD. Fridge, stove, microwave, washer, dryer. Lots of storage space. 2 bedrooms. Call 403-820-2337.
4-PLEX FOR RENT
FOR RENT... 4-Plex for rent in Morrin. 2 bedroom, 5 appliances, pet friendly. $750.00/month. Call Dave at 403-820-4100.
REAL ESTATE FOR SALE
HOUSE FOR SALE
HOUSES FOR SALE - Can't find it here or on MLS? Check out www.powerrealty.ca.
FARMER'S MARKET
FARMLAND/PASTURE WANTED
WANTED... Cultivated farmland in the Drumheller area for cash rent or sale. 403-321-0214.
WANTED... Farmland to rent in Drumheller, Dalum, Verdant Valley or Delia area. Phone 403-823-9222.
HELP WANTED
SENIOR SERVICES
HELPING HANDS (Est 1999)
HELPING SENIORS in their homes: cooking, cleaning, transportation.
HELPING SENIORS in facility care: meal assist, baths, visits, outings.
TOWN & RURAL
COMPETITIVE HOURLY RATE;
CARING BONDABLE HELPERS
Call (403) 364-2476
Email hq.helpinghands@gmail.com
www.helpinghandshomesupport.com
ANNOUNCEMENTS
AL-ANON, Wednesday evenings, 6:30 pm, Telus Bldg, 4th Floor. Call Lynne (403) 822-0008 or Carol (403) 772-2373.
Saturday Sunrise Meeting, Alcoholics Anonymous, 9 am, Knox United Church. Contact Helen 403-823-5593.
THE HAPPY DESTINY Alcoholics Anonymous Group meets every Monday at 7 p.m. in the Badlands Room at the Drumheller Health Complex. "Open Meeting".
THANK YOU
The family of Cindy Seitz would like to extend our deepest gratitude for all the kindness and sympathy shown to us. The many cards, flowers, charitable donations, food, and attendance at the funeral service means so much to the
family. Thank you to Dr. Blackburn and all the wonderful hospital staff, and Father Fernando and all the ladies of St. Anthony's Parish, Courtney Winters funeral staff, words cannot express how grateful we are. Although we miss her we know that she is at peace in heaven, may God bless you.