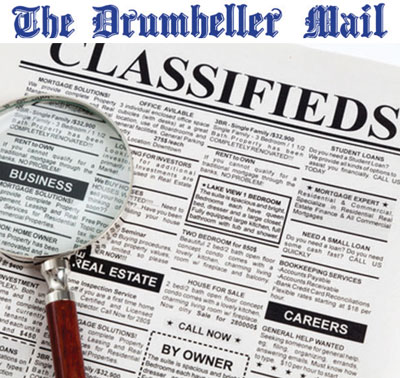 SERVICES
FIREWOOD
WOODCHUCKERS... Pine and Birch Firewood for sale. Delivery available. 403-318-5314.
STORAGE
HIGH COUNTRY STORAGE... 1 Ave East, Delia, R.V. space, C-cans, for rent advertising panels. Call me. Ask for Edie 1 (403) 334-1588.
RENTAL PROPERTY
HOUSE FOR RENT
Century 21 manages over 100 rental properties. 1, 2, and 3 bedroom homes and suites for rent. Check out www.rentdrumheller.ca for a list of current properties for rent & apply online at www.rentd.ca on your phone or home computer. 403-823-2121 M-F.
HOUSE FOR RENT... 40 km west of Drumheller on acreage. Retired couple or older adult preferred. No pets, no smoking, no children. References plus damage deposits required. Phone 403-572-3571.
HOUSE FOR RENT... 3 bedroom house in Drumheller. All appliances. 1 1/2 baths. 403-820-2359.
HOUSE FOR RENT... Two bedroom house. Available immediately. Washer, dryer, stove, fridge. Pets considered, no smokers. $775 security deposit, $775 monthly rent. 403-823-6680. No texts.
HOUSE FOR RENT... 2 bedrooms, 1 bathroom and office on large lot located in Munson. Modern home with large kitchen and large living room. $900/month plus utilities. $900 D.D. No pets allowed. Call 403-823-9292.
4-PLEX FOR RENT
FOR RENT... 4-Plex for rent in Morrin. 2 bedroom, 5 appliances, pet friendly. $750.00/month. Call Dave at 403-820-4100.
ROOM FOR RENT
ROOM FOR RENT... in Bankview. W/D, F/S, WiFi. $300/month plus $250/month utilities. No smoking, small pet permitted. Call Deus 403-823-0254.
APARTMENTS FOR RENT
FOR RENT... Quadra Manor 1 and 2 bedroom suites available. Includes free heat, free water, parking, air conditioning, coin laundry. No children. Phone 1-403-856-4401.
FOR RENT... Juniper Manor 1 and 2 bedroom suites available. Includes free heat, free water, parking, air conditioning, coin laundry. No children. Phone 1-403-856-4401.
Hunts Place Apartments (Corner of Hunts Dr. & 2nd St. East). Quiet, adult oriented, security door & intercom, garden patios or large balconies, laundry facilities, parking with plug in, fridge, stove, window coverings, hot water & heat, WiFi hotspot, no smoking, www.wix.com/writem5/hunts-place. Phone (403) 443-1471.
REAL ESTATE FOR SALE
HOUSES FOR SALE - Can't find it here or on MLS? Check out www.powerrealty.ca.
LAND FOR SALE
1/4 Section of
deeded land for sale
SW 28-30-16-4
Located Southeast of Craigmyle.
158 acres.
110 acres farmable
seeded to tame hay,
the rest is pasture.
With dugout, oil revenue.
For more information phone
403-665-2370 or 403-823-1942
FARMER'S MARKET
FARMLAND/PASTURE WANTED
WANTED... Cultivated farmland in the Drumheller area for cash rent or sale. 403-321-0214.
WANTED... Farmland to rent in Drumheller, Dalum, Verdant Valley or Delia area. Phone 403-823-9222.
SENIOR SERVICES
HELPING HANDS (Est 1999)
HELPING SENIORS in their homes: cooking, cleaning, transportation.
HELPING SENIORS in facility care: meal assist, baths, visits, outings.
TOWN & RURAL
COMPETITIVE HOURLY RATE;
CARING BONDABLE HELPERS
Call (403) 364-2476
Email hq.helpinghands@gmail.com
www.helpinghandshomesupport.com
EMPLOYMENT
TKD CATERING IS NOW HIRING
a Cook for 30 to 35 hour per week.
Duties will include food preparation,
service, and cleaning. The clientele will
be primarily dormitory residents
and lunch time service at DVSS.
· Cooking experience and possible
sponsorship as an apprentice cook
· Food Safe Certification
· A dedication to quality
Wage will be based on experience.
Please send resume to drumtkd@me.com
or call 403-820-0465.
The position will remain open until a
suitable candidate is found.
A Criminal Records Check and Vulnerable
Sectors Check will be required when hired.
ANNOUNCEMENTS
AL-ANON, Wednesday evenings, 6:30 pm, Telus Bldg, 4th Floor. Call Lynne (403) 822-0008 or Carol (403) 772-2373.
Saturday Sunrise Meeting, Alcoholics Anonymous, 9 am, Knox United Church. Contact Helen 403-823-5593.
THE HAPPY DESTINY Alcoholics Anonymous Group meets every Monday at 7 p.m. in the Badlands Room at the Drumheller Health Complex. "Open Meeting".
CARD OF THANKS
THANK YOU... The family of Juanita Rolff would like to thank everyone for the cards, food, hugs and expressions of sympathy during our time of loss. We would also like to thank the doctors, nurses, and Palliative Care for their wonderful care of Juanita during her stay in the hospital.
Kathy, Don, Tom, MaryLou
and their families