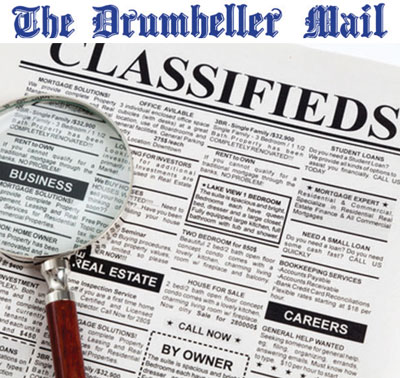 SERVICES
FIREWOOD
WOODCHUCKERS... Pine and Birch Firewood for sale. Delivery available. 403-318-5314.
RENTAL PROPERTY
HOUSE FOR RENT
FOR RENT... Adorable 1 bedroom cottage house for rent in town. Clean, many updates, in lovely, mature park area, nature trail across the street, close to all town amenities. Off street parking, private fenced yard, washer and dryer. Non smoking home. $600/month plus utilities. DD $600. Available immediately, references required. Phone 250-709-9242.
Century 21 manages over 100 rental properties. 1, 2, and 3 bedroom homes and suites for rent. Check out www.rentdrumheller.ca for a list of current properties for rent. 403-823-2121 M-F.
FOR RENT... House for rent in Drumheller, available immediately. 2 bedroom with garage. 6 Appliances, no smoking, no pets. Close to downtown and schools. 780-945-9548 (Garnet) for more information. $1,000/Month. References required.
FOR RENT... 900 sq. ft., 2 1/2 bedroom house. Large living room, kitchen, F/S, HE W/D mainfloor. Located close to downtown shopping. References required. No smoking, no pets. $795.00/month plus utilities. 403-820-8881.
FOR RENT... Main Floor of Executive Rental in Riverview area. 2 bedrooms, 2 baths (master ensuite has one person jetted tub, pedestal sink, and stand up shower). Suitable for one or two people. Hardwood and Tile throughout the area. Beautiful Gas fireplace in living room with Granite Mantle Hearth. A/C via nest thermostat. Kitchen includes garburator, dishwasher, self cleaning ceramic top stove/oven, and matching fridge, built in Icemaker, keyless entry punch code locks, video surveillance and more. Energy Efficient home. Includes Landscaping in Summer / Snowremoval in Winter and use of Barbecue, Front Load Washer/Dryer, Small Storage Shed and more. Smoking outside only. No pets. $999 per month + $250 utilities plus DD. http://www.century21.ca/100652532
Showings by appointment for tenants who have filled out rental applications and been prequalified. Please call/text 403.823.2222 or email rent.drumheller@century21.ca for more info.
FOR RENT... 4 Plex/House for rent in Morrin. 2/4 bedroom, all appliances. Pet friendly, fenced yard. $750/month + DD. Call Dave 403-820-4100.
FOR RENT... 1 bedroom downtown W/D, central vac, excellent utilities, heated garage, 20x24, auto door. $800/month. No pets. 403-823-3925.
FOR RENT... 2 bedroom cottage, river front. 7 minute walk to downtown. 6 appliances, excellent utilities, garden, deck. No pets. $1000/month. 403-823-3925.
FOR RENT... Two storey, 4 bedroom, character home on Riverside Drive with a single car garage. Available September 1. Rent $1100.00, DD $1100.00, utilities not included. 403-823-6961.
APARTMENTS FOR RENT
FOR RENT... Sage Manor, 1, 2, and 3 bedrooms. 333- 2 Street East. Mature adults only. No smoking. View at www.sagemanor.com 403-823-0964.
FOR RENT... Quadra Manor 1 and 2 bedroom suites available. Includes free heat, free water, parking, air conditioning, coin laundry. No children. Phone 1-403-856-4401.
FOR RENT... Juniper Manor 1 and 2 bedroom suites available. Includes free heat, free water, parking, air conditioning, coin laundry. No children. Phone 1-403-856-4401.
FOR RENT... Bright, clean 2 bedroom apartment at 635 6th Ave East, Drumheller. $750.00/month. $750.00 DD. Adults only. No pets/kids. Includes heat/water/AC/parking. Available now. 403-823-9385.
Hunts Place Apartments (Corner of Hunts Dr. & 2nd St. East). Quiet, adult oriented, security door & intercom, garden patios or large balconies, laundry facilities, parking with plug in, fridge, stove, window coverings, hot water & heat, WiFi hotspot, no smoking, no pets, www.wix.com/writem5/hunts-place. Phone (403) 820-1665 or (403) 821-0266.
ROOM FOR RENT
FOR RENT... Greentree area, $290/month. Bedroom in quiet, clean bi-level house. Non-smoking. Utilities and internet included. adso@shaw.ca
HOUSE FOR SALE
HOUSES FOR SALE - Can't find it here or on MLS? Check out www.powerrealty.ca.
FARMER'S MARKET
FARMLAND/PASTURE WANTED
WANTED... Cultivated farmland in the Drumheller area for cash rent or sale. 403-321-0214.
WANTED... Farmland to rent in Drumheller, Dalum, Verdant Valley or Delia area. Phone 403-823-9222.
LAYING HENS
FOR SALE... Order now for pickup on September 15. 18 week old Lohman brown laying hens. Linden, Alberta. Call 403-546-3130.
ANNOUNCEMENTS
AL-ANON, Wednesday evenings, 6:30 pm, Telus Bldg, 4th Floor. Call Lynne (403) 822-0008 or Carol (403) 772-2373.
Saturday Sunrise Meeting, Alcoholics Anonymous, 9 am, Knox United Church. Contact Helen 403-823-5593.
THE HAPPY DESTINY Alcoholics Anonymous Group meets every Monday at 7 p.m. in the Badlands Room at the Drumheller Health Complex. "Open Meeting".
THANK YOU
THANK YOU... The family of Jim Clark (Jr) would like to express our sincere thanks for the care and concern shown to us through the past 2 years during Jim's battle with cancer, and since his recent passing on August 9th. Every kind word and gesture of sympathy is very much appreciated.
Jim Clark
Richard, Wendy and Ellen Clark
Barb and Bob Neigum
THANK YOU... We would like to thank all the neighbours, Craigmyle Fire Department and Blue Sky Colony for coming over and fighting the fire we had on August 9 on our land.
Greatly appreciated,
Murray and Betty Ann Moench