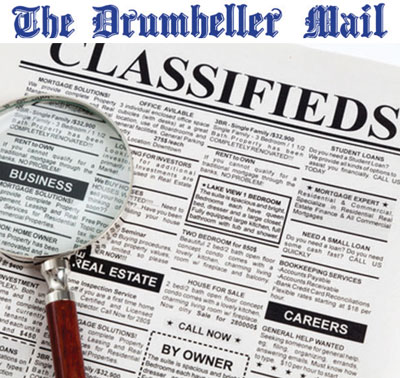 IN MEMORIAM
In memory of
Alex Bordyniuk
May 21, 1933 - February 18, 2001
Those special memories of you
Will always bring a smile
If only we could have you back
For just a little while.
Then we could sit and talk again
Just like we used to do
You always meant so very much
And always will too.
The fact that you're no longer here
Will always cause us pain
But you're forever in our hearts
Until we meet again.
You're Always Loved
And Forever Missed.
Love, Your Grandchildren and Great-Grandchildren
FOR SALE
FIREWOOD
WOODCHUCKERS... Pine and Birch Firewood for sale. Delivery available. 403-318-5314.
EMPLOYMENT
2020 EMPLOYMENT OPPORTUNITIES...
SUMMER LIFEGUARDS
- The Village of Carbon is now
accepting applications for the
2020 Centennial Swimming Pool
Lifeguard Staff including Junior
& Senior Lifeguards. All experienced
Lifeguards welcome.
First aid, bronze medallion and
bronze cross required, WSI not
required but recommended.
Please contact the Village for
more information. Deadline:
March 15, 2020.
SEASONAL SUMMER STUDENT
EMPLOYMENT
PUBLIC WORKS LABOURERS -
Main duties include mowing,
weed maintenance, painting,
and indoor/outdoor clean-up.
Applicants must be physically
fit and able to work in various
weather conditions. Two positions
to start July 2 through to
the end of August 2020. Ages
15+, 37.5 hours per week. Drivers
Licence preferred, but not
required. Deadline: March 15,
2020
CAMPGROUND ATTENDANT
- Carbon is accepting application
for a Part-time contracted
campground attendant. Hours
per week approximately 10-15,
mostly weekends. Camping season
is May - October. Contact
Village Office for list of duties.
Deadline: March 15, 2020
All Positions: Resumes may be
dropped off or mailed to the
Village Office, 238 Hillside Ave.,
Box 249, Carbon AB, T0M 0L0 or
email to: office@villageofcarbon.
com
RENTAL PROPERTY
HOUSE FOR RENT
Century 21 manages over 100 rental properties. 1, 2, and 3 bedroom homes and suites for rent. Check out www.rentdrumheller.ca for a list of current properties for rent & apply online at www.rentd.ca on your phone or home computer. 403-823-2121 M-F.
HOUSE FOR RENT... 2 bedroom - 1235 2 Avenue Newcastle. F.S.W.D., central air, large fenced yard, storage shed. Utilities included in rent. Available immediately. $750/month. Kent 403-820-3146.
HOUSE FOR RENT... In Munson. 3 bedrooms/2 full baths with F.S.W.D. Recently renovated. No pets. $900.00/month. Call (403) 820-0240.
HOUSE FOR RENT... 2 bedrooms with fridge and stove. Utilities included in rent. No pets. Call (403) 820-0240.
HOUSE FOR RENT... Available March 1. Upper Midland. 1600 sq. ft. 3 bedroom, 3 bath. $1500/month. $1500 D.D. plus utilities. No pets, no smoking. 403-823-8012.
APARTMENTS FOR RENT
FOR RENT... Quadra Manor 1 and 2 bedroom suites available. Includes free heat, free water, parking, air conditioning, coin laundry. No children. Phone 1-403-856-4401.
FOR RENT... Juniper Manor 1 and 2 bedroom suites available. Includes free heat, free water, parking, air conditioning, coin laundry. No children. Phone 1-403-856-4401.
FOR RENT... Sage Manor. 1, 2 and 3 executive suite bedroom apartments located at #333 - 2nd Street East. Mature adults only. No smoking. Available immediately. View at sagemanor.com. Call 403-823-0964.
ROOM FOR RENT
ROOM FOR RENT... Greentree area. $290/month. Room in quiet, clean bi-level house. Shared accommodation, non-smoking. Utilities and internet included. adso@shaw.ca
REAL ESTATE FOR SALE
HOUSE FOR SALE
HOUSES FOR SALE - Can't find it here or on MLS? Check out www.powerrealty.ca.
FARMER'S MARKET
FARMLAND/PASTURE WANTED
WANTED... Farmland to rent in Drumheller, Dalum, Verdant Valley or Delia area. Phone 403-823-9222; 403-334-3644.
ANNOUNCEMENTS
AL-ANON, Wednesday evenings, 6:30 pm, Telus Bldg, 4th Floor. Call Lynne (403) 822-0008 or Carol (403) 772-2373.
Saturday Sunrise Meeting, Alcoholics Anonymous, 9 am, Knox United Church. Contact Helen 403-823-5593.
THE HAPPY DESTINY Alcoholics Anonymous Group meets every Monday at 7 p.m. in the Badlands Room at the Drumheller Health Complex. "Open Meeting".