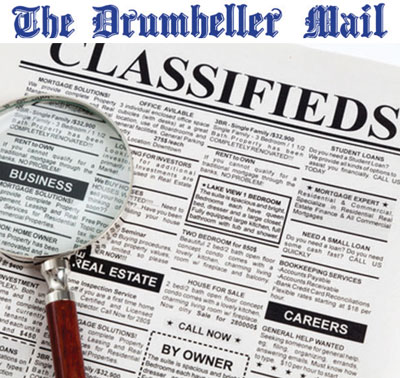 GARAGE SALES
GARAGE SALE... Saturday and Sunday, September 15 and 16, 9 a.m. to 4 p.m. Antiques to snow shovels. A little bit of everything. 110 - 1 Avenue North, Morrin.
GARAGE SALE... 1330 - 7 Avenue East, Drumheller. East of old St. Anthony's School. Saturday, September 15 - 9 a.m. to 5 p.m. Sunday, September 16 - 9 a.m. to 5 p.m. Moving, downsizing.
SERVICES
FIREWOOD
WOODCHUCKERS... Pine and Birch Firewood for sale. Delivery available. 403-318-5314.
STORAGE
HIGH COUNTRY STORAGE... 1 Ave East, Delia, R.V. space, C-cans,for rent advertising panels. Call me. Ask for Eddie 1 (403) 334-1588.
FOR SALE
FOR SALE... 1994 Scamper 5th Wheel Holiday Trailer. Model 285FS. $10,000. Phone 403-644-3882 or 403-934-7628.
WANTED FOR RENT
WANTED TO RENT... Garage or parking space for Winter. Prefer close to Riverview Terrace Condo. Please contact 403-821-5126 or email: lstringer@telus.net with what you have and price.
RENTAL PROPERTY
HOUSE FOR RENT
Century 21 manages over 100 rental properties. 1, 2, and 3 bedroom homes and suites for rent. Check out www.rentdrumheller.ca for a list of current properties for rent & apply online at www.rentd.ca on your phone or home computer. 403-823-2121 M-F.
FOR RENT... 900 sq. ft., 2 1/2 bedroom house. Large living room, kitchen, F/S, HE W/D mainfloor. Located close to downtown shopping. References required. No smoking, no pets. $795.00/month plus utilities. 403-820-8881.
FOR RENT... 1 bedroom downtown. W/D, central vac, excellent utilities, heated garage, 20x24, auto door. $800/month. No pets. 403-823-3925.
FOR RENT... 2 bedroom cottage, river front, 7 minute walk to downtown. 6 appliances, excellent utilities, garden, deck. No pets. $1000/month. 403-823-3925.
FOR RENT IMMEDIATELY...Beautiful Historical house in North Drumheller Four bedroom, plus den. Two full bathrooms. Partially developed basement for more bedrooms or office or recreational room. Walking distance to anywhere in town. Fully renovated with hardwood floors, updated plumbing, electrical and internet lines. We will provide new kitchen appliances for the tenant. Landscaped yard and off street parking. The property is zoned Highway Commercial and can be used for a long list of permitted business uses. $1,200 per month, plus utilities. CALL 403-821-3384
APARTMENTS FOR RENT
FOR RENT... 1 bedroom apartment available October 1. $725.00/month. Includes water and gas. No pets, no smoking. Downtown Drumheller. 403-823-1875, 403-823-3760.
FOR RENT... 1 bedroom apartment. $750 per month. $750 DD. Comes with fridge, stove, a/c, car plug in. Available immediately. Call 403-820-2337.
FOR RENT... Spacious 2 bedroom apartment for rent in Carbon. F/S, DW, Large storage room, free laundry, tenant pays electric. $650/month. Call 403-889-9952 or 403-519-6219
Hunts Place Apartments (Corner of Hunts Dr. & 2nd St. East). Quiet, adult oriented, security door & intercom, garden patios or large balconies, laundry facilities, parking with plug in, fridge, stove, window coverings, hot water & heat, WiFi hotspot, no smoking, www.wix.com/writem5/hunts-place. Phone (403) 443-1471 or (403) 820-1665.
DUPLEX FOR RENT
FOR RENT...Nice duplex for rent in Morrin. $600 plus ultilites. $600 DD. Fridge, stove, microwave, washer, dryer. Lots of storage space. 2 bedrooms. Call 403-820-2337.
REAL ESTATE FOR SALE
HOUSE FOR SALE

HOUSES FOR SALE - Can't find it here or on MLS? Check out www.powerrealty.ca.
FARMER'S MARKET
FARMLAND/PASTURE WANTED
WANTED... Cultivated farmland in the Drumheller area for cash rent or sale. 403-321-0214.
WANTED... Farmland to rent in Drumheller, Dalum, Verdant Valley or Delia area. Phone 403-823-9222.
ANNOUNCEMENTS
AL-ANON, Wednesday evenings, 6:30 pm, Telus Bldg, 4th Floor. Call Lynne (403) 822-0008 or Carol (403) 772-2373.
Saturday Sunrise Meeting, Alcoholics Anonymous, 9 am, Knox United Church. Contact Helen 403-823-5593.
THE HAPPY DESTINY Alcoholics Anonymous Group meets every Monday at 7 p.m. in the Badlands Room at the Drumheller Health Complex. "Open Meeting".
THANK YOU
THANK YOU... The Ryning family would like to express their sincere gratitude for the kindness and support shown during the recent loss of our mother Betty. Many thanks to the Rowley Community Association, Courtney-Winters Funeral Home, Reverend Heather Carlson and Shirley Bremer.