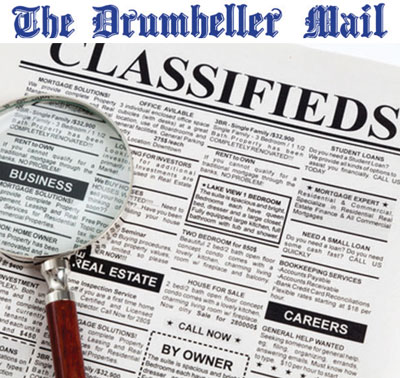 SERVICES
FIREWOOD
WOODCHUCKERS... Pine and Birch Firewood for sale. Delivery available. 403-318-5314.
STORAGE
HIGH COUNTRY STORAGE... 1 Ave East, Delia, R.V. space, C-cans,
for rent advertising panels. Call me. Ask for Edie 1 (403) 334-1588.
RENTAL PROPERTY
HOUSE FOR RENT
Century 21 manages over 100 rental properties. 1, 2, and 3 bedroom homes and suites for rent. Check out www.rentdrumheller.ca for a list of current properties for rent & apply online at www.rentd.ca on your phone or home computer. 403-823-2121 M-F.
FOR RENT... 900 sq. ft., 2 1/2 bedroom house. Large living room, kitchen, F/S, HE W/D mainfloor. Located close to downtown shopping. References required. No smoking, no pets. $795.00/month plus utilities. 403-820-8881.
FOR RENT... 2 bedroom cottage, riverfront, 7 minute walk to downtown. 6 appliances, excellent utilities, garden, deck. No pets. $950.00/month. 403-823-3925.
APARTMENTS FOR RENT
FOR RENT... 1 bedroom apartment. $725.00/month. Includes water and gas. Balcony. No pets, no smoking. Downtown Drumheller. 403-823-1875. 403-823-3760.
FOR RENT... Quadra Manor. 1 and 2 bedroom suites available. Includes free heat, water, parking, air conditioning, coin laundry. No children. Phone 1-403-856-4401.
FOR RENT... Juniper Manor. 1 and 2 bedroom suites available. Includes free heat, water, parking, air conditioning, coin laundry. No children. Phone 1-403-856-4401.
Hunts Place Apartments (Corner of Hunts Dr. & 2nd St. East). Quiet, adult oriented, security door & intercom, garden patios or large balconies, laundry facilities, parking with plug in, fridge, stove, window coverings, hot water & heat, WiFi hotspot, no smoking, www.wix.com/writem5/hunts-place. Phone (403) 443-1471 or (403) 820-1665.
REAL ESTATE FOR SALE
HOUSE FOR SALE
HOUSES FOR SALE - Can't find it here or on MLS? Check out www.powerrealty.ca.
FARMER'S MARKET
FARMLAND/PASTURE WANTED
WANTED... Cultivated farmland in the Drumheller area for cash rent or sale. 403-321-0214.
WANTED... Farmland to rent in Drumheller, Dalum, Verdant Valley or Delia area. Phone 403-823-9222.
EQUIPMENT FOR SALE
FOR SALE... 50 new and used SCH Ahrenheber croplifters to fit Honeybee headers. 403-823-0096
HELP WANTED
SENIOR SERVICES
HELPING HANDS (Est 1999) HELPING SENIORS in their homes: cooking, cleaning, transportation.
HELPING SENIORS in facility care: meal assist, baths, visits, outings.
TOWN & RURAL COMPETITIVE HOURLY RATE; CARING BONDABLE HELPERS Call (403) 364-2476 Email hq.helpinghands@gmail.com
www.helpinghandshomesupport.com
COMING EVENTS
TURKEY SUPPER... Big Valley United Church Turkey Supper. Sunday, October 14, 4:30 - 6:30 p.m. at the Big Valley Community Hall. Adults: $15.00; 6-12: $8.00; Under 6: Free.
ANNOUNCEMENTS
AL-ANON, Wednesday evenings, 6:30 pm, Telus Bldg, 4th Floor. Call Lynne (403) 822-0008 or Carol (403) 772-2373.
Saturday Sunrise Meeting, Alcoholics Anonymous, 9 am, Knox United Church. Contact Helen 403-823-5593.
THE HAPPY DESTINY Alcoholics Anonymous Group meets every Monday at 7 p.m. in the Badlands Room at the Drumheller Health Complex. "Open Meeting".
THANK YOU
THANK YOU... On behalf of the Finkbiner family we would like to express our sincerest thanks and gratitude to Sean Grande at Courtney Winters Funeral Home, who went above and beyond for our family through this difficult time, all while showing us the utmost compassion and empathy. There are no words to express how truly thankful we are for you and your kindness. We would also like to thank all of our friends and family for sending cards, flowers, food, and making donations to charities on Jessica's behalf. We are truly grateful for the love and support you have shown us at this time.