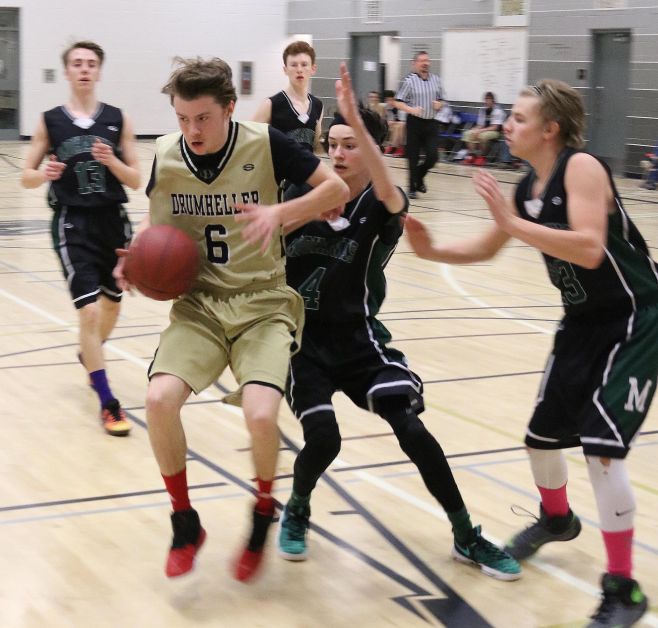 The Senior Boys DVSS Dynos played well at their home tournament, finishing in fourth place.
The Dynos hosted eight teams at the 2017 Battle of the Badlands. they included Holy Cross Collegiate of Strathmore, league rival Three Hills, JR Robson of Vermilion, Clear Water Academy of Calgary, Medicine Hat, Rimbey and Acme.
The team played well out of the gate facing Holy Cross, and began the tournament with a win, 73-69.
This put them on the championships side of the draw where they faced a tough Three Hills team. They fell 73-47.
This put them in the third place game to take on Medicine Hat High. It was a competitive game, but Medicine Hat pulled away with a victory. Rimby topped Three Hills to win the tourney.
"Gabe Gumasing played really well, Evan Flater stepped up big this weekend too. We were looking for him to be more aggressive and he took it upon himself to do that," said coach James Fournier.
Despite this, coach Fournier is encouraged by his young team. They so far have a 2-1 league record, and a 4-5 overall record. He says the team is progressing well.
"We started out slow learning a new system with these kids, but they are picking up what we are laying down," he said. "They're buying into the system."
The team is young with only two Grade 12 players. This year they have a little more size and skill around the basket. They have adopted a new offense to take advantage of their skill.
"The future looks good. Our starting lineup is mostly Grade 10 and 11," said Fournier. "Next year we are hoping to compete for provincials, and if everything goes to plan, the next year should be good for us too."
The team is back in action in league play, taking on Prairie Christian Academy on Wednesday.