Obituaries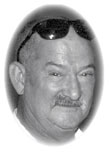 CONNELLY, Ronald Douglas
1947 - 2015
With great sorrow and regret we announce the passing of Ronald Douglas Connelly on Jan12/2015 at the age of 67, after a courageous battle with Cancer. Ronald was born in Drumheller and his travels took him throughout Alberta and BC, but he had always returned to his roots here in Drumheller. Ron worked in the oil patch, the mills in BC, and locally at Riverside Packers and the Town of Drumheller. Ron liked the outdoors and always looking to get out there and hunt or fish. Ron was an easy guy to talk to and made many friends over the years. Ron loved to have friends over and BBQ and maybe have an arm wrestle. He is survived by his companion of the last 23 years Carol Sergeant. His three sons from his marriage to Val Springer, Robert (Cheryl) Connelly, Craig (Missy) Connelly, and Keith Connelly. Grandkids Cole Connelly, Tiffany Endersby-Connelly, Cherish Bennett-Connelly, David Bennett-Connelly, Alyssa Bennett-Connelly. His sisters Beth Hanson, Bonnie Tobler, and his brother Richard Connelly. Nephews Barry Hanson, Brent Hanson, Dale Hanson, Kevin Tobler, Corey Tobler, Christopher Connelly and Michael Connelly. We want to thank the Drumheller hospital for the great care they took of our father, brother, grandfather, and spouse. We are waiting for spring to have a service so that we may all join him for a last BBQ, the details to be published here at a later date. In lieu of flowers, those who wish may make memorial donations to Drumheller Health Complex (Cancer Clinic) 351 9 Street NW, Drumheller, AB T0J 0Y1. We would like to thank Alternatives Funeral Home for their handling of the final arrangements.

HARPER, Dave
2015
It is with great sadness that we announce the passing of Dave Harper. Dave suddenly passed away while at his winter residence in Yuma, Arizona, with Rose, his loving wife of sixty one years, at his side. Dave will be deeply missed by all. Friends and family will cherish memories of Dave's strong will and personality. At a young age, Dave joined his father in the tire industry. With a great business spirit, Dave was happy and proud to assist each and every customer. Dave treated everyone he met through the business like they were his friend and family member. In 1962 Dave became a founding member of the Western Canada Tire Dealers Association and worked very hard to make the tire industry what it is today. With a passion for his beliefs and a will to succeed, Dave was able to build a strong foundation for Harper's Tire and those building blocks continue to make the business the success it is today. From a small, little shop in the downtown district of Drumheller to our current location, Dave was proud all the way. Dave believed in community volunteer work and was a proud and active member of Drumheller Lions Club for over fifty years. He enjoyed the times spent as a child at Little Fish Lake. These times continued as Dave became a father, grandfather and great grandfather. Working in his greenhouse tending to crops with scientific precision was another of Dave's passions. Winter months found Dave and Rose spending time in Arizona with friends as part of the Winnebago RV group. Dave is survived by his wife, Rose, children Andrew (Brenda), Jan, Cheryl (Joe), grandchildren Michelle, Jordan (Melissa), Kyle, Taylor, and great grandchildren Dylan, Colby, Tate and Alison. Dave will be sadly missed by all his family. A private family service will be held at a later date. In lieu of flowers, a donation in Dave's name may be made to the charity of your choice.

LEFFERSON, Claudia A.
January 9, 1936 - January 14, 2015
Claudia was born in Humboldt, Saskatchewan to James Alexander Turkington and Dorothy Alma Turkington. She was the middle child with three older brothers, Cy, Tom, Jim, and three younger sisters, Nita, Mary, and Stella. Claudia grew up on the family farm at Daylesford, Saskatchewan and in Viscount, Saskatchewan. Claudia met Claude Lefferson at Cultus Lake, B.C. They married in July 1955. Daughter, Karen arrived on April 12, 1956 and son, Patrick on March 27, 1965. Nanie loved sports of all kinds, especially the Calgary Flames and the Calgary Stampeders. She loved to visit, to take pictures, knit, crochet, scrapbook, listening to Irish Music, and play piano. Mom enjoyed playing cards with her daughter-in-law, Candy, going on trips to B.C. with her son, Patrick and family and visiting with her friend Karl there. Claudia also enjoyed a trip to Hawaii with her friend Karl, and a trip to Ireland with her daughter, Karen and granddaughter Elise. Being with friends and family was always a highlight for Claudia. Claudia leaves behind, her two younger sisters, Mary Paul and Stella Britton, daughter, Karen (Murray) Martin, Elise, Heather and Jessica, son, Patrick (Candy) Lefferson, Jayden and Kayley, numerous nieces, and nephews. Claudia dearly loved all her girls and boys. Memorial service to take place at a later date.