Obituaries
Details

Published on

Wednesday, 27 May 2015 10:57

Written by Sales Department | © DrumhellerMail.com
GRAHAM, Jean Elizabeth (Weaver)
January 21, 1929 - May 3, 2015

Jean Elizabeth (Weaver) Graham of Airdrie, AB suddenly passed away May 3, 2015 at the age of 86. Jean Graham was born in Telkwa, B.C., Canada, January 21, 1929 to Alfred William Weaver and Elizabeth Jean (Wiseman) Weaver/Paulhus. Jean was predeceased by her parents, Brother William Weaver, and Husband of 56 years James Fredrick Graham. After her husband's retirement from the RCAF they ran the ESSO bulk agency in Carbon. Jean was a masterful mother managing seven unruly children providing homemade bread, jams, wines, and baking to die for. Jean and her husband James were avid gardeners filling 6 town lots with all manner of vegetables. Her prowess with knitting needles and crocket hooks was unsurpassed, creating original designs for many people. When personal computers were in their infancy she was transcribing the town history book. Jean is survived by her seven children - Charles William Graham and wife Wendy (Weigel), children Ryan (3 great grandchildren - Hailey, Nathan, Alyssa), Tess, James (1 great grandchild Mina); Hilda Jean (Graham) Harsch and husband Terry, children Corie (great grandchild Sanez), Amberlie, Jileane; James Alfred Graham and wife Margaret (Myers), child Faith; Dawn Elizabeth (Graham) Hancock and husband Gordon, children Micah, Jessica; Robert Bruce Graham and Michelle (Lebsack), children Robert-James, Scott, Taliesin, Step Children Ryan Borson, Curtis Borson; David Frederick Graham and the late Barbara (Cunningham), child Steven; Duane Edward Graham, children Connor, Michelle. Also survived by her sister, Ruth (Weaver) Herman, and her brother, Robert Paulhus, wife Roxanne (Balint) Paulhus and sister-in-law Doreen (Etmanski) Weaver . Memorial Service will be held at Carbon, AB, at the Carbon town hall September 5 2015 at 1:00 p.m. In lieu of flowers, donations can be mailed to the Heart and Stroke Foundation Alberta, 200 119 - 14 St. NW, Calgary AB, T2N 1Z6.
Details

Published on

Wednesday, 27 May 2015 10:54

Written by Sales Department | © DrumhellerMail.com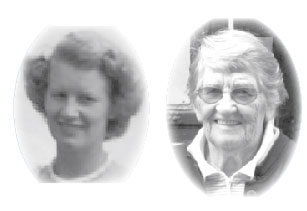 PETERS, Johanne Lokken
July 30, 1924 - May 22, 2015

Friday, May 22, 2015 was a sad day for those who love Johanne Peters when her life of almost 91 years came to an end. She was surrounded by family and was ready to leave this earth.
She is survived by her husband of 40 years, Flemming Peters, her children Sharon Mulder (Roy), Colin LaBerge (Jo-Anne), Dixie Gutwald (Dwayne), 10 grandchildren and 13 great-grandchildren as well as her older sister Dorthea Christianson and twin sister Martha Wagner (Jack), sisters-in-law Betty Wakeford (Dale) and Ebba Dyck as well as numerous nieces and nephews. Her death was preceded by that of her father Christian Lokken Andersen in 1964, her husband Raymond LaBerge in 1968, her mother Ingeborg Stentebjerg Andersen in 1981 and her son-in-law Mark Gutwald in 2006.
Johanne Lokken Peters (nee Andersen and formerly LaBerge) was the surprise bonus baby delivered after her twin sister Martha on July 30, 1924. Martha and Johanne were the first twins born at the Wayne, Alberta hospital.
Johanne lived almost all of her life in the Dalum area. She spent her first years on the farm adjacent to the Blue Spring School. The family moved east to their Dalum farm above East Coulee in 1939. Johanne went to Olds College in 1943 where she took a program for farm wives (from carpentry to first aid to sewing) and moved to Calgary in 1946 where she was a cook at the Tea Kettle Inn. She married Raymond LaBerge of High River in 1948 and they farmed in that area until 1951 when they moved to the home farm east of Dalum where they raised their family. Sadly Raymond died of cancer in 1968 but Johanne, with farming in her blood, stayed on the farm until a few years before her death.
In 1975 Johanne married Flemming Peters and they farmed together until renting out the land in 1993. They continued to live on the farm until they moved to their Drumheller condo in 2011. They had loved farming together and missed living in the country. Johanne used to drive the grain truck while Flemming drove the combine and he said, "I never had to wait with a full hopper, Jo was always there to unload on the fly which saved precious time…and she still somehow had hot meals ready". They were a great team as she always knew what needed to be done to help Flemming with the farm work.
Johanne loved gardening, preserving, sewing, knitting & crocheting. Cooking and baking were her passions and she often said to guests at meal time, "Eat as much as you possibly can"! She was a member of the Dalum Friendship Club for 64 years (although not active for the last few) and enjoyed the camaraderie.
She cherished the grandchildren and great-grandchildren and as Bestemor, together with Bestefar, enjoyed entertaining and indulging them. Sometimes grandchildren enjoyed extended visits experiencing farm life and in time there were wonderful visits from great-grandchildren too.
Johanne lived the last 2 ½ years of her life in Drumheller Continuing Care where Flemming visited her every afternoon. Unfortunately she gradually lost her ability to communicate over the last few years but was still cheerful. The family is most grateful to the staff there for the wonderful care she received in spite of how very busy they are.
There will be an open house and celebration of Johanne's life at the Dalum hall on Sunday, June 7 from 2 to 5 p.m. No flowers or cards please, your thoughts are more than enough. If you wish, donations can be made to Drumheller Continuing Care.
Details

Published on

Wednesday, 27 May 2015 10:51

Written by Sales Department | © DrumhellerMail.com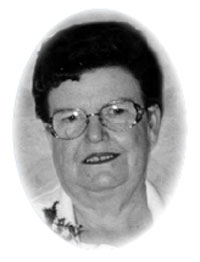 JAMES, Ramona "Mona" Jean
April 21, 1933 - Drumheller, AB - May 21, 2015 - Calgary, AB
Mona James of Airdrie, beloved wife of the late Bert James, passed away on Thursday, May 21, 2015 at the age of 82 years. Mona was born and raised in Drumheller. She married Bert December 27, 1949 in Drumheller and began farming near Munson the following year. Their five children were born while on the farm. They retired to Drumheller in 1970 and later to Airdrie. Ramona is survived by her children Linda Baron, Connie (Doug) Lester; Fay Ann Wallace, Dan James (Marilyn Wallace) and Christine (Brad) Wiebe, nine grandchildren, eight great-grandchildren, sister Pat (Phil) Grenier and sister-in-law Dale Palmquist as well as numerous nieces and nephews. Ramona was predeceased by her husband Bert, son-in-law Howard Baron, brother Tony Palmquist and half-brother Howard Pitts. Funeral Services will be held at McINNIS & HOLLOWAY (Airdrie, 300 Towerlane Drive, Airdrie, Alberta) on Thursday, May 28, 2015 at 2:00 p.m. Graveside Service to follow at Airdrie Cemetery. Condolences may be forwarded through www.mcinnisandhollo
way.com. In living memory of Mona James, a tree will be planted at Fish Creek Provincial Park by McINNIS & HOLLOWAY FUNERAL HOMES, Airdrie, 300 TOWERLANE DRIVE, AIRDRIE, AB. Telephone: 1-800-661-1599