Obituaries

GILLIS, Justin Bryce
February 29, 1996 - March 20, 2015
Justin Bryce Gillis of Drumheller, AB passed away at the age of 19 years on March 20, 2015. He is survived by his father Clayton, mother Rena, older brother Devon, younger brother Adam, younger sister Autumn and all his grandparents, uncles, aunts, and cousins. Justin is lovingly remembered by his family. Justin was kind and an advocate for animals. He will be truly missed. In honour of Justin's memory memorial contributions may be made to the Drumheller and District Humane Society 1121 South Railway Avenue, Drumheller, AB , T0J 0Y0. A funeral service will be held at 2:00 p.m. on Saturday, March 28, 2015, at the Badlands Community Facility with Branch President Don Woodruff officiating. Inurnment to follow at Drumheller Cemetery. Courtney-Winters Funeral Home is entrusted with the arrangements (403) 823-2666.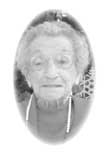 LONG, Mary Margaret
September 30, 1918 - March 22, 2015
Mary Margaret Long of Delia, AB, passed away peacefully, with family by her side on Sunday, March 22 at the Hanna Long Term Care Centre at the age of 96. Mary was born on September 30, 1918 on the family farm in the Handhills, near Delia, AB. She was the fifth oldest child of John and Jean Marshall. She spent her early years on the farm with her siblings and attended Georgetown School, travelling by horse. She was back catcher for the ladies baseball team. Upon completion of school, Mary worked at the "Hut", a small restaurant in Delia. Like many young people, the glamour of the big city of Calgary beckoned and she worked at "Beavers", providing customers with her fine cooking. There she met two special and life-long friends – Flo and Jean. In 1970 Luke travelled to China to marry May and Mary Long and Maude Marshall operated Luke's café in Delia. On September 8, 1943, Mary married Ivan Long of Delia and they settled into life on the family farm raising their family of five. Mary worked diligently and lovingly, applying her talents of cooking, especially feasts of homemade spaghetti, homemade cinnamon buns and bread, large gardens and canning. Mary shared her baking and garden produce with community and friends. She also won many first place ribbons at the Delia fall fair. There were also many enjoyable moments spent Saskatoon berry picking. Nothing made her happier than living on the farm, good crops in the field, a fun game of cards and her family, especially the new babies. Mary and son, Ken purchased a home in Delia in 2005. During this time in Delia, she loved family gatherings with her sisters and making homemade spaghetti. In February of 2011, Mary moved to the Sunshine Lodge in Drumheller. In December of 2012 she moved to the Hanna Long Term Care facility. Mary was a devout Catholic who dedicated her life to her faith and to her continuously growing family of five children, 11 grandchildren, 19 great-grandchildren and one great-great-granddaughter. They were loved enormously by Grandma. She enjoyed many card games and the occasional fun night at Bingo. Throughout her years in Delia, she was a dedicated member of the Catholic Women's League, Delia Royal Purple and the Farrell Lake Women's Institute. Mary was predeceased by her husband, Ivan on October 7, 1977 and her eldest son Jim on May 13, 2011. She is survived by her daughter-in-law Mickie Long of Drumheller, AB; Elsie (Brian) Littlejohns of Sydney, BC; Kay (Doug) Richards of Brentwood Bay, BC; Patty (Terry) Blocksom of Hanna, AB; Ken Long of Delia, AB and their families. The family would like to extend a special thank you to Dr. Hannah and all the HCA's, LPN's, RN's, cleaning staff, rec department, OT and kitchen staff of the Hanna Long Term Care Centre for their genuine attention, care, dedication, compassion and thoughtfulness shown to our Mom and Grandma. Prayers will be held at St. George's Catholic Church in Hanna, 7:00 p.m., Tuesday March 31, 2015. Funeral Mass will be 11:00 a.m. Wednesday April 1st 2015 at St. George's Catholic Church Hanna, followed by Interment at the Delia Cemetery and lunch at the Delia Community Hall. Donations can be made to the Hanna Long Term Care Centre or the Delia Seniors Centre.

POWELL, Martin Wayne
December 1, 1941 - March 6, 2015
It is with great sadness we announce that Wayne passed away peacefully at the Lacombe Hospital on March 6, 2015. He will be fondly remembered by his son Dave Powell (Lori) of Drumheller, and their children, Tyson and Kassidy; and daughter Kimberley Rietze of Lacombe, and her children, Jeremy and Kendahl. He was predeceased by his wife, Iris in 2006, son in law Greg Rietze in 2013, as well as his two brothers, Garth (Diane) and Ken. Wayne was born in Miniota, Manitoba and moved his family to Alberta in 1976. Wayne was very involved in the community of Drumheller and could be found coaching baseball and hockey and serving on various boards. He loved to putter around in the yard! He will be remembered as a hard working family man and a loving and devoted husband, father and grandfather. As per Wayne's wishes, there will be no funeral service. An interment service will be held in Drumheller on April 25, 2015. Condolences may be made by visiting www.wilsonsfuneralchapel.ca Wilson's Funeral Chapel & Crematorium serving Central Alberta with locations in Lacombe and Rimbey in charge of arrangements.