Obituaries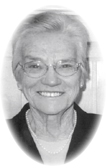 ARVIDSON, Margaret Elizabeth
July 1924 – November 2013

Margaret passed away peacefully on Sunday, 24th November at the Linden Nursing Home at age 89 years. She was predeceased by her beloved husband Oscar of 69 years. She was the second child of Austin and Alma McKibbin and grew up on a farm just south of Three Hills with her siblings: Mabel (Parker), Donald (Shirley) McKibbin and Katherine (Len) Brookwell. Margaret attended school in Three Hills and then earned a certificate in hairdressing at the Marvel Hairdressing School in Calgary in 1941. She owned and operated a hairdressing shop in Trochu and continued to "do hair" throughout her life. She enjoyed going to peoples' homes, having clients at her farm home and especially enjoyed "doing hair" for seniors in the Golden Hills Lodge in Three Hills for many years. She married Oscar Arvidson in 1944 and farmed in the Mount Vernon school district area until they retired and moved into Three Hills after 50 years of farming. She had two sons: Gordon and Wayne. Gordon is married to Judy and has two children, Candace (Jean) Roux and Ryan (Anne) Arvidson. Wayne is married to Donna and has two children, Vincent (Cristina) Arvidson and Heather Arvidson (Chelsea Jennings). Margaret has six dearly beloved grandchildren: Paige and Sydney Roux (Candace), Liam and Jake Arvidson (Ryan) and Cora and Marin Arvidson (Vince). Margaret was a founding and active member of the Ghost Pine Community Group. She was also active in various church activities and Mount Vernon school community activities. She was an avid seamstress and loved knitting, needlework and crocheting. She also enjoyed the activities of Gordon and Wayne as they were growing up, especially baseball, skating and Boy Scouts. Funeral services will be held in Knox United Church in Three Hills at 1 pm on Saturday, 7th December 2013. Kneehill Funeral Services will be handling all arrangements. Remembrance donations may be directed to the Linden Nursing Home.

DANIELS, Annette Madeline
October 6, 1942 - November 30, 2013

It is with great love and sadness that we say goodbye to Annette, wife, mother, grandma and sister. Born in Hagar, Ontario October 6, 1942 to Alma and Victor Gervais. She is survived by her loving husband of 41 years, Barry, her children Claire (Bill), Rick (Kim), Nicole (Derek), Victor (Crystal) and Shannon (James). Nine grandchildren, Sara, Donna, Daniel, Brandon, Michael, Eric, Maklay, Austin, and Danielle. Four great-grandchildren, Matthew, Baxter, Felix and Ella. Nine siblings and numerous nieces and nephews. Annette loved being around her family, playing bingo and being out at the lake these past few years. Service to be held at a later date in Ontario.
You will never be too far away as you will always be in our thoughts and heart.
Love always, Your family

THOMPSON, Kelvin Lee
May 20, 1960 - November 26, 2013

Kelvin Lee Thompson (known to most as Lee) passed away suddenly in Drumheller, Alberta on November 26, 2013 at the age of 53 after a long and courageous battle with heart disease. Lee was born in Kindersley, Saskatchewan on May 20, 1960. He moved to Alberta when he was a young man of twenty years old and worked in the oil and gas industry for more than thirty years. He was a mentor in his trade to a great many people and was respected by all who knew him in the industry. Lee was a warm and generous person who was well loved by his family and numerous friends. He loved people and was very social and his big hearty laugh could be heard often. Lee donated to many charities throughout his life and sponsored three children through World Vision. He loved to golf and spent a great deal of his time playing the Drumheller golf course as well as travelling to various other golf courses throughout his life. Lee loved to read and write in his spare time and was an avid Saskatchewan Roughrider's fan. He was predeceased by his father David (1992). He is survived by his mother, Betty Thompson (Sandy), his brother Laurie (Tammalyn), niece Jessie, nephew Corey, cousin and close friend Dale Hawkins, cousin and close friend Rudy Sonmor, numerous aunts, uncles and cousins, best friend Ron Barr and countless friends. A celebration of Lee's life will be held on Saturday December 7, 2013 at the Community Hall in Hoosier, Saskatchewan at 1:00 p.m. (Saskatchewan time). Donations can be made in Lee's memory to World Vision.