Obituaries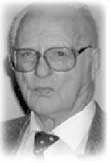 Smith, Howard
June 30, 1921 - November 24, 2013
Smith, Howard Alfred Ludor, aged 92, passed away November 24, 2013 at the Drumheller Health Centre Continuing Care. Howard was born June 30, 1921 in Winchester, England, son of Emma and Charles Smith. He came to Canada with his mother in 1923, moving to Alberta in 1926. Howard married Marion Teeple of Camrose, July 3, 1943 and together they raised four sons in Drumheller. Howard worked in the Red Deer Valley Coal Mine for seventeen years. Later he went on to work for the Alberta Brewers Agents in both Drumheller and Calgary until his retirement in 1986. In 1987 he moved to Carbon and then to Three Hills, eventually returning to Drumheller in 2012. Howard often spoke of his enjoyment of fly fishing. Also, the wellness and care of animals was a deep concern of his, giving special attention to family pets and many species of birds, mastering many of their calls with his whistling. He was happiest when doing something with his hands; especially construction projects around the house and making and gifting unique log-cabin birdhouses. Drives to neighbouring towns and visits with people he knew was a favourite pastime. Howard relished great conversation and always had plenty of interesting stories to tell. In his youth, he played piano and he developed a love of music that spanned from Opera to Country. Among Howard's musical favourites were Gene Autry and Wilf Carter. Howard is survived by his sons, Meredith (Lynda), Terry (Vivian), Mark (Vickie), Kevin (Elaine), seven grandchildren, Cinnamon (Dennis), Lorne (Kara), Keri, Jennifer, Gregory (Marlena), Michael and Bo, and eight great-grandchildren, and also, dearest friend Donnie Church.
At Howard's request there will be no funeral service. In spring there with be a gathering of family and friends at the Drumheller Municipal Cemetery, for a time of remembering and the interment of ashes. In lieu of flowers, memorial donations may be made to the Drumheller & District Humane Society, P.O. Box 1474, Drumheller, Alberta T0J 0Y0 or a humane society of your choice. The family would like to thank the staff of the Drumheller Health Centre, for the attention given to Howard while a resident there. Condolences may be forwarded through Courtney Winters Funeral Home, 199 2 Street West, Box 2248, Drumheller, Alberta T0J 0Y0 or email www.courtneywintersfuneralhome.ca

Campbell, Jack Kenneth
February 14, 1932 - April 13, 2014
It is with great sadness that we announce the passing of our father, grandfather, great grandfather, brother and uncle. Jack was one of four boys born to Jim and Ada Campbell. Jack married Nellie and they shared 56 years together before her passing May 2010. Jack will be greatly missed by his children Karen (Don) Broom, Dale (Rick) Molyneux, Pam (Dave) Eaton. Jack had 5 grandchildren and 4 great grandchildren. Jack was born and raised in the Drumheller Valley. He owned and operated J.K. Campbell Construction before retiring and moving to Calgary. Jack had a love for sports and coached many young hockey teams in the valley. He enjoyed playing horseshoes with his friends and attended many tournaments. Jack was a true poker player and was lucky enough to draw a Royal Flush. Jack enjoyed horse racing and studying the racing guide and had his own system to pick the winning horse. Jack's face always lit up when he spent time with grandchildren (Amy, Travis, Scott, Jaclyn, Angela) and great grandchildren (Hailey, Katelyn, Gracie, and Ava). Jack had a soft spot in his heart just for them. Dad's unconditional love, bright eyes and smile brought a tug to our hearts, our hearts are broken we will miss you dearly. A celebration of life was held on April 17, 2014 at Queen's Park Cemetery. In lieu of flowers, donations may be made in Jack's memory to the Canadian Diabetes Association 1400 - 522 University Avenue. Toronto, Ontario M5G 2R5.

Doyle, Gerald Edward
August 23, 1926 - April 20, 2014
Predeceased by his loving wife Bette, January 29, 2004. Grandson Richard and great grandson Colton Saunders. Sisters Christina Lavender and Patrica Daley. Survived by sister Margaret Burrel, daughters Hilary (Jim) Murphy, Geraldine (gord) Saunders, Elizabeth (Dale) Zimmerman, Andrea (Mike) Bordun. Grandchildren Gerry (Sandy) Murphy, Hilary (Lloyd) Pruden, Patrick Murphy, Andrea (Dave) Kurth, Vince (Erica), Christopher Bordun, Jonathan Zimmerman. Great grandchildren Alexandra, Lauren Murphy, Brier, Brooklyn, KaydenMurphy, Marcella, Micheal Pruden, Isabelle, Sarah, Hannah, Kurth. There will be no service instead his asjes will be scattered in the Atlantic ocean at a later date. Tributes to go to the Drumheller Legion. Many thanks to Dr. Khoza and the Acute Care nurses, all angels.