Obituaries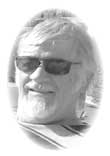 GRATZ, Donald Wayne
October 30, 1947 - October 14, 2014
Kaslo, BC
Donald Wayne Gratz was born in the Drumheller Hospital on October 30, 1947 and left this world much as he lived his life, taking on the challenges of life with courage and strength, meeting cancer head on in a valiant battle. "Grizzly" passed away near his retirement hobby farm, the Rocky Mountains and the Kokanee Lake on October 14, 2014. He was predeceased by his father Albert Peter Gratz and his mother Mary Gratz as well as his older brother Albert Francis Gratz. Don is survived by his wife, Carolyn; sons Cal Gratz of Fort McMurray, AB and his son Riley Gratz of Williams Lake BC; Dan (Emilie) Gratz of Hinton, AB and their children Ava Gratz and Floyd Gratz; his daughter Cathy (Aaron) Mathers of Kaslo, BC and their son Andrew Mathers. He is also survived by his two sisters, Glory (Dave) Eccleston of Drumheller, AB and Shary Kelm of Hanna, AB; five nephews and a niece. Don attended school in Rosedale and Drumheller, finishing his education at Grant MacEwan College in Edmonton. His boyhood interest in anything mechanical led him to the trucking industry, eventually establishing DWG Trucking, DWG Tankers, and Mountain Lite Natural Spring Water Bottling and Sales. His greatest love was hunting, fishing and camping with family and friends, sitting by the campfire telling tales and creating chaos and laughter wherever he went. He will be sadly missed by his family and many friends. A memorial service for Don was held on October 24, 2014 at the Royal Canadian Legion in Hinton, AB with Pastor Doug Heine officiating.

SORGE, Anne (Anneliese Margarete)
August 23, 1924 - October 24, 2014
Anne Sorge passed away in Drumheller on October 24, 2014 at the age of 90 years. Anne was predeceased by her husband Herbert in 1976. A long life, well-lived and well-loved, she will be greatly missed. She will be dearly remembered by her daughter Gisela, son Dieter, daughter-in-law Bonnie, grandchildren Sebastian Sorge and Farrell Derksen, grandson-in-law Tyler Derksen, and great granddaughter Isla Derksen. The family will hold a private remembrance of Anne's life.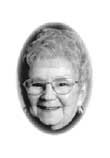 HAUTZINGER, Norma Irene (Stickney)
February 14, 1926 - October 11, 2014
Norma passed away on October 11, 2014 in Drumheller at the age of 88 years. Norma was born on February 14, 1926 in Morrin, Alberta. Norma is lovingly survived by her daughters, Debbie (Bill) Hutchens of Drumheller, Alberta, Vicki (Harry) Ezio of Spirit River, Alberta, Marcie (Real) Hebert of Bonnyville, Alberta, grandchildren, Tara (Brad) Cydeyko of Okotoks, Alberta, Brandi Howard (Gary Kroeger) of Drumheller, Alberta, Jodi Ezio (Vance MacLean) of Edmonton, Alberta, Cory Ezio of Grande Prairie, Alberta, Jeff (Michelle) Hebert of Forestburg, Alberta and Jolene (Ryan) Hauswirth of Dalemead, Alberta. Norma will be missed by her great grandchildren, Cole & Quinn Cydeyko of Okotoks, Alberta, Mitchell Ezio of Edmonton, Alberta, Dante & Dominic Hebert of Forestburg, Alberta, Callie & Ty Hauswirth of Dalemead, Alberta, and sister Joanne Dougherty. Norma was predeceased by her husband Vic, parents, Walter & Matilda Stickney, brothers, Paul & Basil Stickney, grandson, Kelly Ezio, and great granddaughter, Kadence Hauswirth. A Celebration of Life for Norma will be held Thursday, October 16, 2014 at 2:00 p.m. from the Royal Canadian Legion (Upstairs) Branch #22, Drumheller, Alberta. Courtney-Winter's Funeral Homes are in care of the arrangements.