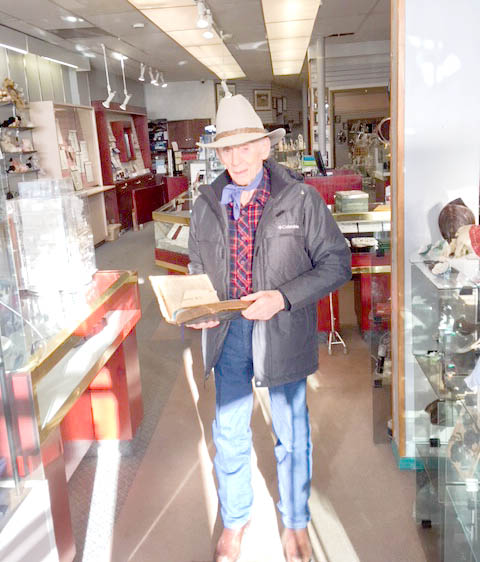 Two weeks have passed since a Dunphy resident's Bible returned to Drumheller.
Doug Wade, an active St. Magloire's church member coordinated with Salmon Arm, B.C. local Jeanetta Zorn to have the Bible returned. Zorn found the bible while sorting through donated books at her church thrift store.
In last week's edition, the reporters at the Mail explored the Bible's contents to find an accurate owner in the area.
They discovered that the most likely owner was Mr. John Henry Tarbuck as his name was written in loose cursive writing on a small letter inside. He was a Dunphy resident who passed away in late January of 1946 which was discovered through direct Mail archives.
Many of Tarbuck's remaining family still live in the area like Chris Lowen, a grandson to Tarbuck. He read the story and immediately came in contact with Wade to collect the family heirloom.
Lowen fondly remembers the Bible explaining that it was used in times when he was 'more bad than good'.
"The only way we learned was from my grandmother because she was very religious.
We didn't get away with much mischief as I'd end up with a finger on my ear into the living room and then get a lecture," Lowen chuckled. "She'd give us a piece of homemade toffee afterwards. She made that homemade toffee for years."
Tarbuck's property was along the Kneehill Creek which feeds into the Red Deer River. He had a large greenhouse stationed along the creek which was an important source of his income.
"He hauled vegetables and stuff all over Drumheller Valley to make a living," continued Lowen. "When I was a kid, we used to go and stay there for the summer holidays, she was down at Dunphy on the crick there so [the Bible] has a little bit of meaning for me."
The reason behind why this artifact ended up in B.C. was because of Tarbuck's son Jack Tarbuck Jr. He moved to an area between Kelowna and Victoria to remain close to his immediate family. The Mail further found that he passed away seven years ago.
The theory behind why the Bible was found in a thrift store may come from when his children were cleaning and discarding old belongings after Jack's passing.
Since then, other members of the family have come forward to claim the book but were happy to know that Lowen had it in his possession.
Lowen and his wife called on Monday night to thank Jeanetta for returning the Bible home safely.