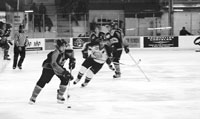 The Drumheller Dragons notched another win in Calgary against the "struggling" Royals, following a tie and a win that has ended their rough start coming into the new year.
Out-shooting and out-playing, the Dragons took home a 6-2 win against the Calgary Royals last Wednesday, a team the Dragons traditionally bury with points.
"I thought we played pretty well, obviously playing against a team that is struggling a bit. We played a puck possession game and used a lot of our speed and skill to create opportunities, and capitalized on that," head coach Rob Hegberg said about the game with the Royals.
Again in Calgary, on Friday, January 23, the Dragons took on the Canucks. Robbie Nocera, who is playing for the southern All Stars in Calgary on Saturday, opened the scoring a minute into the period, followed by another All Star, Jeff Young, to score unassisted in the first.
The Calgary Canucks managed to tie it up on a power play with a minute left in the third, bringing the game into overtime, with no one finding the net.
The game was a tie, 2-2, evenly matched in score and shots.
In Okotoks last Tuesday, the Dragons came roaring out of the second period, with Lee Morrow and Ashton Reinboldt opening the scoring to 2-0. With only minutes left in the first, the Oilers scored and looked as if they stood a chance to tie the game up. Colin Bergman notched up another point twenty seconds later to bring the Dragons to win with a comfortable 3-1.
"That was one of our better games after the Christmas break," Hegberg said.
When asked whether the coach was excited about watching two of his players play on the AJHL South All Stars team, "yes, both guys deserve it and I'm glad we have a couple guys representing our organization," Hegberg said. He will be at the Max Bell Centre on Saturday, January 31 to recruit and to scout, as well as watch his boys.
The Dragons played against the Canmore Eagles on Tuesday, but results were not available at press time.
The team's next home game is on Thursday, January 29, where the Dragons take on Lloydminister at the Memorial Arena. Game starts at 7:30 p.m.