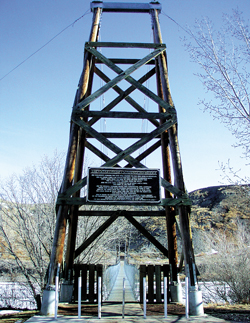 The Star Mine Suspension Bridge in Rosedale is a charmingly quaint piece of Drumheller Valley nostalgia. The 117 metre bridge was originally built to enable miners to work at the Star Mine on the north side of the Red Deer River, across from the community of Rosedale.
    Although the mine opened in 1912, it wasn't until 1931 that the original bridge was constructed. The coal miners were originally required to cross the river to and from work in row boats.


    In 1919 there was an aerial cable car system constructed to transport the men and coal back and forth. From 1912 to 1930, the mine's tipple was located on the south side of the river at Rosedale.
    The tipple is the structure which housed conveyors, shakers and screens for sorting and grading the coal. It is also used to extract any loose rock that may have been included with the coal.
    The coal was then loaded from the tipple into Canadian National Railway coal cars, which at the time carried the coal from the Valley.
    In 1930, the Canadian Pacific Railway built a bridge and a spur line 1.6 kilometres up river and a tipple was built at the mine site.
    The original swinging bridge was constructed in 1931, and although high winds and floods made crossing hazardous at times, the bridge was used by the miners until the mine closed in 1957.
    One year later the hillside collapsed and slid over the mine workings.
    The late Angelo Berlando, a former miner in the Drumheller Valley, spoke to The Weekender a few years ago of his memories of the Star Mine Suspension Bridge. The following, is part of that interview.
    Angelo Berlando of Drumheller fondly recalled his days as a young man working the coal mine.
    Berlando was a boxcar loader at the Star Mine between 1940 and 1957, starting when he was just 16 years old. His duties included filling up coal into the boxcar and shipping it out of the mine.
    "It was a good job. I wish I still had it," he said. "Once you got use to it there was nothing to it."
    Berlando continued to visit the bridge on a daily basis, reminiscing of his days of youth, back when the bridge was still made out of wood.
    "It really whipped around a lot," he said. "Back then if you had a good wind storm you could barely stand on it."
    In order to commemorate the colourful mining history of the Drumheller Valley, the Government of Alberta rebuilt the bridge in 1958 and continues to maintain the suspension bridge for public use.
    To find the suspension bridge, travel east from Drumheller on Highway 10 to Rosedale then turn left at the first corner after crossing Rosebud Creek and follow the signs.
    The bridge is a perennial favourite for visitors and tourists, many who treat themselves by walking across one of Alberta's most treasured mining monuments.