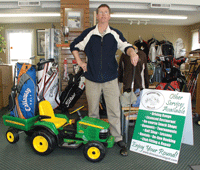 This year the Dinosaur Trail Golf and Country Club wants to send its supporters packing, with a number of travelling possibilities at its annual dinner and auction.
The event is coming up on April 24 at Dinosaur Downs.
"There's been a bit of a buzz because of the new trip giveaway. It's a new theme for us," said Dinosaur Trail Golf Club manager Scott Westman.
Just by buying a ticket to this year's auction, patrons have a chance to win a trip to Las Vegas. There are also a couple auction items that will give the winner a chance to see a bit of the world.
On the auction block is a Shuswap house boating adventure for 10. There is also a draw for a trip for two to New York, San Francisco or San Diego, covering hotel and airfare.
This is along with the dozens of other items generously donated by local supporters of the club.
This year's event is in support of the Tournament Facility to compliment the course. Westman says they are making good progress towards the creation of the facility.
The annual event begins at 5:30 p.m. on Saturday, April 24 with cocktails, followed by dinner at 6 p.m. patron's dinner tickets must be entered in draw in order to be eligible for the trip to Vegas.
More information or tickets are available by calling 403-823-5634 or e-mailing swestman@dinosaurtrailgolf.com. Tickets can also be purchased at the clubhouse, or from any board member.