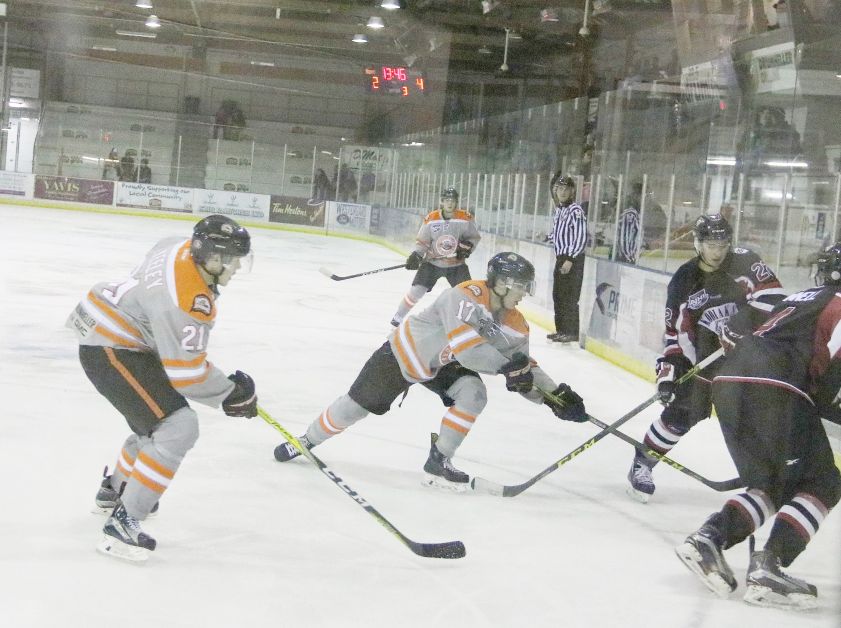 The Dragons had a tough two-game home-stand over the weekend, first falling to the Camrose Kodiaks on Friday night, and then the Olds Grizzlys on Saturday.
This came after a successful road trip where they faced some of the top teams around.
"We came back more than just confident from the north. I think we came back after such a great trip where we played two of the top teams in the country, thinking we were going to walk into our building and walk away with it," said Curran.
On Friday night, November 18, the Dragons were tied at one after the first period versus the Kodiaks, thanks to a goal from Brayden Nicholetts. However, a shorthanded goal early in the second period put the Kodiaks back up by two. Andrew Kartusch answered back on the power play, but the Kodiaks scored the winner with 1:04 left in the second. In the third period, the Kodiaks added a shorthanded goal to put it out of reach, and then an empty netter with 30 seconds to make it 5-2.
"The Camrose game was not great but it wasn't bad; two short-handed goals killed us," said Curran.
For the first time this season, the Dragons faced the Olds Grizzlys on Saturday night, and four minutes in, a power play goal put them on the defensive. Just 28 seconds later Markus Boguslavsky tied it up for the Dragons. However, the Grizzlys finished the period up 3-1. Evan Tschumi scored midway through the second period to make it 3-2 but that was as close as they would get as Olds went on to a 6-2 victory.
"In the first period, I thought we outplayed them, but in the second and third, mentally they need to be a lot stronger and pay attention to the little details," said Curran. "We had a great crowd that night, it would have been good to come out with tons of energy, but we didn't see that."
"The reality is that if we go out and give it everything we got and lose, I can take it."
While it was a tough weekend, Coach Curran in encouraged by the direction the team has been heading.
"You don't like to see this at home, but when it comes down to it, I knew this team was going to go through some ups and downs. But also, if someone had said we would be .500 at this time of year after 24 games, I would have taken that all day long. But now my expectations have gone up higher."
This Saturday, November 26, the Dragons hosts the Canmore Eagles.